Jat quota stir escalates: With eye on Uttar Pradesh polls, leaders say their sole target is BJP
Ahead of the Uttar Pradesh polls, the Jat community has escalated its agitation in a bid to strengthen its presence in UP politics.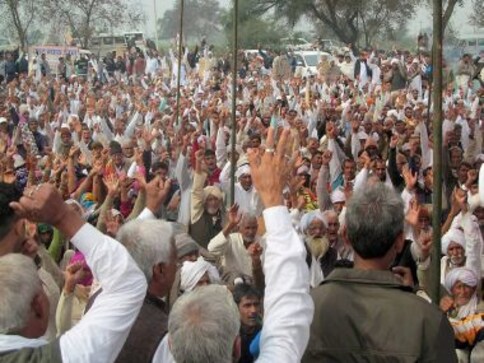 Ahead of the Uttar Pradesh polls, the Jat community has escalated its agitation in a bid to strengthen its presence in UP politics.
After Haryana, the Jat community has chalked out a series of demonstrations in Delhi and Madhya Pradesh from Tuesday onwards. While the Jat quota agitation in 19 districts of Haryana has entered the tenth day, with protesters sitting on dharnas at various places, the Jat leaders have planned to intensify the stir if their demands are not met by the government.
Going beyond the common Jat belt – Haryana, Rajasthan and Delhi — the community is now focusing on pockets of Madhya Pradesh and UP, ahead of the Assembly election. Their sole target is the BJP. The Jats have also started protesting at Najafgarh in Delhi, and Faridabad and Dadri in UP on Tuesday.
"We've appealed to our community leaders and members not to vote for the BJP. The Jats have a strong presence in western UP and it's not possible for the BJP to win without the Jat support in this belt," Yashpal Malik, president of All-India Jat Aarakshan Sangharsh Samiti told Firstpost.
How important is the Jat vote in UP?
During 2014 general election, the Jats voted for the BJP in large numbers, which helped the party win 71 Lok Sabha seats out of 80. Though Jats form only five percent of the total population in the state, it has a strong dominance in western UP, which effectively takes the vote share to 20 percent.
"Of the total number of Assembly seats, the Jats have 20-40 percent presence in 65 seats; in 30 seats they have 10-20 percent presence and in another 30 seats, there is less than 10 percent. We're more effective in terms of votes in all those seats, where our presence is less than 40 percent. In such pockets, the decision of our community leaders is final and Jat voters go by it while casting their votes. Individual decision doesn't work. In the first two phases of polling, Jat factor will dominate," explained Malik.
According to the community leaders, a majority of Jat voters have joined hands with Ajit Singh-led Rashtriya Lok Dal (RLD). "In western UP, the Jat voters have presence in 125 seats ranging from 5 to 40 percent. It'll be difficult for the BJP to win unless it gets 60-70 percent of the Jat votes, because, Muslims, Dalits, Gujjars and Yadavs won't vote for them," he said.
Why is the Jat community angry?
- Reservation issue.
- Comments made by BJP MP Raj Kumar Saini and his close associate former MLA Roshan Lal Arya. They slapped attempt to murder charges on five accused from the Jat community in an ink attack on Saini. It generated controversy, which angered the community.
- Death of 18 Jat youths due to firing during the reservation riot.
- Prime Minister Narendra Modi's stand on reservation.
"Modi had assured us that our reservation demand would be met, but till now nothing has been done. Jats are ready to wait for reservation since the matter is sub-judice, but they want all their other demands to be accepted immediately. Haryana Chief Minister Manohar Lal Khattar had earlier said the government will accept their demand of giving jobs to the next of kin of those who had lost their lives in the agitation last year, so far the government has not done anything on this issue," Malik said.
Unlike 2014, this time around, Jats seem unsure of voting for the BJP due to various issues. There is anger among the Jats against the BJP for not pushing their demand for reservation and the lack of any 'package' to revive the farming sector in this year's Budget. This has moved a large section of the Jats towards the RLD.
"Jats are economically conscious. Besides, reservation and education issues, the Budget failed to address anything concrete on the farming sector that could appease the Jats. Another factor that's bothering the Jats is leadership issue. The BJP couldn't project a strong Jat leader. In VP Singh's regime, there were seven Cabinet ministers from the Jat community, whereas now there are only two Ministers of States (MoS) —who too don't have a national recall. This is making them go in favour of the RLD," Sompal Shastri, former Union agriculture minister in Atal Bihari Vajpayee government and an agriculture expert told Firstpost.
Jat strategy to oppose BJP in UP
- Create pressure through agitations and demonstrations in Haryana, Delhi, Madhya Pradesh and Rajasthan.
- Distribution of pamphlets in UP narrating the deaths of 18 Jat youths and the government's alleged failure to keep its promise.
- Stage statewide protests.
- Align with the RLD.
"We've got support from Jat activists in Punjab. There is anger among them as well. Currently, nearly 98 percent of Jats in UP are against the BJP," claimed Malik.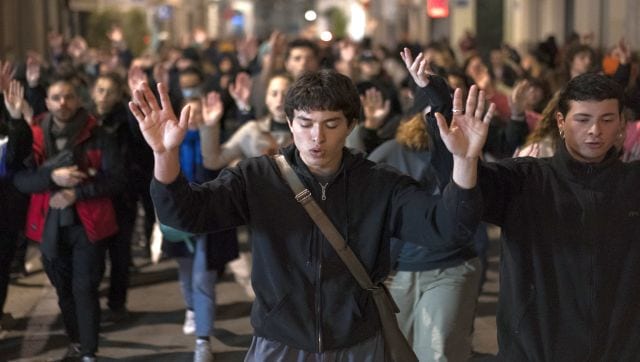 World
France has been seeing protests, which have turned violent in recent days, as the Emmanuel Macron government pushes pension reforms through parliament. In India too, there's a debate on the pension scheme, some arguing that the old method is fiscally unsafe
Opinion
The BJP's reaction to Rahul was equally predictable, invoking patriotism and nationalism to insulate itself from criticism
Politics
As per the allegations, some parts of Delhi also had posters with the caption "Modi Hatao Desh Bachao"