Gujarat Election 2017: Jignesh Mevani says 'whether or not I win this election, people's fight will continue'
Mevani shot to fame after the Dalit movement protesting the flogging of Dalit youths in Una and he seems more intent on maintaining that identity than winning the election.
In poll-bound Gujarat, merely 140 kilometres away from Ahmedabad, Dalit leader Jignesh Mevani's supporters could be seen preparing for a roadshow. People started gathering since morning for the rally, which took place just seven kilometers from Palanpur on Palanpur highway.
Mevani, who is contesting elections as an Independent candidate from the Vadgam reserved seat, was scheduled to hold a roadshow from Kadodar village to Badgaon village, starting at 10 am. But, around 9 am, Mevani received the news of the death of a person from a nearby village, and he decided to visit the grieving family before starting his roadshow.
On meeting Mevani, one cannot help but notice his simplicity and the ease and openness with which he speaks to his supporters. He greeted his supporters from an open-roof vehicle as he proceeded for the road show with his convoy, around 11 am.
Dressed in a jeans and kurta, Mevani, with his petite frame, looks rather different from your average politician. Speaking to Firstpost, Mevani said, "Primarily we are agitators, we have emerged from the midst of the people's battle and that is our right place too. However, after repeated calls from the Dalit community, and other people as well, I decided to contest the elections so that I can continue to raise their issues from a non-compromising position."
Another thing that sets Mevani apart from other politicians is that he does not make any assertions about the outcomes of the polls. Mevani said, "We will continue to fight on the streets just like we have, irrespective of whether I win or lose this election."
Some JNU student leaders were  also seen attending Mevani's roadshow. Some people associated with JNU student organisation said that they will only return to Delhi after the second phase of polling on 14 December, when Vadgam casts its vote.
Aditi Chatterjee, convenor of the students union at the School of Language at JNU, said that the issues raised by the Dalit community are absolutely valid. "We are here to raise voice against fascist forces."
Pradeep Narwal, who is associated with the Bhim Army, said he has come to support Mevani. Besides Aditi and Pradeep, many JNU alumni and several of Mevani's college friends are camping with Mevani and are confident of his victory. Khalid Saifi, Rizwan and Sarik are all former students of JNU who have reached Vadgam from Delhi to support Mevani and ensure his victory.
During the roadshow, Mevani's supporters also raised slogans, typically in JNU style. 'Kahan pade ho chakkar me, koi nahi hai takkar me (what are you wondering, no one can match him). Amid chants of this slogan, Mevani greeted his supporters and proceeded to the next stop of his roadshow. The Congress party also supported Mevani by not fielding a candidate against him in Vadgam. Mevani's supporters hope that he will win this seat on the basis of support from Dalit and Muslim communities.
Speaking to Firstpost, Mevani also batted for uniting the Dalit and Muslim voter base. Mevani said, "We will do everything to explore the Dalit-Muslim alliance."
His claims were further strengthened by the footfall at his rallies. A considerable Muslim presence was seen at his roadshow, apart from the usual Dalit supporters.
Mevani may be contesting as an Independent, but his battle is against the BJP. Mevani questioned the much-touted Gujarat Model. He said that had the ruling party delivered on their so-called development model, the people of the state wouldn't have taken to the streets to fight for their rights. He said that ensuring basic facilities in small villages is much more important than a bullet train.
Mevani also rebutted BJP's assertions on development as he questioned the ruling party to explain the shortage of electricity and water in the state
Mevani also coined a comeback for BJP's 'sabka sath sabka vikas slogan.' "Sabka traas, sabka vinash (Everyone's destruction, everyone' pain)" is his new slogan. Mevani alleged that BJP is not only anti-Muslim, but it is also against Dalits, tribals, Patidars, women, and youth.
He says that the death of 14 Patidars during the Patel quota stir, the killing of three Dalits and the incident of firing on tribals of the Kolu jungles show the anti-people policies of the BJP.
He, however, accepts that there are some minor differences between him, Alpesh Thakor and Hardik Patel. But he feels that it is crucial for them to put their differences aside and unite in their fight against the BJP. Mevani told Firstpost that there are few small contradictions between the three youth leaders but they are united against the "fascist forces", which are ruling Gujarat.
However, Mevani's style of politics is irking the BJP. A BJP leader from Ahmedabad said that Mevani is "not going to win at any cost". The friction between Mevani's supporters and BJP cadres is visible even during his roadshow.
In Chhapi, several BJP workers joined Mevani's roadshow, waved black flags, and chanted Modi-Modi at his rally.
Meghraj Bhai Choudhri, a BJP supporter from Chhapi says, "We totally disagree with Mevani's policies." Another BJP supporter Devendra Bhai Jethva says, "No matter what happens, BJP is going to win in Vadgam."
However, Mevani's roadshow continued uninterrupted, despite the protests. He held rallies across several villages, from his open-roof vehicle. "Development is unravelling in state, and we have to sew it. So vote for sewing machine," he said, exhorting people to vote for his election symbol.
However, Mevani's roadshow met a little resistance at Sedrasan village. The people insisted that the convoy only enter the village after chanting 'Jai Shri Ram' and even after much argument, Mevani's convoy failed to convince the villagers to let them enter.
However, in all other villages, Mevani is urging people to uproot BJP. Chief Minister Vijay Rupani, who was holding a rally in Vadgam on Monday, also attacked Mevani.
Rupani said that people like Kanhaiya Kumar, who had raised anti-India slogans and supported terrorists like Afzhal Guru, are supporting Mevani.
However, Mevani countered this by saying that the crowd at Hardik's rally is easily outnumbering the turnout at Amit Shah or Narendra Modi's rallies. "This is a sign," he added.
Mevani is attempting to play up on these signs. However, his decision to contest as an Independent indicates that he is not tethered to any particular political group or party. Mevani seems to prefer an open battle on the roads instead of confining himself to a particular political party.
Even if he enters the Assembly as an Independent candidate, he will still have the chance to raise people's issues. Mevani shot to fame after the movement protesting the flogging of Dalit youths in Una formed and he seems more intent on maintaining that identity than winning the election.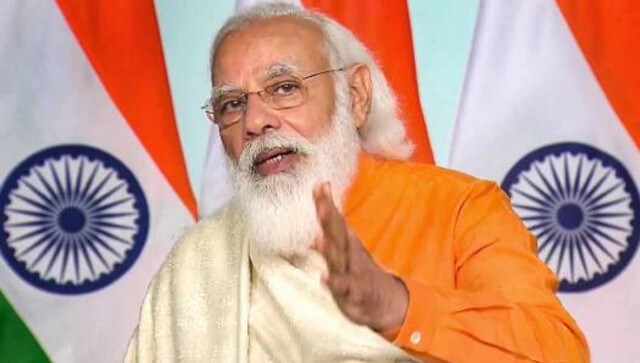 India
In a statement, Modi also pitched for 'zero vaccine waste' during the vaccination drive from 11 to 14 April, and urged people to ensure that not a single jab is wasted
India
The prime minister said vaccination is among the few ways to defeat coronavirus and urged eligible citizens to register for it
India
General Dyer entered the premises of Amritsar's Jallianwala Bagh and ordered the British Army to open fire on innocent civilians