Gujarat Assembly Election 2017: Chief electoral officer orders police probe into 'communal' video
The Gujarat chief electoral officer has ordered a probe by the police into the emergence of a video clip whose content is alleged to be aimed at spreading hatred against Muslims 'to polarise votes' in the poll-bound state
Ahmedabad: The Gujarat chief electoral officer has ordered a probe by the police into the emergence of a video clip whose content is alleged to be aimed at spreading hatred against Muslims "to polarise votes" in the poll-bound state.
"We have taken cognisance of the matter after learning about it from the media. The matter has been taken very seriously at all levels. The police have been asked to investigate. The cyber crime department will investigate the matter," Chief Electoral Officer (CEO) BB Swain said on Sunday.
He said the district election officers (DEOs) have been asked to be careful about the poll code violation on social media platforms and address the matter immediately.
"We have asked all DEOs to be very careful. Apart from looking into the expenditure part, the teams have also been asked to look into MCC (Model Code of Conduct) violation and initiate due action," the CEO told PTI.
The 1.15 minute-long clip, which begins in Gujarati, shows a girl hurrying back to home through a deserted locality with 'azaan' (a Muslim call to prayer) playing in the background. The clip ends with a line that reads, "Our vote, our safety."
Nobody has claimed responsibility for making and circulating the video clip, which has been doing rounds on social media.
An advocate had written to the CEO, the cyber crime cell of the Ahmedabad Police and the Election Commission with a request to ban the video clip and take action against those responsible for its creation and circulation.
Finally like ISI,Gujarat BJP has revealed its poisonous side of dividing India.Challenge the Prime Minister to show this clip to Moody's pic.twitter.com/WAsJOdbOKT

— Sid (@sidmtweets) November 19, 2017
In his letter, advocate Govind Parmar of Human Rights Law Network had written that the video attempts to spread hatred by whipping up fear towards the Muslim community with an attempt to polarise votes.
He also sought action against the persons behind the video clip under section 153(A) — promoting enmity between different groups on grounds of religion — of the Indian Penal Code and relevant sections of the Information Technology (IT) Act.
India
Developments in Afghanistan, the COVID-19 pandemic and ways to expand cooperation for an inclusive Indo-Pacific are set to be the central focus of the first in-person summit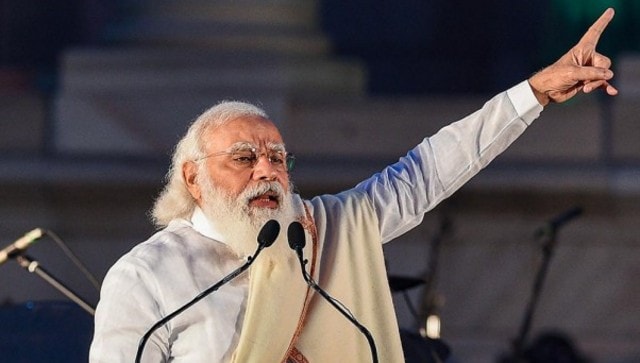 India
The Union Cabinet on Wednesday approved a big-bang relief package for the stressed telecom sector that includes a four-year break for companies from paying statutory dues
India
The PM averaged more than 10 tweets a day during the campaign, pointing to a very effective use of social media