Goa Election 2017: Ruling BJP confident of coming back to power, but AAP remains the dark horse
The BJP is back to being confident of forming the new government in Goa. The state had voted to elect its new Legislative Assembly on 4 February, but will have to wait till 11 March to know the outcome.
The BJP is back to being confident of forming the new government in Goa. The state had voted to elect its new Legislative Assembly on 4 February, but will have to wait till 11 March to know the outcome.
Who will form the new government is the hot topic when and wherever Goans assemble over tea or drinks. The discussion remains inconclusive as none have clue which way the state has voted. The growing breed of silent voters, who are not affiliated to any political party or ideology, have created the confusion, leading to all major contenders for power sticking to their pre-poll assessments. The BJP continues to claim that it will win a minimum of 26 seats in the 40 member Assembly. Its rival, Congress party, is also claiming to win 23 seats and form the government.
The dark horse of Goa polls – Aam Aadmi Party (APP) — which made its debut in Goa, is unrelenting about its prospects, though it is widely felt that AAP lost its tempo towards the end of the campaign season.
The ruling BJP, however, is extremely hopeful, if not confident, that it will get renewed mandate and continue to rule Goa for another five years. The BJP worked on both its Plan A and Plan B simultaneously. Plan A was simple – to increase its tally from 21 in the outgoing Assembly to as much as it can.
Plan B was a clandestine last minute instructions to party workers to support and vote Independents in some constituencies it estimated it was not doing well. Idea was to ensure victories of Independents who normally tend to align with the single largest party. In case Goa elects a hung Assembly, support of Independents are easier to get compared to smaller parties.
BJP is apparently prepared for both the eventualities with a firm belief that it is going to remain in power, leading the Laxmikant Parsekar government to get back to tackling two crucial issues – the looming threat to over 3,000 liquor outlets and bars and finding a solution to the contentious issue of the presence of five offshore and over a dozen onshore casinos.
Interestingly, Parsekar himself cannot be sure of remaining Goa chief minister in the event of the BJP forming the new government. BJP is open to the idea of sending back Defence Minister Manohar Parrikar as Goa chief minister, retaining Parsekar in the post or look for someone more acceptable to Independents or prospective post-poll allies. The Maharashtrawadi Gomantak Party (MGP) had broken its ties with BJP in January in retaliation of BJP rejecting its demand to replace Parsekar with anyone else as chief minister in the run up to elections.
Parsekar government has sought Goa advocate general Saresh Lotlikar's opinion on both liquor and casinos issues. It wants the advocate general to give his opinion on whether it can implement a Macau-type rule and debar Goans, who are not employed by these casinos, from entering the casinos or any such gaming places. BJP is accused of having flip-flopped on its 2012 poll promise to close down casinos. Locals continue to be against their presence as they attract their youth to indulge in gambling.
While opinions may remain divided over casinos, all Goans seem to be united in opposing the 15 December Supreme Court ruling directing all states not to renew licences of all wine shops and bars located within the 500 metre radius of highways from the new financial year starting 1 April, to reduce instances of drunk driving and the resultant road accidents.
The new Goa government will get barely a fortnight to tackle the issue before it dents the state's economy badly and cause large-scale unemployment, if implemented, since majority of the state's roads are either state highways or national highways which pass through major towns popular with international and domestic tourists.
The Goa government wants to appeal against this ruling at the apex court without further loss of time and has sought opinion of its advocate general Lotlikar before drafting a review petition.
The Goa Liquor Traders Association (GLTA) has criticised the Parsekar government for its inaction. Both GLTA and the state government have formed their separate committees to carry out surveys to identify number of stores and bars which may have to pull down shutters. The GLTA estimates that out of 11,000 who have excise licences, over 3,000 will be out of business from 1 April.
Among those affected would be some iconic restro-bars of the state and a large number of hotels would be forced to stop serving alcohol to their guests. This, many feel, would adversely impact Goa's flourishing tourism industry.
The GLTA has reasons to be critical of the Parsekar government, though the chief minister has termed their criticism as unjustified, saying the state government had no role to play in the impending ban. The GLTA has blamed Parsekar government, saying the government should have been more proactive in challenging this court order.
Not one to let any opportunity of criticising the BJP government in Goa slip by, the Congress party has also joined the GLTA in slamming the government, with Goa Congress president Luizinho Faleiro saying the BJP government intends to kill Goa's tourism industry.
Their criticism is not without valid reasons. The Supreme Court ruling came on 15 December and the model code of conduct came into with the Election Commission announcing poll schedule for five states on 4 January. The BJP and its government here had nearly 20 days in hand to file a review petition. But while the party was engrossed in plotting victory, Parsekar was unsure of his status though he had said that half of Goa would be wiped out if this order is implemented.
His predecessor Parrikar even mocked at this order, saying one can always carry a bottle in a vehicle if one wanted to indulge in drinking and driving. All that the BJP did was to promise approaching the Supreme Court to seek amendment of this order in its election manifesto.
The general opinion in Goa is that while people do here indulge in drunken driving, Goans generally do not drive too far away from their homes to enjoy their drinks, preferring neighbourhood bars. Rate of road accidents caused by drunken driving on Goa is far lesser than in rest of the country, any Goan would point out.
The GLTA has threatened protests, including blockage of major roads passing through the state, if nothing is done soon to get them relief.
The apex court order is bound to play havoc with Goa's economy and lifestyle. But then Goa has to pay, as it had a ruling party dreaming of retaining power and a chief minister more worried about saving his chair than the state's economy, which is so heavily dependent upon tourism.
Politics
For all her 'connect with the people', Priyanka Gandhi Vadra's 'Hinduism' is even more farcical than Rahul Gandhi's
Politics
In the two decades that Narendra Modi has been in public office, first as chief minister and then as prime minister, he has established his vision of development for all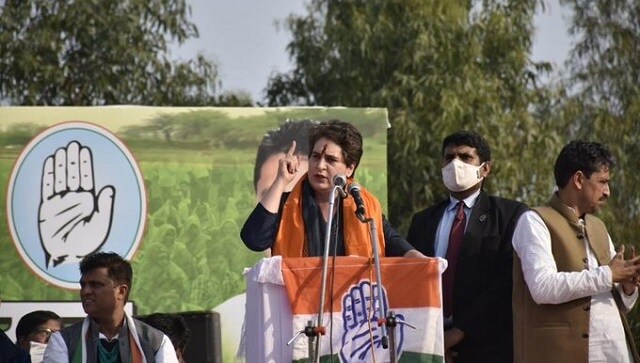 India
As many as seven civilians have been killed by militants in Kashmir Valley in the last five days.