Goa CM Manohar Parrikar walks on the edge as allies play hardball, ministers do loose talk
If stitching together a post-poll alliance with two regional parties and Independents was a smooth affair for Manohar Parrikar's BJP in Goa, then keeping them in check is proving to be a difficult exercise
It's been less than a month since Manohar Parrikar took over as Goa chief minister. If stitching together a post-poll alliance with two regional parties and Independents was a smooth affair, then keeping them in check is proving to be a difficult exercise — they have already begun drifting in different directions.
The three Independents, two of whom are ministers, are not the main problem, as their focus is on developing their respective constituencies in order to justify their decision of joining hands with the BJP. However, regional parties like Maharashtrawadi Gomantak Party (MGP) and Goa Front, which follow contrasting ideologies, have started embarrassing Parrikar on a wide range of issues.
Unlike the Independents, both MGP and GF have their own agenda. If GF wants to spread its wings, MGP is keen on reclaiming ground it has ceded to BJP and other parties over the years. A pro-Hindu outfit, MGP lapped up Rashtriya Swayamsevak Sangh (RSS) chief Mohan Bhagwat's demand that cow slaughter be banned across India, by suggesting a blanket ban in Goa and the closure of the Goa Meat Complex located at Usgao in North Goa. MGP president Pandurang alias Deepak Dhavalikar himself made the demand on Tuesday.
However, this was resisted by GF, which termed beef consumption as part of Goa's ethos. BJP leader Michael Lobo was ultimately forced to step in, and say beef politics will never enter Goa. Lobo, deputy speaker in the Goa Assembly, is fast emerging as BJP's chief fire-fighter in the state. "Beef is (part of) 33 percent minority's eating habit. Nobody in Goa talks about such politics, nobody speaks about beef politics," Lobo said.
Around the same time that Deepak Dhavalikar was demanding a blanket ban on beef in Goa, his elder brother Ramkrishna alias Sudin Dhavalikar, PWD minister in Parrikar's government, called on senior BJP leader Nitin Gadkari in New Delhi demanding nationalisation of all rivers in Goa.
Goa Front mentor and town and planning minister Vijai Sardesai, who was also in New Delhi, protested this, saying nationalisation of rivers will badly impact fishermen. Parrikar, who has kept the Home portfolio with himself, was then put in the dock by state tourism minister, MGP's Manohar Azgaonkar, who proposed revival of a 'tourism squad' to crack down on lamanis (nomads), hawkers, drug peddlers and prostitution along Goa's beaches. While an uncomfortable Parrikar kept quiet, it was Lobo who jumped to his defence, refusing the existence of drugs and prostitution on beaches and apologising to the nomad tribe over Azgaonkar's remarks, while terming them as hawkers in the wake of All Goa Banjara Samaj opposing the minister's remark.
Not to be left behind was GF leader and water resources minister Vinod Palyekar, who has demanded a complete ban on late night "rave parties" and playing of loud music after 10 pm, saying it disturbs senior citizens and students. Palyekar alleged that Goa police were turning a blind eye to rave parties.
And yet again, it was Lobo's turn to come to the aid of the chief minister, denying the existence of rave parties, although doing so pokes a hole at BJP's claim of zero tolerance to drugs and corruption. Lobo, however, did support music, and even proposed creation of special zones where music can be played at the required decibels.
"Rave parties are not happening in Goa. It might be in some part of his (Palyekar's) constituency (Siolim). Nothing will happen by only speaking out. Give names of the individuals involved in illegal activities to the chief minister and the police to act," Lobo said.
It's understood that Parrikar may soon meet the two ministers who had their own government red-faced and discuss the issues raised by them.
Parrikar's problem is that nearly after a month after his government was formed, no action has been initiated thus far to discuss and draft the common minimum programme which was to work as the guiding force of his coalition government. All three parties — BJP, MGP and GF — talked about the common minimum programme while coming together. But it's still up in the air. MGP and GF may especially not insist on it, since not having it gives them a free hand to implement their own agendas.
Parrikar's problem is that seven of his ministers don't belong to the BJP. He cannot afford to take them to task and risk the downfall of his government. The two regional parties also intend to expand their bases during the proposed panchayat elections in May.
Parrikar has had previous experience of running coalition governments, but may not be unaware of how regional parties and Independents demand their pound of flesh in lieu of supporting and sustaining a government. He may find his hands tied and mouth sealed while dealing with them.
The best course for him would be to initiate dialogue to get rid of the existing uncertainty, by drafting the common minimum programme, and asking everybody to stick to it. He may also have to ensure that only certain individuals among his ministers are authorised to speak to the media.
It is probably also time for Parrikar to realise that forming the government was far easier than running it. He can still do this, but will have to take senior ministers Sardesai and Dhavalikar into confidence and tell them that drifting in different directions will not help anybody except the battered Congress party waiting to pounce on the first sign of trouble.
It's a widely accepted fact that drugs and prostitutes are openly available in all of Goa, and that rave parties are clandestinely organised. Remaining in denial mode may not help Parrikar, but addressing the issues will.
India
He made the statement in the wake of BJP legislator Prasad Lad's reported remarks that, if needed, the headquarters of Thackeray-led party in central Mumbai would be demolished
India
As the Opposition creates ruckus in Parliament, the Centre says the controversy is an attempt to malign Indian democracy and its well-established institutions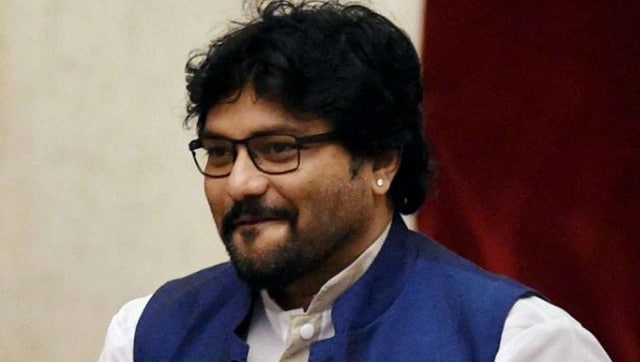 Politics
The Asansol MP said he will continue to discharge his constitutional responsibilities as a parliamentarian but will withdraw from politics and leave his official residence in the National Capital