'Down with dictatorship': Angry Congress MPs shout slogans, paralyse Parliament
Parliament failed to transact any business on Tuesday as Congress members guided by a combative Sonia Gandhi repeatedly disrupted both Houses alleging 'vendetta politics', in an apparent reference to the National Herald case.
New Delhi: Parliament failed to transact any business on Tuesday as Congress members guided by a combative Sonia Gandhi repeatedly disrupted both Houses alleging "vendetta politics", in an apparent reference to the National Herald case.
Congress members were in the Well all the time, shouting slogans against the government, even as the Chair in both Lok Sabha and Rajya Sabha kept asking them to spell out the reason for their protest which they did not do explicitly.
The government said it felt that the Congress was creating an uproar over the National Herald case in which a court has summoned Sonia Gandhi and Rahul Gandhi and insisted that it could not be dragged into a legal battle.
Both the Houses were repeatedly adjourned before the final adjournment minutes past 3 pm as Congress members were unrelenting in their protest.
No sooner had both the Houses assembled for the day at 11 am, Congress members stormed the Well, shouting slogans against the government. In Lok Sabha, Trinamool Congress joined Congress in the protest against "political vendetta".
Speaker Sumitra Mahajan, while asking the protesting members to go to their seats, took up the Question Hour but adjourned after half an hour for 30 minutes due to the uproar.
"I am ready to allow you to speak but I don't know what your issue is. Someone tell me what is your issue," she said.
She asked Leader of Congress Mallikarjun Kharge to explain what his party was protesting against. But Kharge did not respond to her as Sonia Gandhi, sitting next to him, gestured him apparently not to say anything.
TMC leader Sudip Bandopadhyay drew Kharge's attention towards the Chair. Gandhi responded to him in gestures but nothing could be heard in the din.
While no Congress member specified the issue over which they were agitating, their vociferous protests came a day after the Delhi High Court declined to give Sonia and Rahul any relief in the National Herald case, asking them to appear before the trial court.
The court on Tuesday, however, allowed their exemption pleas for the day but asked them to appear in person on 19 December.
"Down with dictatorship... Vendetta politics won't work," the Congress members shouted under Gandhi's guidance.
At one point, the aggressive Congress chief was seen confabulating with members of her party as well as some other parties, like Trinamool Congress and AAP.
She was apparently asking TMC leader Sudip Bandyopadhyay to raise the "dog" row surrounding minister VK Singh in connection with the killing of two Dalit children in Haryana.
Bandyopadhyay, however, was non-committal, telling her that he will need to consult his party leaders. At the same time, he told her that Trinamool had earlier in the day joined the Congress in protest for Opposition solidarity against "political vendetta".
Minister of State for Parliamentary Affairs Rajiv Pratap Rudy took a dig at them, wondering what had happened in a day that shook the Congress members so much.
"Nation wants to hear what their issue is. Nobody knows it. We are ready to hear. Let them go to their seats and raise it," he said but the agitating members refused to budge.
As protests continued when the House re-assembled at noon, it was adjourned till 2 pm.
When the Lok Sabha met at 2 pm, Congress members, under aggressive guidance of Gandhi, continued to raise slogans while Deputy Speaker Thambidurai wanted to take up discussion on drought situation in the country.
Congress members were in the Well raising slogans against the government like Zulm ki sarkar bandh karo (Stop a government full of atrocities), Tanashahi nahin chalegi' (Dictatorship will not work). BJP members countered with slogans like 'Brashtachar ke khel mein, ma beta jayenge jail mein' (In this game of corruption, mother and son will go to jail).
Thambidurai asked Congress members to spell out the issue over which they were protesting so that he could allow them to speak on it.
Rudy said he was "surprised and shocked" over the attitude of Congress members when the House wanted to discuss the condition of farmers affected by drought.
Amid the din, he said he had tried to talk to leaders of various parties to see how House could function normally but Sonia Gandhi had "obstructed" this.
While slogan-shouting was continuing, AP Jithender Reddy (TRS) and Prem Singh Chandumajhra (SAD) said they wanted a debate on drought under Rule 193 as farmers were suffering.
Rudy said, "This is unfortunate for the country that Congress is not allowing discussion on an issue which concerns farmers... I think they are raising slogans for some court verdict (apparent reference to Herald case) which has happened outside this House. The court case has been going on for years, it is a judicial process".
Law Minister Sadananda Gowda said it was undemocratic to stall the House.
"Whether as government, can we dictate the terms to judges? Some personal vendatta is brought inside the House. The drought discussion is in larger interest of the people of the country," Gowda said.
It was a similar story in the Upper House which saw repeated adjournments over protests by Congress members.
In the Upper House, Leader of Opposition Ghulam Nabi Azad said it is painful to see the "atmosphere of political vendetta" in the country where ruling party seems all out to make an "opposition-free India" for the last over one-and-a-half-years.
"During the election campaign NDA had given the slogan of 'Congress-free India'. I thought this is just an election manifesto and once the government is formed, it will work for development and poverty alleviation. But this government not only wants 'Congress-free India', it wants 'Opposition-free India', he said.
He said what is happening to the entire Opposition whether Congress, BSP, SP, RJD, JDU, DMK or AIADMK was painful, citing how raids were conducted on Himachal Pradesh Chief Minister Virbhadra Singh on a day when he was stepping out of his house for his daughter's wedding, which was not cancelled despite this.
"What happened yesterday was no different from it as a TMC member's father who is owner of an Urdu paper was arrested," Azad said as the opposition shouted "shame-shame".
"There are two sets of law governing political parties – one for the ruling party and the other for the opposition," he said and added, "We need justice, equal justice".
"It is a democratic country, secular country" and should be governed by Constitution with equal law for the ruling and oppostion parties, the LoP said.
He said the Chair was asking reasons for the disruption and the reply is that "despite a discussion on Constitution in the House a week back and dedicating ourselves to be governed by it and the principles of democracy, socialism and secularism, I find there is no change and there are two sets of law."
Rejecting Azad's allegation, Leader of the House and Finance Minister Arun Jaitley said, "This government has not done any illegal action against anyone.... In case of Congress leaders, it is not the action of the government but that of the judiciary. ...Court has summoned them and not the government. Give your reply to them."
Contending that there was "misrepresentation of facts", he said, "The government is ready for any discussion...There are serious allegations on Congress leaders."
Jaitley said such practices were done by the Congress earlier and the government was ready to discuss this issue immediately as it wanted to place the facts before Parliament and before the country.
Deputy Chairman PJ Kurien asked whether the House was ready for discussion to which the Opposition members said "No".
At this, Minister of State for Parliamentary Affairs Mukhtar Abbas Naqvi said, "Let them shout slogans as it is their habit and let them shout for years."
Amid the din, Kurien adjourned the House for the day just minutes after 3 pm.
Earlier, slogan-shouting Congress members stormed the Well of the Rajya Sabha as soon as it met for the day.
They raised slogans like "Tanashahi nahin chalegi" (dictatorship will not be tolerated) and "Badle ke rajnathi nahi chalegi" (politics of revenge will not be tolerated). Members in the treasury benches countered them and hit back with slogans like "Chor machaye shor" (Thieves make noise).
Kurien got listed papers of the day tabled amidst the din and asked Congress members to go back to their places and explain the reason for their protest.
"Instead of shouting slogan, one of you stand up and say what is your grievance," he said. "Let me also know... I am not able to understand anything."
Congress members, however, did not pay any heed to his requests and continued shouting slogans.
Minister of State for Parliamentary Affairs Mukhtar Abbas Naqvi said their problem is the court not the government.
Congress, he said, should respect the judicial process and work under the due process of law.
"At least the Chair must know what is the grievance, what is the provocation," Kurien said as he asked if Azad would like to say anything. Azad, however, did not oblige.
With Congress members unrelenting, both Houses were adjourned first till 11:30 am and then till noon.
At noon, protests were again witnessed even as Chairman Hamid Ansari repeatedly pleaded for allowing the Question Hour. He then adjourned the House till 12:30 PM. Similar scene prevailed and the House was adjourned till 2 pm and then 3 pm.
In Lok Sabha, Rudy said, "We are all sad and since morning we have been trying to understand which issue the Congress members want to discuss."
He said Sonia Gandhi is sitting in the House and it seems she has told the members that House should not run.
Initially without directly mentioning any issue, Rudy said if Sonia Gandhi is bothered by something outside the House, she is free to express it, Rudy said.
Bandyopadhyay said the vindictiveness of the government is causing uneasiness among the Opposition.
"The vindictiveness (of the government) towards the Opposition should stop... We are protesting together... We are united on this issue," he said.
He also recalled that in an earlier instance, Kharge was not allowed to speak on the issue of Dalits.
Before speaking, the TMC leader was seen chatting with Sonia Gandhi.
Rejecting that the government is "vindictive", Rudy demanded that the Opposition show proof.
Gowda said the Opposition should spell out what they mean by vindictiveness. "They (Opposition) are alleging vindictiveness. They should spell out... This attitude will not be tolerated," he said amid continuing din.
Gowda noted that the Opposition cannot simply agitate in the Well as it does not serve any purpose.
As the protests continued unabated, Rudy wondered, "Kya aisa gunaah kiya humne? (What crime have we committed?) If Sonia Gandhi feels that the government has done something against her, then she should say that in the House. If a court has done something, how is this House responsible... We are asking for clarity."
He said the government has no role with respect to court proceedings. "Neither the government nor the Parliament has any role (with regard to court proceedings)," he said, adding that the Congress members have not even given notice for discussion on any issue.
As the discussion on drought could not be taken up in the din, Rudy said crores of farmers are watching and the Congress is protesting without any reason.
Amid the din, AAP member Bhagwant Mann said he wanted to raise the serious issue of problems faced by farmers in Punjab but the Congress was not allowing the same.
With protests continuing, Deputy Speaker M Thambidurai adjourned the Lok Sabha proceedings for the day.
PTI
World
A signed coalition agreement was formally presented to the Knesset secretariat Friday, the last step before a vote and the swearing-in of the new government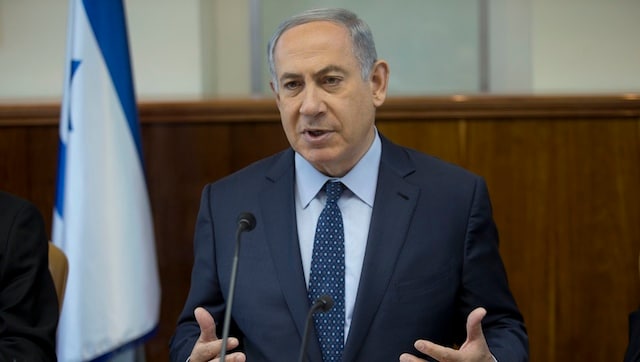 World
The crunch Knesset vote will either terminate the hawkish premier's uninterrupted 12-year tenure or return Israel to a stalemate likely to trigger a fifth general election since 2019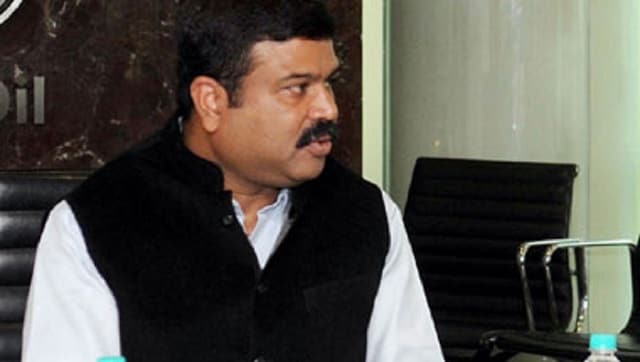 India
The petroleum minister, however, did not suggest a similar action for BJP-ruled states like Madhya Pradesh and Karnataka, where petrol has crossed Rs 100-mark