Demonetisation: 'Believed them', Yogendra Yadav's tweet exposes govt's ill-preparedness
President of Swaraj India, Yogendra Yadav after launching his new 'Halla Bol' campaign against black money, on Tuesday tweeted about the ill-preparedness of demonetisation.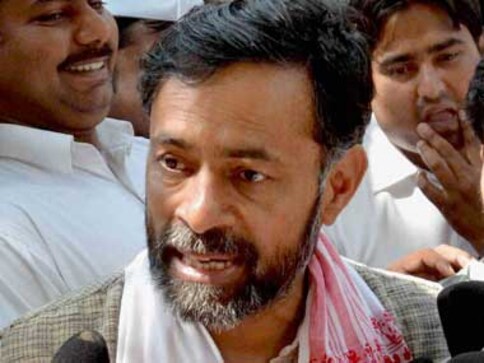 Former Aam Admi Party (AAP) leader and now president of the newly floated political party Swaraj India, Yogendra Yadav after launching his new 'Halla Bol' campaign against black money, on Tuesday, tweeted about the ill-preparedness of the government post demonetisation.
After visiting his bank branch, Yadav tweeted an explanation that he has given to his bank.
"I have made no cash deposit in my account since 8 November, 2016. I see no reason to offer any special explanation for the same. I normally like and wait for the queues to end. I was assured by the Prime Minister, the Finance Minister and the RBI that there was no need to rush to the banks and that I had till 30 December for making any deposit. I believed them."
This is the "explanation" I have given my bank for making a small deposit today. Pl retweet if you agree pic.twitter.com/v1JyhpADZ3

— Yogendra Yadav (@_YogendraYadav) December 20, 2016
His explanation comes a day after the Finance Ministry and the RBI brought out a notification (on 19 December) saying that the customers can make deposits worth more than Rs 5,000 of old Rs 500 and Rs 1,000 notes only once till 30 December and that they will also have to explain why they did not do so before.
Prior to this, Yadav optimistically had termed the demonetisation move a good gesture which signals the government's seriousness about tackling black money and putting an end to fake currency problem. But he simultaneously cautioned that the move has been poorly executed due to ill-preparedness and the havoc it created couldn't be anticipated.
With no end to public woes, Yadav on 5 December, had termed the decision to devalue high-denomination notes a "pseudo war" against black money. Strongly criticising the government, he had said that the government has been seeking to dilute the Prevention of Corruption Act (PCA), which would weaken the actual battle against corruption and help the corrupt.
But, the latest RBI diktat on 19 December on capping the deposit limit compelled Yadav to go public through a tweet.
"Yogendra ji was surprised on this new diktat from the RBI. He tweeted from there the explanation he gave to the bank. But, it's not just about Yogendra Yadav, but about the 125 crore Indians. The prime minister, finance minister, and the RBI – all of them assured people on 8 November that they won't have to bother and rush to banks to deposit old currency notes. The deadline was 30 December. But, with only 10 days left, the government suddenly changed its stance. First, they capped the withdrawal limit and now the deposit limit. It clearly reflects the ill-preparedness of the government and the banking sector," chief national spokesperson Anupam told Firstpost.
"We hailed the prime minister's bold decision of scrapping the high-value Rs 500 and Rs 1,000 notes to stop counterfeiting of currency and his initiative to curb black money generation. But, it's surprising how the prime minister was unaware of the cascading effect of demonetisation on the common man. Around 86 percent of the cash has been sucked out of the system and it has led to a situation of anarchy. Both the government and the RBI have been changing the goalpost every day. But, whatever is happening at present, shows either the prime minister is insensitive towards his own people or incapable," he added.
Post demonetisation, Swaraj India has embarked on a nationwide campaign against 'Black money in politics' – Kaale Dhan Par Halla Bol, and avoided making any comments against Narendra Modi's demonetisation move.
The campaign kicked-off with a massive rally at Jantar Mantar in New Delhi on 18 December which witnessed a gathering of more than 10,000 people.
"The black money is a ten-headed Ravana and cash is just one head of this Ravana. Real estate, gold, benami property, P-Notes and foreign investment accounts are the rest of its head. By hitting the head of Ravana, you cannot kill it. To kill Ravana, we must strike at his navel and the navel of black money is political corruption. Our Parliament has failed to kill this Ravana. And today, time demands a mass campaign against black money in politics. Swaraj India and Swaraj Abhiyan have jointly resolved to take up this campaign," Yadav had said while addressing the rally.
Swaraj India in its national executive meeting that concluded on Tuesday has decided to aggressively tackle the issue of black money.
"Demonetisation is not the issue. Our focus is on eradication of black money and we'll be going on an awareness drive on this issue across the country. We want to get prepared after 30 December to combat various issues of corruption," Swaraj India's senior leader Anand Kumar told Firstpost.
Anupam added, "The source of black money is corruption and the root cause of it is political funding. Our first intervention will be to keep a vigil on black money in politics, as a part of our nationwide campaign to reform political funding. The government is misleading the public with its half-hearted attempts but the truth is that the ongoing proceedings against black money have been guarded by the political parties. Since successive governments and all major political parties have consistently defied Election Commission's plea to follow standard accounting practices. There is no way the government can prevent political parties from functioning as conduits of converting demonetised currency into white money."
Find latest and upcoming tech gadgets online on Tech2 Gadgets. Get technology news, gadgets reviews & ratings. Popular gadgets including laptop, tablet and mobile specifications, features, prices, comparison.
India
Congress leader Rahul Gandhi on Sunday questioned the government on its strategy for making the COVID-19 vaccine available to the public
India
The prime minister's last trip abroad was to Brazil, in November last year, to attend the BRICS Summit
India
India seems to have belatedly understood and now appear more accepting of the reality that peaceful resolution of the dispute is a long shot and the focus should instead be more on prevention of an armed conflict that looms large.