Darjeeling on the boil: Protests have made Mamata Banerjee a stronger leader across Bengal
The Opposition has been caught wrong-footed completely. They are faced with a dilemma: If they support creation of Gorkhaland, the Bengali masses would turn against them. And if they don't, Mamata Banerjee would get stronger
Here comes a twist in the tail from Darjeeling: Sikkim chief minister Pawan Chamling has lent his support to those demanding statehood for Gorkhaland. In an official communiqué sent to the Centre, Chamling said, "The fulfillment of the constitutional demand of the people of Darjeeling hills will provide long awaited justice to their patriotism."
The Sikkimese twist to the Darjeeling narrative is extremely important from a historical perspective: It was the Raja of Sikkim who had "gifted" Darjeeling to the East India Company way back in 1835. And can you imagine what the Raja received in return? One double barreled gun, one rifle, one piece of red-broad cloth measuring 20 yards, two pairs of shawl (one of superior quality and the other of inferior quality)! What a magnanimous gift parcel from the then governor general!
The Raja wasn't happy. He approached the governor general for better reimbursement. In 1841, the government granted the Raja an allowance of Rs 3,000 per annum as compensation. This amount was raised to Rs 6,000 in 1846. The Raja accepted it grudgingly. For he needed to be on the good books of the British for strategic reasons.
The Official Deed that was agreed upon by the two parties makes an even more interesting reading: "The governor general, having expressed his desire for possession of the hill of Darjeeling on account of its cool climate, for the purpose of enabling the servants of his government, suffering from sickness, to avail themselves of its advantages, the Sikkim puttee Raja, out of friendship for the said governor general, hereby presents Darjeeling to the East India Co. that is, all the land south of the great Rangeet River, east of the Balason, Kahail and Little Rangeet rivers, and west of the Rungno and Mahanadi rivers."
But forget all these. That is history. The British Raj and the Raja of Sikkim are all gone. And the clock can't be turned back.
What matters more is that, at present, a headstrong woman, Mamata Banerjee, sits on the saddle in Kolkata, rekindling the flame of Bengali pride and might. It's obvious that she views history from a different angle; the powers that be haven't been fair to Bengal down the ages. The state has had to face painful splits and partitions time and again. The first time it happened was in 1905, when the then viceroy of India, Lord Curzon, ordered division of the state into two parts — Muslim majority eastern region, and Hindu majority western areas.
Following huge protests by masses who described the move as "an attempt to strangle Bengali nationalism", Bengal was reunited in 1911. But under the new arrangement, a division on linguistic — and not religious — grounds took place. As a result, states of Orissa, Bihar and Assam were carved out. And a few years later, India's capital was shifted from Calcutta to New Delhi.
Now you know why Mamata Banerjee is so angry. Like any other Bengali Bhodrolok, she just can't bear yet another division of Bengal, whatever be the reasons.
Mark the words she uttered extempore at a function held to honour journalists in Kolkata earlier this week: "Bangla ke bhaag hote debo na (I will not let Bengal be divided, come what may). Can't you see that in Darjeeling, reporters are being kidnapped? The so called agitators possess sophisticated arms and ammunition. They want to terrorise me with guns. I want to tell them that I'll snatch away their guns. These arms are not collected in a day; they have connections with north eastern insurgents. There are some other countries involved but I shall not reveal everything here. I'll only say that I will give my life if need be, but I will not let them break Bengal. The court has held that the bandh is illegal. But they listen to none — not even courts. I appeal to my brothers and sisters in the Hills not to support the terrorists."
She was determination personified.
Clearly, she knew that she was a much bigger mass leader in Bengal today compared to what she was in the pre-Darjeeling agitation. The Opposition, which includes BJP, Congress and the Left parties, has been caught wrong-footed completely. They all are faced with a dilemma: If they support creation of Gorkhaland, the Bengali masses would turn against them. And if they don't, Mamata would get stronger.
The latest news from north Bengal is that the 'Queen of Hills' continues to be on the boil. A case of murder, arson, assault on police personnel and conspiracy to incite violence on 17 June has been filed against Bimal Gurung and his wife Asha. Internet services remain suspended. And cable television channels have also gone off the air.
And the epic clash of histories continues to be played out in West Bengal. Unendingly.
India
Miscreants hurled several bombs at the gate of Trinamool Congress (TMC) leader Sharbari Chowdhury's house in Jagaddal, North 24 Parganas in West Bengal. It is also alleged that miscreants pelted bricks at the TMC leader
India
Sukanta Majumdar filed a case against the national general secretary of the Trinamool Congress (TMC) at the Bankshal court on Thursday. The issue pertains to the controversial comments by Abhishek Banerjee following the 'Nabanna Chalo' campaign by the BJP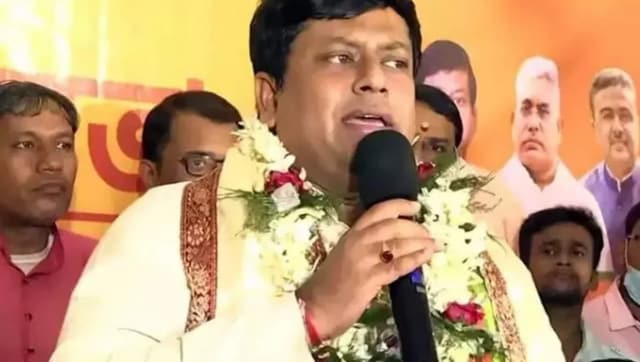 Politics
While visiting the Durga Puja pandal of Dhupaguri's Uttarayan Club that has been constructed as a model of Ayodhya's Ram Temple, BJP leader Sukanta Mazumder hit out at the Trinamool Congress (TMC) leaders and their chief, West Bengal CM Mamata Banerjee