BMC polls: MNS chief Raj Thackeray plays communal card, questions rise in Urdu schools in Mumbai
Thackeray also dubbed his cousin Uddhav Thackeray's ongoing media diatribe against ally BJP as nothing but 'a cock fight', and predicted that after elections they will be friends again.
From 'sweeping corruption' to 'lack of transparency' in the Brihanmumbai Municipal Corporation (BMC) administration, MNS chief Raj Thackeray trained guns at BJP and Shiv Sena on a myriad issues as he kick-started his campaign for the BMC polls on Wednesday.
However, what grabbed headlines was his barb on the ruling dispensation at the BMC for allegedly promoting Muslims in Mumbai. Thackeray claimed that the number of Urdu medium schools was on the rise in Mumbai, whereas Marathi medium schools were forced to shut down. Without naming the community, in a barely veiled attack, Thackeray said that this showed "whose" numbers were increasing in Mumbai.
"In Mumbai, Marathi schools are shutting down and Urdu schools are increasing. The parties governing the BMC are giving permission to these schools. If Urdu schools are rising, you know whose numbers are increasing and who is coming to the city," The Indian Express, quoted Thackeray as saying.
The firebrand Marathi leader was speaking at his first election rally in MNS bastion Kannamwar Nagar in Vikhroli ahead of the upcoming civic body polls in Mumbai.
Thackeray also dubbed his cousin Uddhav Thackeray's ongoing media diatribe against ally BJP as nothing but "a cock fight", and predicted that after election they will be friends again.
Raising questions on the Shiv Sena publicity hoarding "We Did It", Thackeray wondered what exactly they have done and why it is not yet visible to the people of the city.
At the same time, referring to the BJP's slogan "We will do it", he asked as to what they were doing all these years in power in the civic body.
"The BMC has a budget of Rs 37,500 crore. Rs 22,000 crore goes in salaries, but what about the balance Rs 15,500 crore? Where is it, in whose homes, in whose pockets? In the past five years, where has Rs 77,000 crore disappeared? There's nobody to question them," Thackeray thundered.
Training guns on Prime Minister Narendra Modi, Thackeray recalled how he had promised the people of the country that next year, demonetisation would usher in a "new India".
"We are already in 2017. Where is that promised 'new India'? Has anything changed? But hundreds of companies have shut down, thousands have lost jobs, the people are left standing in queues where 200 people died," he said.
He said in the ongoing elections in five Indian states, each candidate is allowed to make expenses of Rs 25 lakh, but nobody asks where that money comes from.
"How did these candidates get so much money when the RBI withdrawal limit is only Rs 24,000 per week? Over and above, some parties are giving Rs one-crore to each candidate for poll expenses. Only cash deals are being made. Where is the promise of the 'cashless' economy?" he said.
Underlining the "massive development works carried out in Nashik" where the MNS has ruled for the past five years, he challenged all political parties to see and emulate the manner in which that city has been transformed.
"We got your support and delivered in Nashik. I appeal to you to give us one chance in the BMC and see how we can change Mumbai," he urged the people.
On Tuesday, Thackeray launched the much-anticipated MNS campaign with two late-evening election rallies in Mumbai and is scheduled to address similar rallies in Thane, Pune, Nashik, Pimpri-Chinchwad and other places before the civic elections scheduled in these cities on 21 February.
With inputs from IANS
India
The ex-IPS officer joined the BJP in 2012 and was appointed party spokesperson from Punjab's Sikh community in September last year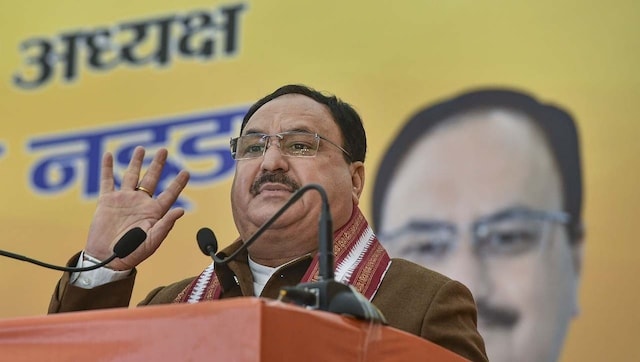 India
The BJP in Karnataka received a shot in the arm in the elections to the three municipal corporations by getting clear majority in Belagavi.
Politics
Addressing the foundation day of the All India Mahila Congress, Gandhi said that the ideology of the Congress is completely opposite of the BJP-RSS and only one of the two ideologies can rule the country.