BMC election results 2017, as it happened: Final tally puts Shiv Sena-BJP at odds, alliance the only possibility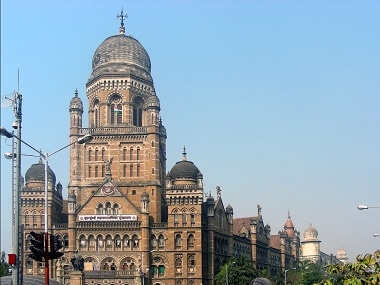 22:02 (IST)

Final tally puts Shiv Sena-BJP in difficult situation, alliance the only way out

BMC Election 2017: BJP need not work hard for Congress-mukt India, party already on self-destruct mode

The results of civic body polls may not mean much from the perspective of wider politics. The trend of the outcome may be different in elections at higher levels. But they reflect strength of parties on the ground. They indicate their cadre power and capacity to find their feet after an electoral blow or two. It also is way of getting a measure of rivals. The tally in the 10 civic body polls reveals that the Congress is losing ground fast. Even the strongholds are not so anymore. Being in the same bracket as the NCP and the MNS is certainly not a happy situation.

Read from the author

here

.

20:33 (IST)

Final tally of winners in the 2017 BMC election (result in one seat not yet confirmed)

Of the 227 seats in Mumbai, the Shiv Sena has won 84, the BJP 82, Congress 31, NCP nine and the MNS 7 pic.twitter.com/gzGOJsJdHT

— News18 (@CNNnews18) February 23, 2017

20:14 (IST)

Here is the final list of winners in Mumbai civic body polls

The results of the Brihanmumbai Municipal Corporation (BMC) election has surprised everyone including the Shiv Sena, which hoped to gain a clear majority. In the initial phase of the polls, BJP was leading but by the end of the counting, both the parties were neck to neck. The Shiv Sena on Thursday emerged as the single largest party in the cash-rich BMC winning 84 seats, closely followed by BJP which bagged 82 seats, as results for the 227 seats poured in. While the Shiv Sena did well in the Zilla Parishads, it suffered setbacks in the municipal corporations. Click here to access the list of all the winners so far.

Editor's note: Firstpost couldn't verify the names of 45 winners in the BMC election, hence their names have not been included in the list.

19:47 (IST)

Elated Modi thanks Maharashtra for BJP's performance in local body elections | ANI

It's been a great start to 2017.First unprecedented support in Odisha&now overwhelming blessings from ppl of Maharashtra: PM Modi (file pic) pic.twitter.com/0r2HhTFUBu

— ANI (@ANI_news) February 23, 2017

19:44 (IST)

BJP gets a step closer to its objective of a Congress-mukta Bharat

Even though BJP didn't receive a clear majority in the BMC election, its performance in the 10 municipal bodies whose results were declared on Thursday seems to have made one thing clear: it's a step closer to achieving its objective of making a Congress-mukta Bharat.

19:29 (IST)

BJP no longer a second fiddle to regional parties: Arun Jaitley

Finance minister Arjun Jaitley is impressed with the performance of the Bharatiya Janata Party (BJP) in the local government elections in Odisha, Maharashtra and other states. Speaking to ANI, Jaitley said, "Since May 2014 India has seen many state and local elections. BJP has increased its vote in each of these elections."

The BJP leader added that the BJP has done exceedingly well in Maharashtra, Haryana and Assam where it traditionally played a second fiddle to regional parties. Jaitley also mentioned the party's performance in the local government elections in Odisha saying that "BJP is capable of winning major states on its own".

The minister also said that BJP has now become a pan-India party is fast spreading its wings across the country as compared to the Congress, which has been squeezed out to third or fourth place in most local body elections.

Since May,2014 India has seen many State & local elections.BJP has increased its vote in each of these elections: FM Arun Jaitley (File Pic) pic.twitter.com/KKNnHBewvB

— ANI (@ANI_news) February 23, 2017

In Odisha,Congress got squeezed out of contest. In Maharashtra,it got pushed to 3rd or 4th place in most cities: FM Arun Jaitley (File Pic) pic.twitter.com/RqkpWW6LOV

— ANI (@ANI_news) February 23, 2017

19:08 (IST)

Lost a few seats by extremely narrow margins

"Even the seats that we lost were often lost by extremely narrow margins. This could have been very comfortable for us had those results gone in our favour," rues Shiv Sena executive president Uddhav Thackeray.

19:07 (IST)

Uddhav Thackeray non-committal about alliance with BJP at state government

"Nobody else in the country has the same party retained power at a municipal corporation for five times in a row. This is a historic win for us, and this is not the time for us to talk about the state government. Chief Minister Devendra Fadnavis and I haven't spoken today," said Shiv Sena chief Uddhav Thackeray.

18:47 (IST)

BJP, Shiv Sena may not admit to it, but they need each other

The BJP and Shiv Sena are neck and neck in the number of seats won in the BMC election. Even though the BJP picked up a lot more seats than ever before, it fell short of its goal — taking control of civic affairs. The news isn't good since either party would need support to take control of the BMC, making an alliance hard to forge and sustain.

To read full article, click here

18:43 (IST)

Sena non-committal about future of Devendra Fadnavis state government

Asked if he will pull out of the state government led by the BJP, Uddhav Thackeray says "why the rush. Let us celebrate this win first"

— News18 (@CNNnews18) February 23, 2017

18:42 (IST)

Sena retains hold, BJP makes huge gains, but smaller parties hold key to power

The possibilities are immense for both, the Sena and the BJP, are likely to stake claim for power: The Sena, as the single largest party, assuming office with the help of non-BJP parties; the BJP assuming office with the help of non-Sena parties; and the Sena and BJP forming a post-poll alliance in return for a political deal in the state and central governments. But whatever the outcome, the saffron partners have belittled the Congress and the NCP.

To read full article, click here

18:35 (IST)

18:29 (IST)

Sena demands probe into voters missing from lists

"There have been many thousands of voters whose names have gone missing from the lists. This is a grave problem, and needs to be investigated. We need to check if a conspiracy is afoot," said Shiv Sena chief Uddhav Thackeray.

18:27 (IST)

Congress should take a long and hard look at its failure: Omar Abdullah

National Conference leader and former Jammu and Kashmir Chief Minister Omar Abdullah suggested the Congress take a "long and hard" look at its failure in Maharashtra civic body polls, saying he will "truly despair" about 2019 Lok Sabha elections if the results of Assembly polls in five states on 11 March go the
same way. "If 11/03/2017 goes this way, I will truly despair for what it will mean for the battle of 2019 which is the one that really matters," Omar wrote on Twitter following BJP's good showing in the civic body polls in Maharashtra.

— PTI

18:16 (IST)

Uddhav Thackeray to also address media

After his party claimed first place in the BMC election, albeit by the most slender of margins, Shiv Sena chief Uddhav Thackeray will address the media, in which he is likely to spell out his party's plans for the future.

Lottery to determine winner in Girgaum

In Ward No 220 in South Mumbai, Shiv Sena's Surendra Bhagalkar and BJP's Atul Shah had the exact same number of votes. Counting took place on three separate occasions, but threw up the same figure each time. The final winner will be picked by BMC commissioner Ajoy Mehta through a lottery system.

17:58 (IST)

Demonetisation just one part of our anti-corruption plank

"We have done well throughout Maharashtra. We fought this elections on the promise of anti-corruption, of which demonetisation is just one part. It's clear the people of the state have accepted our vision," Chief Minister Devendra Fadnavis has said.

17:54 (IST)

Fadnavis non-committal about post-poll tie-ups

"A core committee will decide any possible post-poll alliances or tie-ups with different parties," Devendra Fadnavis has said after his BJP party won 81 seats in Mumbai.

17:45 (IST)

Used same agenda that we used at Centre and state levels: Fadnavis

"Mumbai has come out and voted in favour of BJP. The agenda we used at the national and state level, we also used successfully here. And not just in Mumbai, we also won six other cities across the state," Chief Minister Devendra Fadnavis has said.

17:40 (IST)

Credit to Modi, Fadnavis, says BJP

"For this, we give credit to Narendra Modi's guidance and CM Devendra Fadnavis, who promoted clean governance," the BJP has said.

17:24 (IST)

PINNED POST: Sanjay Sawant and Aashray Hariharan deconstruct the election

16:44 (IST)

Fadnavis to address media

With BJP putting up a great show, winning eight municipal corporations that had civic polls on Tuesday, Chief Minister Devendra Fadnavis will speak to the media and discuss his party's plans for the cities they have won.

16:21 (IST)

BJP claims 81 seats, support of four more corporators

BJP's Mumbai unit chief Ashish Shelar declares party's win on 81 seats and claims support of 4 other corporators. (File pic) pic.twitter.com/Y3JMrbTfVc

— ANI (@ANI_news) February 23, 2017

How BJP won Pune

The BJP had strategically started planning for the Pune Municipal Corporation (PMC) elections, even before the 2014 Lok Sabha election took place. Even while campaigning for the Lok Sabha elections was taking place, the party's long-term target appeared to be the civic elections. They systematically activated the RSS cadre and old timers in the city. The first signs of victory came with BJP candidate Anil Shirole winning becoming MP from Pune. The BJP wave then swept the NCP and Congress away, winning all eight seats during the legislative Assembly polls held later that year. And it culminated in Thursday's win which gives them control of the city at the Centre, state and civic levels.

16:03 (IST)

Partywise positions for 225 seats:

Shiv Sena: 84

BJP: 81

Congress: 31

NCP: 9

Samajwadi Party: 6

MNS: 7

AIMIM: 3

ABS: 1

Independents: 4

Partywise positions for 221 seats:

Shiv Sena: 84

BJP: 80

Congress: 31

NCP: 9

Samajwadi Party: 6

MNS: 7

AIMIM: 3

ABS: 1

Independents: 4

Matoshree cleared after fire; roads deserted again

Matoshree cleared after fire; roads deserted again

Ramdas Kadam visits Matoshree to congratulate Uddhav Thackeray

Senior Shiv Sena leader Ramdas Kadam has visited Matoshree to meet Uddhav Thackeray and congratulate him on the Sena's fine performance in the BMC elections.

15:46 (IST)

Unprecedented success for BJP, says Nitin Gadkari

For the first time BJP has got such unprecedented success.I congratulate Maharashtra CM &BJP workers: Union minister Nitin Gadkari #BMCPolls pic.twitter.com/DTRpzXVKtB

— ANI (@ANI_news) February 23, 2017

15:45 (IST)

It's neck and neck between Shiv Sena and BJP in Mumbai

#BMCPolls result of 225/227 wards: SS wins 84, BJP wins 80, Congress wins 31, MNS wins 7, NCP wins 9, MIM wins 1,others win 5, ABS wins 1. pic.twitter.com/CMMOY898XL

— ANI (@ANI_news) February 23, 2017

Traffic jam outside Sena Bhavan as supporters turn ecstatic

Final results of 199 seats

Shiv Sena: 77

BJP: 69

Congress: 27

NCP: 8

Samajwadi Party: 6

MNS: 4

AIMIM: 3

ABS: 1

Independents: 4

Shiv Sena supporters take out a bike rally outside Sena Bhavan

15:23 (IST)

Sanjay Nirupam accepts blame for Congress' poor show, offers to quit

Talking to reporters on Thursday after election results were announced, Congress' Mumbai unit chief Sanjay Nirupam launched a broadside against party leaders in the city who, he said, wished that the Congress lose the elections, an apparent reference to AICC general secretary Gurudas Kamat. "In their aim to defeat me, they caused immense harm to the party," he said.

To read full article, click here

— PTI

Final results in 199 seats

Shiv Sena: 77

BJP: 69

Congress: 27

NCP: 8

Samajwadi Party: 6

MNS: 4

AIMIM: 3

ABS: 1

Independents: 4

An update on the Great Matoshree Fire

An untoward incident took place outside Matoshree as celebratory fireworks went out of control and torched a tree in Kalanagar. The residents of Kalanagar had to take it upon themselves to douse the fire, while the police looked on. The fire has now been put out, thanks to the presence of mind of the locals. A fire tender arrived, but the blaze was already under control.

AIMIM HQ deserted after 'complete rout'

Situated in the densely-populated Muslim-dominated area of Nagpada, this is AIMIM's Mumbai headquarters. It was deserted when I got there and while there were no party officials in sight, the general sense I got from the few people hanging around the office was that party saw the result as a complete rout.

Having contested in 57 wards, the AIMIM has only won three seats so far.

The crowd surrounding the Ghatkopar counting centre slowly disperses as the process of counting comes to a close.

Where there's smoke...

Celebratory fireworks outside Matoshree result in a tree catching fire.

Celebrations underway outside Matoshree

14:26 (IST)

Shiv Sena supporters celebrate outside the counting centre near Deepak Talkies

14:23 (IST)

BJP narrowing gap

Though Shiv Sena stormed ahead in the first few hours of counting, BJP has narrowed the gap and has begun clawing back in seats where counting is currently on. As of now, Shiv Sena is leading in 93 seats while BJP is leading in 70.

This just in

Bhai Jagtap will be named new Mumbai Congress chief after Sanjay Nirupam tendered his resignation
Mumbai: On the eve of counting, estranged ruling saffron allies, the Shiv Sena and the BJP, on Wednesday claimed they will get majority in the Brihanmumbai Municipal Corporation (BMC) elections on their own.
Elections for the 227-member BMC took place on Tuesday and counting of votes will be taken up on Thursday. Besides Mumbai, elections were also held for nine other corporations.
Sources in the Sena said the party's internal survey shows it will win 110 out of the 202 seats it contested.
On the other hand, sources in the BJP said the party is confident of bagging 108 seats on its own.
The half way mark to rule the civic body is 114 seats.
Meanwhile, speaking to reporters in Mumbai, Maharashtra BJP President Raosaheb Danve said his party will win an absolute majority in the BMC.
"Of the 10 municipal corporations that went to polls, the BJP will come to power in six, including Mumbai," he said.
On the other hand, state BJP spokesperson Madhav Bhandari claimed the BJP will be the single largest party in the BMC.
Commenting on the missing names in the voter list, he said the party will lodge a complaint with the State Election Commission (SEC) in this regard.
"It was incumbent on the SEC to ensure these things didn't happen. Had these names not gone missing, the BJP would have got more seats than what we are expecting," he said.
Meanwhile, Sena spokesperson Neelam Gorhe dismissed exit poll results that predicted a close contest between the Sena and the BJP in the country's largest civic body with none of them getting the majority.
Gorhe said the Uddhav Thackeray-led party will defy exit poll results and get the majority on its own.
The Sena and the BJP, which were allies in the BMC for over two decades, fought the February 21 polls separately.
According to the Sena's internal survey, it will win maximum seats in its strongholds of South-Central Mumbai (Sewri, Lalbaug, Worli), Central-Western Mumbai (Kurla, Kalina, Chandivali, Santacruz), Western Mumbai (Bandra, Versova, Andheri), Central Mumbai (Wadala, Dharavi, Mahim, Dadar), North Mumbai (Dahisar, Borivali) and North-West Mumbai (Goregaon, Jogeshwari).
At a meeting, BJP leaders discussed their possible response to emerging scenarios after the results for 10 civic corporations and 25 Zilla Parishads are declared.
With inputs from PTI.
Firstpost is now on WhatsApp. For the latest analysis, commentary and news updates, sign up for our WhatsApp services. Just go to Firstpost.com/Whatsapp and hit the Subscribe button.
Updated Date: Feb 23, 2017 22:35:11 IST