With campaigning for 10 municipal corporations including the Brihanmumbai Municipal Corporation (BMC) over, and voting set to take place on 21 February, it will be interesting to see how majority of the Mumbaikars cast their vote. The voting will begin at 7.30 am and conclude at 5.30 pm.
Most Mumbaikars tend to shy away from voting
With civic issues continuing to affect the life of average Mumbaikars despite the fact that the BMC is the richest municipal body in the country (and as this Firstpost article shows an equally expensive budget as well), it would be interesting whether or not Mumbai will exercise its right on Tuesday or sit at home and enjoy the polling day as a holiday. Unfortunately, data from previous elections show a poor voter turnout in Mumbai with the percentage of voting marginally below in the last two elections. In fact, in the 2007 municipal elections, only 42 percent voters exercised their right whereas in 2012 the voter turnout was marginally higher at 44 percent.
Besides, the State Election Commission has spent Rs 95 crore towards voting arrangements for the 2017 BMC election. So, Tuesday will also show whether or not Mumbaikars consider the money worth more than 50 percent participation in the election.
How community lines divide Mumbaikars
In a multicultural society like Mumbai, leanings of different communities has often set the course of the result. A look at the demographics of the 227 wards, and an analysis of the 91.8 lakh voters registered for the civic election bring out some interesting insights on how voting may take place on Tuesday.
There are 50 lakhs male voters and 41 lakhs female voters. On an average, there are 42,000 voters per ward. In terms of community, there are 112 wards with Marathi and Dalit voters whereas there 115 wards with North Indian, Gujarati and Muslim voters.
Till 2012, the Marathi votebank played a crucial role, but in this election, the non-Marathi voters percentage is higher than Marathi voters, and that may change the equation. Marathi voters make 30 percent of the electorate size, whereas Dalits form just 10 percent of the total voters. The North Indians on the other hand make for 32 percent (the highest in the electorate), followed by Gujarati voters at 12 percent and Muslim voters at 10 percent. Christians, South Indians, Bengalis and Punjabi make for 4 percent of the electorate size.
Data available with Firstpost shows that out of the 91.8 lakhs, two third voters live in slums, most of whom are North Indians. And knowing that, development and civic issues should ideally play a key role, but the concentration of certain communities in certain areas, could offset that.
Pockets like Malad Malvani, Bandra, Mankhurd, Govandi, Byculla, Bhendibazar, Kurla, Jogeshwari and Oshiwara are the areas with Muslim dominated wards. There are more than 36 wards in which minority voters can change the results. And that includes Gujaratis too, who dominate wards in Mulund, Bhandup, Powai, Mumbadevi, Borivali, Kandivali, Malad, Vile Parle, Juhu, Girgaon, Peddar Road and Kanjurmarg. Historically, their voting choices have always reflected in the results.
As for the North Indians voters, they live across Mumbai and mostly in slums. So, in every ward, the North Indian vote bank plays a crucial role in the results, especially where the elections are tight.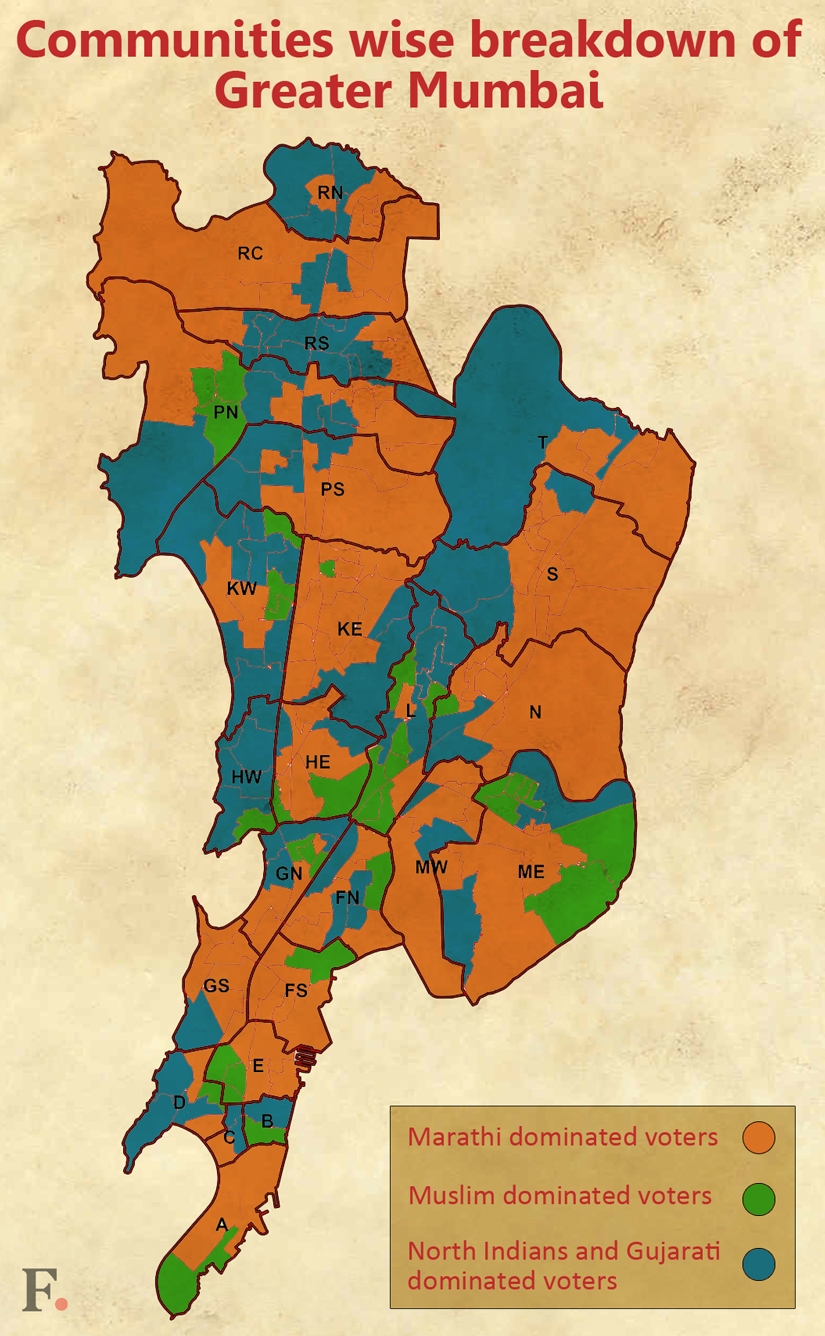 As for the Marathi voters, they form the majority in 112 wards with an average size of 20,000 voters related to Marathi and Dalit communities. So, the current BMC election is not only going to be an out-on-out battle between Marathi and North Indian voters but will include Gujarati and Muslim voters too.
More parties in fray
Another interesting development that is likely to affect poll results in the BMC election is that for the first time all the political parties are contesting solo. There are seven parties — Shiv Sena, Bharatiya Janata Party (BJP), Indian National Congress, Nationalist Congress Party (NCP), Maharashtra Navnirman Sena (MNS), Samajwadi party (SP) and the All India Majlis-e-Ittehadul Muslimeen (AIMIM) — are in the fray with more than 2,275 candidates contesting elections in 227 wards.
With Marathi and the non-Marathi voters equally spread across the city and the North Indians exceeding Marathi voters, the voting choices on Tuesday will also show whether or not Mumbaikars have managed to move out of regionalism and religion politics.
Updated Date: Feb 20, 2017 15:18:39 IST