As Yogi took oath to be UP CM, Mulayam whispered something to Modi: Here's what he definitely did not say
During the swearing-in of Yogi Adityanath, he gingerly got up from his seat and walked up to the prime minister.
On Sunday night, Mulayam Singh Yadav made what seemed to be the longest journey of his career. On a stage set for Narendra Modi and his victorious army in Lucknow during the swearing-in of the new chief minister, he gingerly got up from his seat and walked up to the prime minister. As the crowd chanted 'Modi-Modi', netaji leaned on Modi's shoulder and whispered something and after a brief moment of privacy with the prime minister, Mulayam returned to his seat.
With the benefit of hindsight, it can be argued that Mulayam was the biggest loser of the recent Uttar Pradesh elections. Not only did he lose the support of people and with it the privileges of power, but he also lost his son and half of the Yadav clan due to the family bickering. In the sunset of his life, Mulayam has indeed been forced to take the boulevard to oblivion.
So, it is not difficult to imagine that netaji may have had a lot to say to the prime minister — in fact, to anybody who may care to listen. But, what exactly did Mulayam say to Modi.
Here are a few intelligent (or even unintelligent) guesses. Tongue firmly in cheek: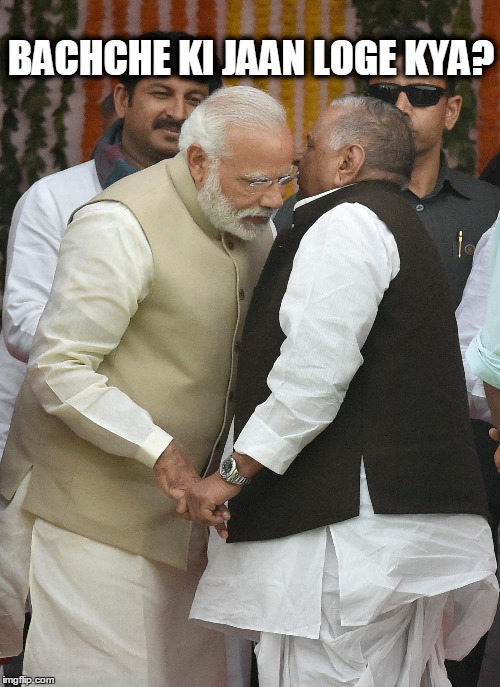 Now, we know that Netaji has no love lost for the son who rebelled against him with the intentions of conquering the moon but couldn't even protect the ground under his feet. Yet, as results have proved, beta-beta hota hai, baap-baap hota hai.
So, fatherly love and concern may have prompted netaji to walk up to the prime minister, apologise for the peccadilloes of 'UP ke ladke' and seek his forgiveness. "No hard feelings. Please be a little Mulayam to him," he may have said.
Or, he might have done the exact opposite and told Narendra Modi: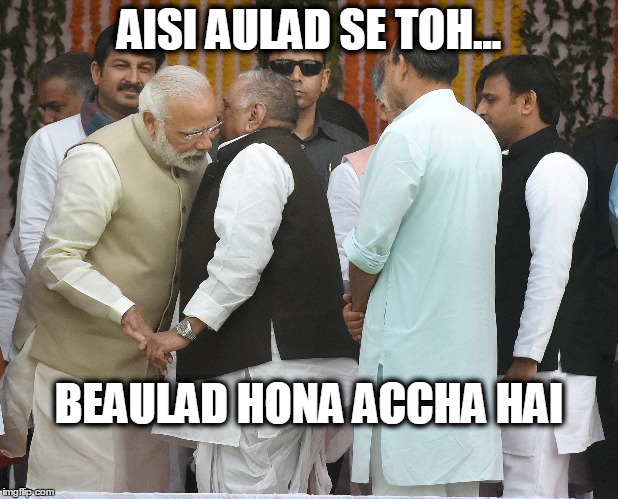 Now, this is also understandable and justified. Till a few months ago, netaji was the head of the Samajwadi as well as the Yadav parivar. At home, he would sit at the head of large dining table with sons, step-sons, brothers, step-brothers, bahus and grandchildren. At work, hundreds of Yadavs would sit at his feet, seeking his blessings and patronage.
All that and his cycle is now gone. In Khaled Hosseini's A Thousand Splendid Suns, an old woman tells her daughter that like a compass needle that points north, a man's accusing finger always finds a woman. In netaji's case, the finger may remain permanently pointed at his son, holding him responsible for making him see bad times in the vanprastha stage of life.
So, the pending rage may have forced Mulayam to go up to the prime minister and give him an advice that Modi may not find personally beneficial: Better to die alone than raise a son like him.
Yogi or Bhogi?
Considering the look on Ajay Singh Bisht alias Yogi Adityanath's face, the conversation could have been about the new chief minister.
Now, Mulayam Singh has been around for a long time. He has seen the BJP trying to make deep inroads into Uttar Pradesh in the past on the back of sadhus and sanyasis — Rithambhara who famously called Rajeev Gandhi Pappu during the Ram Mandir movement, immediately comes to mind. He may have heard the streets of Allahabad reverberating with chants of ''Raja nahin fakeer hai, desh ki taqdeer hai" when former prime minister and his mentor VP Singh became the symbol of India's hopes and anger against the Congress in the 80s. But, the sight of a fakeer, a sanyasi seeking power and becoming Raj Yogi may have bemused even a veteran like him.
So, he may have walked up to the prime minister and popped the question half of the country is eager to ask: ''What made you give the reins of UP to a monk who has experience only of running a temple?"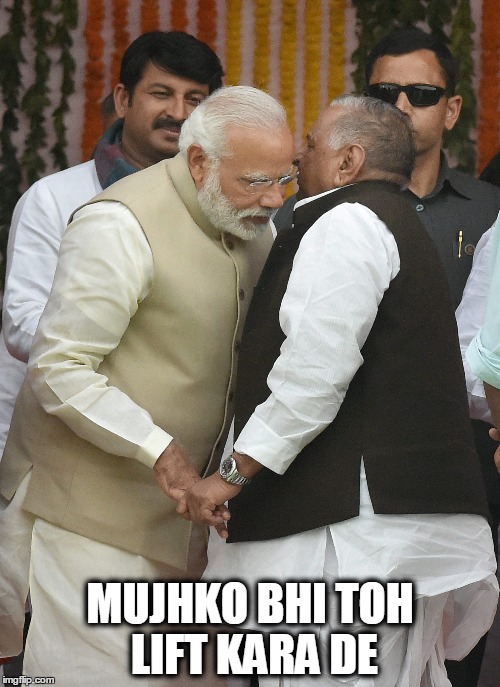 The prospect of spending old age out of power, possibly in a quiet corner of his house, seething with rage like a cantankerous old man nobody listens to may have already broken Netaji's back.
With no chance of returning to power soon, his dream of becoming the Prime Minister shattered and devoid of the brokering skills of old acolyte Amar Singh, Mulayam may have been forced to seek the PM's benediction for a better future.
As they say, when misery knocks on the door, ideology goes flying out the window.
And we know from his past, Mulayam has had just one ideology: Khud ka saath, khud ka vikaas.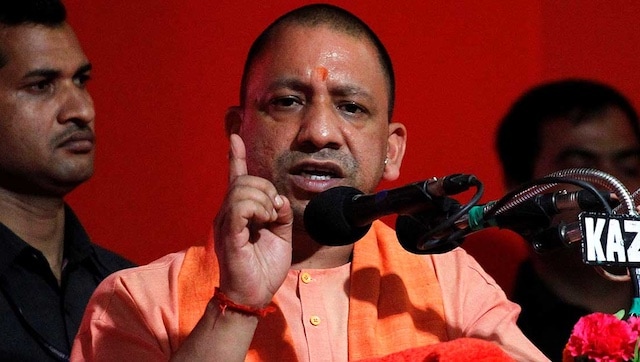 India
The Uttar Pradesh chief minister encouraged cleanliness at puja pandals and Ramlila events and said roads for taking Goddess Durga for immersion should be pothole free
Sports
The meaning of 'Kuffar to toot gaya', the phrase used by Pakistan captain Babur Azam during the post-game official ICC ceremony, has been a special focus of debate
India
The objective of PMASBY is to fill gaps in public health infrastructure, especially in critical care facilities and primary care in both urban and rural areas