'Akhilesh Yadav's half-baked politics, Cong alliance cost us election': Samajwadi Party leader CP Rai speaks to Firstpost
SP leader CP Rai questioned Akhilesh Yadav's decision to form an alliance with Congress and his 'offer' to tie up with Mayawati's BSP following exit polls.
A crushing defeat in the recently concluded Uttar Pradesh Assembly election has put former chief minister Akhilesh Yadav in a precarious position. The Samajwadi Party supremo, who only months ago had displaced his father and party founder, Mulayam Singh Yadav, from the post of national party president, would have been left reeling after the recent setback.
SP's performance in this election – winning 47 seats, down from 224 in 2012 – is its worst showing ever and has raised questions on Akhilesh's leadership ability. As expected, the banner of rebellion has started rising against him.
In conversation with Firstpost, SP leader and founding member CP Rai, the party's general secretary since its inception and known Mulayam aide, questioned Akhilesh's decision to form an alliance with Congress and his 'offer' to tie up with Mayawati's BSP following the exit poll results.
Rai said that BJP's deft handling of the election on multiple fronts worked in its favour and thus believes that Akhilesh should let Mulayam come back as party president to regroup the party. He said that all SP members need to united again and that Akhilesh should take his own time to evolve.
Excerpts from the interview:
What do you think propelled BJP to victory? And why did SP suffer such a crushing defeat?
We need to introspect on a few things. I told Mulayam to concede that in BJP, anyone could become anything at any point, irrespective of their surname. We don't know Narendra Modi or Amit Shah's caste. The BJP was successful in conveying that for SP, backward community meant Yadavs and for Mayawati, Dalit meant only Jatavs, and that both parties are trying to outbid support from Muslim community. Mulayam's humiliation at the hands of Akhilesh also drove some Yadavs towards the BJP.
Mulayam had thrown Congress out of power in 1989 and had kept them on the margins since. Then how did Congress suddenly became an asset for SP?
It is part of the Congress culture to thrust the same old tired persons, who have been around for fifty years and done nothing, onto people – like they had done with Sheila Dikshitji in Delhi. The most unfortunate part is that they are now trying to make Rahul Gandhi a leader.
As I have said earlier, Rahul is a true follower of Mahatma Gandhi. Gandhiji had said in 1947 that the fight for Independence was over, so the Congress should be disbanded. Now Rahulji, being a true follower, is fulfilling Gandhiji's words.
Till the time Congress make an effort to pitch Rahul against Modi, BJP will consciously give importance to Rahul. Because they know that until he is around, no one can stop BJP's onward march.
Then what do you make of Akhilesh's explanation, that theirs was an alliance between two youth, two mighty powers coming together?
That's because Akhilesh is as political as Rahul. If SP had not fought in amongst ourselves, we would have done well. Even if we had lost elections, we would have got around 140 seats.
Are you suggesting that Akhilesh is not political?
See, when you suddenly come into power, the bureaucrats intoxicate you a lot. You can check the records, there would not have been a single day when Akhileshji wouldn't have attended at least three programs – at Indira Prathisthan, Taj Hotel and elsewhere – that had no connection with politics.
This was done by the bureaucrats to keep him occupied with them. Those suit-tie wearing, English speaking guys were brought in to talk laudatory things about Akhilesh. As a result, he wouldn't had no time to talk to his own people, his own party members.
Was he not giving enough time to his party leaders... not taking feedback from them?
Even someone like me, the party's general secretary, hasn't spoken to him for a year. Many ministers wouldn't get time to meet him. No party runs this way. And the young guys around him, just as the bureaucrats, would talk only nice things about him.. telling him 'bhaiya you are winning, you are going to be the chief minister.'
What happens consequently is that in all this noise, the voice of reality gets drowned. When you focus on the 1,000-1,500 people standing outside your door, you tend to forget about the other 22 crore in your state.
Would you then agree that the slogan "kaam bolta hai" was misconceived... Something that could only be counterproductive?
How can the people of Balia-Ghazipur identify with a five km long metro line in Lucknow? How do people outside of the areas surrounding the Lucknow-Agra expressway appreciate it? Areas within Agra, and other areas connecting to Agra, have many problems, like broken dusty roads. Do you think people of those areas would feel satisfied that an expressway has been built at a distance? Can you go to Balia, Ghazipur or Azamgarh through this expressway?
What does expressway mean to them, when they don't have any basic facilities. The expressway has been built with our money, not with money of some capitalist. The bureaucrats have built this road at a cost of Rs 48 crore per km, when such roads are otherwise built at Rs 15 crore per km. You spend so much money to beautify Gomti by putting up lights, but there people still living in filth that don't have drinking water. By doing such superficial things, you can't claim to have done development.
Does this mean that BJP had easy pickings in this election? Did SP have no counter to Modi 's persona or Amit Shah's organisational skills?
BJP addressed issues on a multiple front. On one hand, they appeased different sections of society, by reaching out to people of all castes – non-Yadav OBCs, non-Jatav Dalits. On the other hand, they addressed concerns of other (Hindu) communities as well.
And by placing Modi as a 'messiah of the poor', they took away SP's plank. Another interesting aspect is how the BJP won in places where voters are predominantly Muslim.
What went wrong for Akhilesh? Were his problems compounded by the fact that Mulayam forced his candidates on Akhilesh?
Almost all of the 47 seats won by SP, except for four-five, had candidates placed by Netaji. All kinds of forces were used to defeat Shivpal Yadav but, with Netaji campaigning there, he won by a margin of 52,000 votes. Parasnath Yadav was lagging behind in Jaunpur, but after Netaji went there, he won.
Aparna Yadav lost from Lucknow Cantt, despite Netaji going there for her campaign. That's because the Cantt was never our seat... that is an elite class seat. So if Netaji goes to three places, out of which we win at two, what does it mean? It means that he has a standing among the people.
Do you admit that the alliance was a huge mistake? Why did he do it? And do you think it was mature on his part to reach out to Mayawati post the exit polls?
Ye sab adhkachrepan aur gair jimedari ki, gair rajnitik hone ki nishani hai... uske lakshan hai, praman hai (this is a sign of Akhilesh's being half baked, irresponsible strategy...it shows that he is a non-political person).
So was the alliance with Congress a huge mistake…
Look at the results of the Lok Sabha polls. The outcome clearly indicates that people believed that Congress was a corrupt party... a party which indulged in scam worth crores. The Vinod Rai (CAG) report made it known to everyone. Whoever was seen as friends with Congress, in any part of the country, lost badly.
The fact that Uttar Pradesh is in the grips of a Modi wave didn't help the SP either. But, their alliance with Congress was detrimental as those who have sided with them have lost badly, and those who were not with Congress, like BJD in Orissa, AIADMK in Tamil Nadu, have won with two-thirds majority.
But we didn't learn any lessons from that and aligned with Congress in the Assembly elections. I want to salute Congress – they may destroy themselves but will not let go of Rahul as their leader.
What should be Akhilesh's next move?
Akhileshji had promised before the elections that he will leave the party president post to me, till the elections, and that after winning, would gift the victory to Netaji and hand the post back to him. So, I appeal to Akhileshji, with folded hands, to fulfil his promise.
We have worked as a team, built the party and formed the government on several occasions. We will again build the party and Akhilesh's future will be our concern. After all, he is going to be the future of the party. Ram Gopal Yadav's negative role and negative character should also be highlighted.
Do you think the party will spilt... as Shivpal had said before the elections?
We want the party to stay united. We are all committed to Netaji. No other leader, except Faroq Abdullah, has handed over his legacy (chief minister) and became a minister at the Centre. No other leader did that, but Netaji did that and you think that Netaji is your enemy. I know that the line I have taken today will bring harm to me. But I am a committed Samajwadi and someone had to begin this. I want the party to stay united.
India
The two parties has joined hands to fight the battle of the deprived, oppressed, backward, Dalits, women, farmers, youth and the weaker section, as per Samajwadi Party's Twitter handle
India
The former prime minister was admitted to the All India Institute of Medical Sciences (AIIMS) on Wednesday evening after he suffered from fever and weakness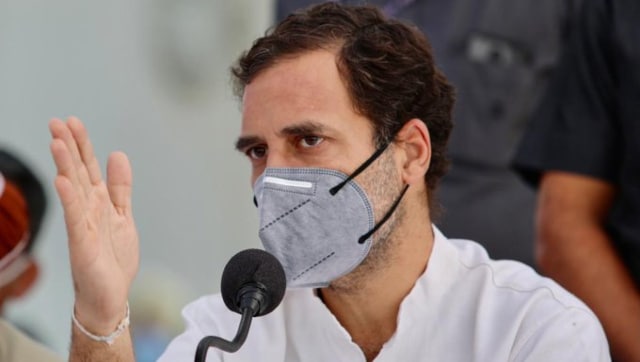 India
The Congress leader also targeted the government over Indian Army Chief General MM Naravane's "China was here to stay" remark in the context of stand-off in eastern Ladakh