AIADMK crisis: How Sasikala vs Panneerselvam turned into a breeding ground of memes
While O. Paneerselvam, Chief Minister and J Jayalalitthaa's close aide and AIADMK chief VK Sasikala battle it out in Tamil Nadu (TN), it looks like social media users are definitely having a blast with these memes on the two leaders.
While O. Panneerselvam, Chief Minister and J Jayalalithaa's close aide VK Sasikala battle it out in Tamil Nadu, it looks like social media users are definitely having a blast with some memes on the two leaders. Right from the point when Panneerselvam openly rebelled against AIADMK chief Sasikala, drama is unfolding in the state by the day. Game Of Thrones? More like Game of 'thorns'.
Amidst jaw-dropping revelations and statements by AIADMK leaders, people have now started pitying journalists from Tamil Nadu, considering the unfolding of events in the recent past like Jallikatu and Jayalalitha's demise among others.
With hilarious references to Tamil cinema and other memes that with global reference, #OPS (O. Panneerselvam) and #Sasikala are now the internet's new favorite hashtags.
Sasikala DA case verdict: SC sentences AIADMK gen secy to 4-year jail term; barred from politics for 10 years
Now that Sasikala has been convicted in the disproportionate assets case on Valentine's Day, looks like the memes just won't stop.
Happy valentine's day, Tamil Nadu!

Sasikala convicted and disqualified from polls for 9 years.

This seems appropriate. pic.twitter.com/MRsuWyx4Gj

— Peglet (@PedestrianPoet) February 14, 2017
Soon after Panneerselvam said, "A Supreme Court judge will head the probe into the death of Jayalalithaa", there were a lot of questions about the death of the leader who passed away on 5 December, 2016 after being admitted at the Apollo Hospital for 75 days, this popular reference to Sasikala has been all over our news feeds.
Here is another trending meme related to the race to the Chief Minister's throne in Tamil Nadu.
ROFL! #OPannerselvam #OPS #OPSvsSasikala #sasikala (from Whatsapp) pic.twitter.com/T6Eo29X6MS — Dinakaran (@dinakaran) February 8, 2017
Now, of course, how can a south political drama not be associated to the superstar himself! The night the AIADMK crisis begun, Facebook was soon juxtaposing the man against Rajinikanth and all sorts of thug life references.  
And then there was this. With widespread anger about Sasikala taking over as the Chief Minister, social media made their choice clear.
Sometimes you Wonder. No ?? pic.twitter.com/Pi7DzrP5mW — TheGhostRider31 (@TheGhostRider31) February 7, 2017
Many comparisons were made to the Dhanush and Trisha political drama film Kodi
.
Couldn't resist creating this meme. Enjoy. "Utivich, this could just be my best work." #ops #sasikala #OPannerselvam pic.twitter.com/69ohCitd7h — Sudhir Srinivasan (@sudhirsrinivasn) February 7, 2017
#OPannerselvam yesterday & today👇#opsatmarina #TamilNadu #CMOTamilNadu pic.twitter.com/mWfDlsXI3B — Cinema Calendar (@CinemaCalendar) February 7, 2017
Checkmate from OPS 😎#OPannerselvam vs #sasikala pic.twitter.com/lBjmGA076G — Troll Cinema ( TC ) (@TC_Offl) February 8, 2017
Theory of the people of TN right now
Q: Who is the CM of #Tamilnadu ? A: Quarterly Exam - #Jayalalitha Half yearly Exam - #Panneerselvam Annual Exam - #Sasikala (Forward msg) — kavitha Rao (@iamKavithaRao) February 5, 2017
That moment when Panneerselvam took everyone by surprise was when he sat alone in meditation at the burial site of Jayalalithaa, two days after he tendered his resignation. Tamil cinema lovers couldn't stop remembering flashes of Dhanush's film Velaiilla Pattadhari.
India
The chief minister has vowed to continue his struggle till NEET was rescinded and added that he would reach out to his counterparts in other states for the same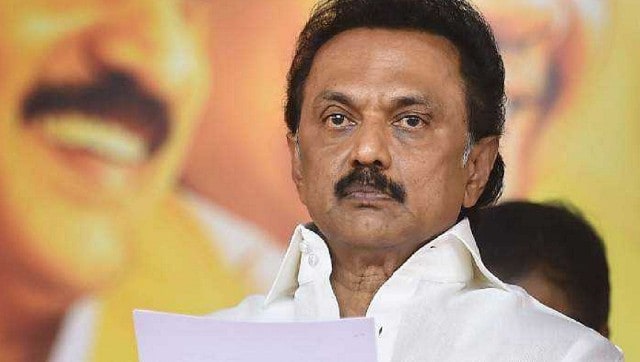 India
The resolution moved by Chief Minister MK Stalin said the CAA passed by the Parliament in 2019 'is not in tune with the secular principles laid down in our Constitution and also not conducive to the communal harmony that prevails in India'
Photos
The theme for Met Gala 2021 was 'In America: A Lexicon of Fashion,' and prompted sartorial social comments by the likes of Dan Levy and Carolyn Maloney.