In previous years, the months from April to mid-June would be the peak tourist season in Kashmir. But with unrest in the Valley, all the popular tourist hotspots wear a deserted look.
This is the second year that tourism numbers in Kashmir have been hit, with the decline beginning in July 2016 after the curfew and protests following militant commander Burhan Wani's death.
"This year, only 10 per cent of the expected tourists have come to Kashmir. This is our peak season and we are without any tourists. The last 10 months have been horrific for us. And this time, there is absolutely no business.," Shikara Owners' Association president Wali Mohammad was quoted by Indian Express as saying.
Those in the tourism business say they will be forced to look for alternatives if the situation does not improve.
"The situation is going from bad to worse. We have just 15-20 per cent occupancy, down from 70-80 per cent a year ago. The political uncertainty and continued violence leaves no scope for this sector," Javed Burza, president of Kashmir Hotel and Restaurant Owners Federation, told the Economic Times.
The sentiment is that 'negative portrayals' of Kashmir dissuade tourists from visiting the Valley. ET reports that in 2016, Kashmir had suffered a 55 per cent decline in tourism over the previous year.
Photos by Javeed Shah
***
Yaseen Ali, a taxi driver, fishes in Dal Lake. He says there is no work, and he's never seen such a bad season before. Kashmir has seen a decline in tourists this season due to the political situation, with just about 10 percent occupancy in hotels and very few advance bookings even though this is the peak season.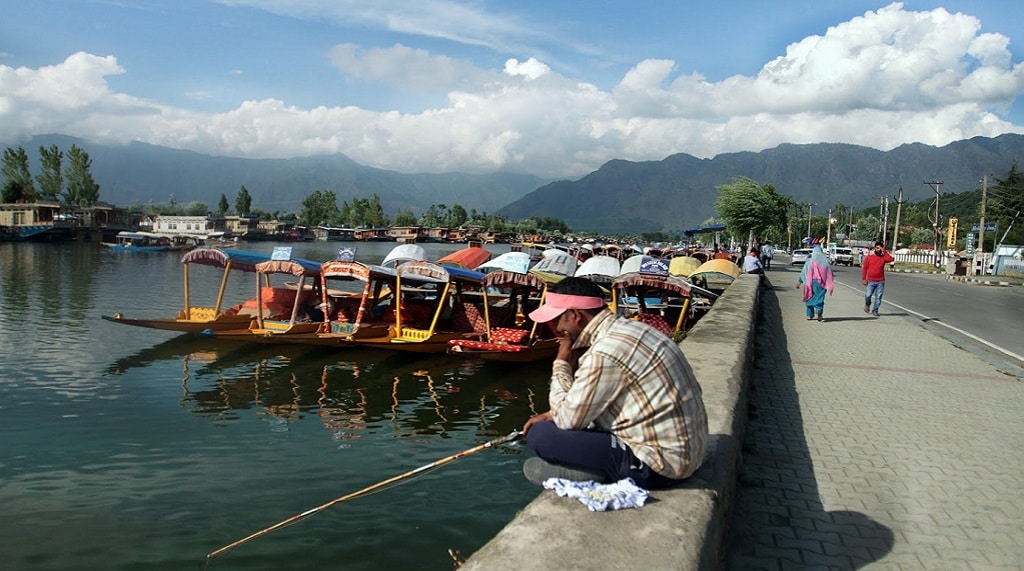 Water scooters lying idle in Dal Lake, Srinagar.