Why Meera is loved across India: Her story captures the imagination, while her songs encapsulate the human condition
Meera's songs, unlike those of Surdas or Tulsidas, are simple, straightforward, directly from the heart, not remarkable for any use of poetic devices like alliteration or complex metaphors.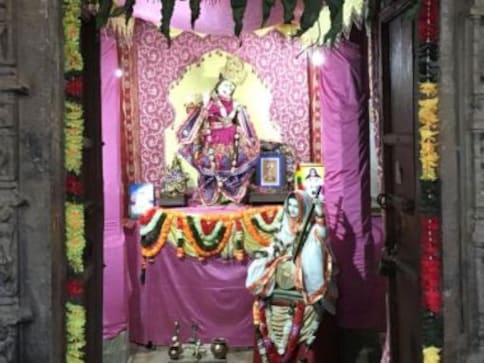 Recently in Chittorgarh for a National seminar, Meera-Darshan aur Bhakti, I was bemused to see the reactions of some when they learnt that I, from the land of Tamils, was there to speak on Meera and more surprised still that I sing her padas. One of them asked – do you sing them in Tamil? My friend and I exchanged disbelieving looks. Not only are the northerners ignorant of southern culture, they are also ignorant of how much about the north southerners, whether by choice or otherwise, know.
I have heard Meera padas sung with great involvement by people in Chennai who probably did not understand a word of it. We hear Meera bhajans presented in Carnatic concerts as tail end pieces, even, rather pointlessly, rendered in instrumental solos! Pointless because without the words it does not matter whether it is a Meera or Sur bhajan or indeed an Annamacharya kriti.
Meera has a pan Indian popularity that is not easy to explain. One might think it is because her pada-s are in Hindi and Hindi has a pan Indian presence. Though there is no doubt that what has come down as the corpus of her compositions have been seriously tampered with — if they are all hers in the first place – and today her songs are sung in "almost-Hindi". The mhare and thare are reminders that it was not khari boli that she sang in. And Hindi has a pan Indian presence due to its being promoted as "the National Language" of India. That, of course, is an erroneous idea. The Constitution does not accord the status of national language upon Hindi or any other language: Hindi and English are the official languages of the central government and the various states declare their respective official languages.
Be that as it may, Hindi does have a presence nationally and so one might think it is not surprising that we sing Meera bhajans even in the heartland of Carnatic music, Chennai and elsewhere in Tamil Nadu. But that still does not explain her immense popularity. She is better loved than say Surdas, who, by all accounts seems a better poet or Tulsidas, again a terrific poet.
No doubt, MS Subbulakshmi's title role in the film Meera has a lot to do with her popularity down south – but that was a generation ago. So what explains the enduring charm and attraction of Meera?
Her songs, unlike those of Sur or Tulasi, are simple, straightforward, directly from the heart, not remarkable for any use of poetic devices like alliteration or complex metaphors. One does not have to wonder what a particular line means, how one may construe that metaphor or simile. She sings of her yearning, beseeching Him to come to her or take her, meet her, come to her house, play Holi with her; her simple declaration that only Giridhar Gopal is hers (mhara re giridhara gopala) has an impact that more scholarly or literary expressions may not.
Bhakti can be sagun or nirgun. In what is almost a paradox, there are voices like that of Kabir's which sing in the ecstasy of the love for the formless, attribute-less — nirgun. That kind of stark love exerts a deep attraction. Meera, of course, loves her Giridhar Gopal and is very much sagun; but she does not refer extensively to his mythological persona – the young boy who slayed Kamsa, who sported with the ladies of Braj, who was Arjuna's friend, who won the Mahabharata war for the Pandavas and so on. We find plenty of these references in Surdas or even Andal for that matter.
Meera sings of the beauty of Krishna's form – almost never of Krishna's leela-s and avatara-s. That alluring dark hue, that teasing peacock feather, that rich yellow garment, that maddening flute, those dancing earrings... His bewitching form and her hungry eyes tell the story of her love. And that makes her more accessible, her love somehow more believable.
Aali ri mhare naina ban padi
Chitta chadhi mori mohini moorata.
(My eyes have been pierced
That beautiful form
Ensconced in my heart...)
Above all, it is her story that captures the imagination — a Rajput woman, married into royalty, who defied all mores — family, social, even religious ones and went seeking her beloved. Though very little has been established about her life by scholars, there is a well-known story that all love to believe. The image of a defiant, beautiful woman who sang and danced in front of the idol of the Lord she sought union with; a woman who even drank the poison sent to her by the detractors she was surrounded by and emerged unscathed; the woman who rejected a life of royal luxuries and went off in search of her beloved — six centuries ago she traveled, in a mad, stubborn search, to Mathura, Brindavana and finally Dwaraka. She dwelt and died in love – vulnerable and yet strong.
Did she find Him? Legend has it that she disappeared in a blaze of light into the idol at Dwaraka. But, if we set that aside, did she hear from Him?
Rumi addresses the question of response from the other side. He says:
This longing you express
is the return message.
The grief you cry out from
draws you toward union.
Your pure sadness that wants help
is the secret cup.
Listen to the moan of a dog for its master.
That whining is the connection.
There are love dogs no one knows the names of.
Give your life to be one of them.
All of us feel moments of disquiet, fleetingly wonder about primal questions of the why and what of existence: Meera obsessed with the human condition of incompleteness and sought to complete it by seeking her God. And while singing her songs we feel the poignancy of the human situation and our own yearning more truly. Her songs more than those of others because they are unpretentious and direct.
Dr Lakshmi Sreeram is a Carnatic and Hindustani musician and researcher. She writes about art and culture using myth, story, philosophy, and everything in between. Write to her at larasriram14@gmail.com
India
The patient has been kept under observation in the special ward created for monkeypox cases
India
Justice P Krishna Bhat of the Karnataka HC, who retired this week, has made a drastic suggestion that judges, Lokayuktas and other higher officials should subject themselves to narco-analysis tests if there are allegations levelled against them.
India
From 1 June to 30 July, the state received 351.4 mm rainfall as compared to 220.7 mm in the corresponding period last year