The Marwari wedding: Getting bigger and fatter as thrifty community learns to splurge
Marwari, a community that was famously insular, is happily globetrotting and fostering a generation which is more worldly-wise than its predecessors.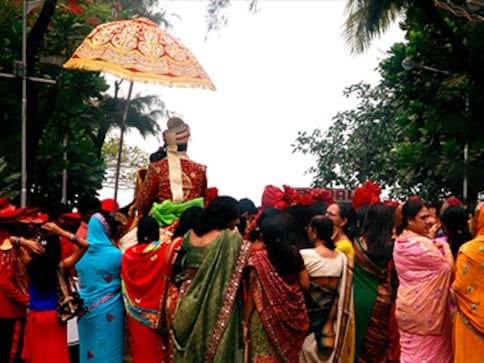 This article is the second in a series of stories on the evolution of the Marwari community in Kolkata. Read the first one here.
Vinod Bhandari is not an ostentatious man. Only the discreet flash of his Mont Blanc cufflinks gives a clue that he's more than your garden-variety wedding planner. His office in Kolkata is above a Land Rover Jaguar showroom.
"Do your clients often buy a Jaguar on their way out?" I joke.
"Jaguar, BMW, Audi, that's my clientele," says Bhandari without missing a beat. "One of our clients once gifted us an Audi for a wedding we organized at the Umaid Bhavan Palace."
Meet eastern India's only accredited Swarovski wedding partner.
The big fat Marwari wedding just got a little bigger and a little fatter. Bhandari gives me the rundown from his latest extravaganza at the Faluknama Palace.
A mandap backdrop of 80,000 roses. Every 10th rose is embedded with a Swarovski crystal pin. That's 8,000 crystal pins. Over the pathway, 28,000 golden crystal balls. Rangoli with crystal rocks. Crystals weighing 1.5 tonnes for the walkway.
All of that for just one night's entertainment. "What one night?" scoffs Bhandari. "Just a few hours. But it means six to seven months of hard work for us."
"Then it just vanishes," I say in wonder.
"Oh there is a movie," he says. "We had 15 cameras, a helicam, two jimmy jib camera cranes. It will be screened for the family at INOX in Raipur and Kolkata."
Bhandari admits he sometimes worries where all this is heading. He's got an eight-year-old and an 11-year-old who will get married some day.
"What's next? What's the wow factor? That's the rat race," he says shaking his head. "It's very bad but is very good for business. At least it gets money into circulation."
But the "big fat Marwari wedding" is not Marwari at all, protests Ruchira Gupta, founder of the anti-trafficking NGO Apne Aap. Gupta says it's more like the Marwari has co-opted the big fat Punjabi weddings she goes to in Delhi.
Bhandari does not disagree. No Marwari did mehndi, he says. It's a Punjabi custom that caught on. Old Marwari weddings in Kolkata came with a shehnai. "Now the shehnaiwala has gone out and the dholwala has come in." Once Marwari weddings, big or small, relied on the daal-chawal-phulka home-style cooking of Munna Maharaj caterers. Now food consultants are a must to curate desserts from Sprüngli in Switzerland, chaats from Lahore, 15-20 types of cheese, and Lebanese and Peruvian delicacies, the more exotic the better.
In a way, the Marwari wedding has become a prism through which one can view the community's own evolution.
This was a community known as much for wealth as it was for thrift. In a Nehruvian India, they were happy to be what could be described as khadi capitalists. Gupta says her father still wears khadi and goes to Khadi Bhandar on 2 October every year. Her mother still wears white. Her uncle was an ideologue and smoking buddy of Dr. Ram Manohar Lohia. He went to London to study under the political theorist Harold Laski. He told Che Guevara to question the Soviet Union. He nurtured BP Koirala who went on to found the Nepal Congress. He helped start the Trotsky Party of Sri Lanka. Their house in Kolkata, Marble House, was like a salon. "All being funded through rice mills in Bihar," laughs Gupta. All of it existed alongside, and sometimes at loggerheads, with a more conservative Marwari strain which fiercely fought Nehru's Hindu Code Bill and championed cow protection, as documented by Akshaya Mukul in his book Gita Press and the Making of Hindu India.
Pritha Kejriwal, editor-in-chief of Kindle Magazine, says her grandfather was a staunch Communist and a businessman. She remembers him at his desk, poring over a pile of Bengali theatre scripts while editing his Group Theatre journal. He read Bengali newspapers, watched Bengali serials. "My grandmother was very traditional and when my grandfather was asleep she would take me in her pallu and tell stories of Ramayana and Krishna. She had her Gods tucked away. She would wake up at 4 am while my grandfather was still asleep to give her Gopal a bath," says Kejriwal. Her parents had a marriage with no pheras, no registration. They went to the town square in Bikaner and announced they were getting married. "Not quite the Marwari wedding," says Kejriwal with a smile.
But this is a Marwari history of Kolkata that even Marwaris have largely forgotten. Kejriwal says her "Maru" friends are baffled why she edits a loss-making intellectual magazine like Kindle with stories on Hindutva and sexuality and eating steak in a time of Modi. "They will come for my launches but they will also say 'tum Bangali ho'," she says with a shrug.
She started the magazine with Maitreyi Kandoi, granddaughter of the legendary BK Birla and Sarla Birla. But they eventually parted ways. "I was in love with the idea of it," says Kandoi. "But it burned too much money. My grandmother was also upset with a Swami sex scandal cover." But at least her grandmother read it, unlike most of her friends.
Gupta says the present generation of Marwaris is more worldly-wise than its predecessors but not necessarily more progressive. Going to USA for an MBA is commonplace now because global links are good for business. "But the older generation had a deeper understanding of nation building," she says. We think of Marwaris as conservative but she points out that when the Birlas set up a girls' school in Kolkata, they called it Modern High School. And it came with the first and only ice skating rink in the city. The rink still stands. But the ice is gone. It's just a venue for cookie-cutter lifestyle exhibitions.
Once Marwaris built institutions – dharamsalas, hospitals, schools, colleges. Now all that has become big business – hotels, state-of-the-art hospitals, private schools. These are revenue-makers, not philanthropic institutions. As the euphoria of nation building and Independence gave way to an economy of shortage, Marwaris, like all business communities, became more conservative and secretive. Now as India privatises, there is a mad scramble to pick up the assets of the government or be middlemen, says Gupta. They don't build institutions anymore.
"They are building houses, not capital," says Gupta. "And now they are addicted to show because it's actually good for business. It helps get credit from banks."
That "show" means a community that was famously insular is happily globetrotting. It's not just vacations in Europe. Sahitya Akademi Award-winning novelist Alka Saraogi says her daughter is opening a restaurant. "She said Indian cuisine thodiyi rakhenge, you and Papa keep eating that. This will be world cuisine." She offers me lemon tea and a platter of snacks, some from her daughter's new venture. "Look," she says "Cookies, cheese straws, macaroons. The only Marwari thing here are the nimkis."
She remembers how as a Hindi-speaking Marwari girl, she was once looked down upon at tony colleges like Loreto. But it's a different Kolkata these days. "Brand Marwari is more acceptable," she says. "Because of consumerism, everyone is a type of Marwari now."
And Marwaris are a bit more like everyone else. "Let me put it like this," says Vinod Bamalwa, scion of Nemichand Bamalwa & Sons, well-known jewellers in Kolkata. "About 1 percent of my friends are teetotaler and vegetarian like me." He says as a Marwari who does not drink or eat non-veg, he feels "reverse social pressure". He gets disinvited from parties. At one level, Bamalwa & Sons still feels like the archetypal family-run Marwari business. His father, a jovial chatty man, holds court in the front room. His son is duly deferential to Papa. But Bamalwa says he can see the community changing even if it still lives together in one building as a quasi-joint family.
"When people would buy jewellery, the decision makers were the grandfather and grandmother. Now it's the bride and groom. Earlier, the jewellery made up 50-60 percent of a wedding's expense. Now it's 10 percent. The rest is spent on the destination wedding."
The older generation grumbles that the newer generation born to wealth is imbibing all the wrong lessons. They don't learn to deliver newspapers or shovel snow when they go to the West, says an older Marwari businessperson. They learn to drink, party and have a good time.
"We were born with a silver spoon in our mouth," admits Bamalwa. "My father struggled to set up the business. I inherited it. We moved out of Burrabazar 30 years ago. That building feels alien to me now."
Even Rajasthan is almost alien, twice, perhaps thrice removed for this generation. "The mothership is here, the roots are now here," says Bamalwa.
Most Marwaris are from Shekawat any way, not Marwar. As the Marwari spreads his wings and the world becomes his playground, there's a strange new nostalgia for the desert land their forefathers left because of lack of opportunities. The Marudhar Mela in Bidhannagar, on the suburbs of Kolkata, is supposed to be a celebration of Marwari roots and Marwari pride. Its façade, sponsored by Lux Cozi, resembles the golden fort of Jaisalmer. There are folk dancers and bahurupiyas who have been brought all the way from Rajasthan. Families lounge on charpoys and watch kathputli dances and Kallu Kumhar, the potter. "It's clay modeling, beta," says a mother to her bored son.
"Everything from Rajasthan is here except your freezing cold," boasts Bidhannagar's mayor Sabyasachi Dutta as he welcomes the crowd.
"Very good fair," says Nikhil Haralalka as he ponders whether to take a camel ride (Rs 80) or a bullock cart ride (Rs 50). "It's a Rajasthani aura," he says admiringly. Does he go to Rajasthan regularly, I ask. "Oh yes," he says but then he admits, "Actually Rajasthan is very developed. This is like a movie set."
Even the authentic Rajasthani camels, it turns out, are actually from neighbouring Bihar. But while the flashy new happy-to-splurge Marwari might be a far cry from his Spartan thrifty grandparent, the Marudhar Mela has stayed true to its community's roots in one aspect. Right next to the food court, with its pyaaz kachoris, rabri and steaming mugs of kesariya milk, there's a billboard for a local (Marwari-owned) hospital.
"Stop hiding, start losing. Cure obesity with bariatric surgery."
He might take selfies in full-throated kesaria balam padharo mare desh nostalgia, but the enterprising Marwari still keeps a sharp eye out for a business opportunity.
Politics
Senior Congress leader and AICC observer A Maken on Monday said that three leaders from the Rajasthan's Congress unit met him and Mallikarjun Kharge and kept three demands before them, deepening the political crisis in the state.
Politics
This comes amid ongoing political crisis in Rajasthan over leadership change following Ashok Gehlot's announcement earlier that he would contest the AICC president polls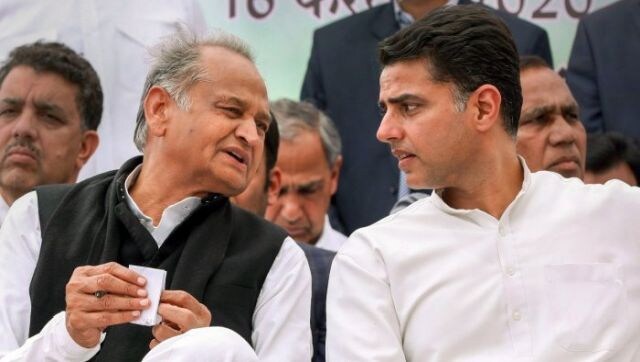 Politics
The statement of Rajastan minister Rajendra Gudha came after Rahul Gandhi batted for the 'one-man, one-post' concept in lines with the party's Chintan Shivir reforms amid possibility of Gehlot contesting election for the post of national president of the party