The (Great) Indian Poetry Collective's Shikha Malaviya on the state of poetry publishing in India
In 2013, Minal Hajratwala, Shikha Malaviya and Ellen Kombiyil wondered how to create a platform for those serious about the craft of poetry. And so The (Great) Indian Poetry Collective came into being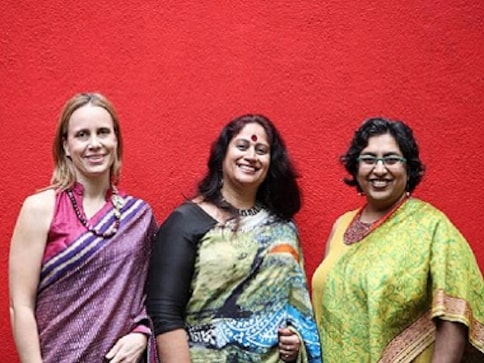 In 2013, Minal Hajratwala, Shikha Malaviya and Ellen Kombiyil — all practicing poets in Bengaluru — wondered how best a platform could be created for those serious about the craft of poetry. With that in mind, the trio established The (Great) Indian Poetry Collective, and helped form a community where those who write and appreciate poetry can interact with each other. The year 2017 has been an important one for them, with three volumes of verse lined up for publishing. Also in the offing is the announcement of the Collective's 'Emerging Poets Prize'.
Shikha Malaviya says the (Great) in the collective's name reflects their aspiration to be a great platform for Indian poetry, while remaining humble about honouring the legacy of poets who have paved the way for the current generation. In an interview with Firstpost, Malaviya spoke about the Collective's work so far, the state of poetry publishing in India, and why there's hope for its future.
Edited excerpts follow:
What is the business model for the Collective?
The (Great) Indian Poetry Collective follows a peer mentorship model in which new poets are selected based on the merit of their verse, with a commitment to be part of our collective for two years. The first year involves the production and publication of their book and the second year involves mentorship. All manuscripts are read blind and shortlisted, after which they are forwarded to a guest judge, who then selects the Emerging Poets Prize winner. The Collective chooses two more poets for the Editor's Choice Award.
Once selected, poets are paired with a mentor (the previous year's winners plus the Collective founders) to hone/fine-tune their manuscripts through a rigorous, collaborative editorial process. Next, we involve the poet in various aspects of layout/design, working with talented graphic designers and artists to give each poet's book a unique look and feel. When the book goes to press, we help the poet launch and distribute their book, as well as give them an opportunity to share their work through various platforms such as readings, litfests and workshops. Poets who join The Collective pay forward what they have received in terms of time — a year of mentorship and guidance to a new, incoming collective member.
As a not for-profit press, we operate on a shoestring budget and all the work we do is a labour of love. Apart from the three founders putting in seed money, we have sustained the press through book sales as well as an Indiegogo campaign in 2014, in which we raised $12,000.
The revival of interest in poetry as a literary form in India is not leading to the commensurate rise in publishing/sales of poetry books. Your thoughts?
I'm not sure if I completely agree. Two of our titles have gone into second print recently. Having said that, poetry has always been considered more elite in terms of genre/reputation and that means a smaller audience base. We'll never be able to compete with fiction in terms of numbers. There are also challenges in distribution and visibility/availability. Many bookstores I frequented in India had no poetry section or a very minuscule one tucked away in a corner. Sellers like Flipkart won't list small presses unless they have 10 or more titles and they charge a steep fee just to list your books in addition to a percentage on each book sold. Slam poetry has definitely sparked an interest in poetry for younger people in India, but in this day and age of social/digital media, everyone is sharing and uploading poetry online instead of buying poetry in print.
What has the response been like, to the annual prize? What is the quality of submissions like?
The response has been amazing! Every year we receive close to one hundred manuscripts and with each year, we see the calibre of the writing go up. This year, especially, we were blown away by how strong and innovative the manuscripts were and we so wish we could publish more than three books a year!
Are promising new poets choosing you over mainstream publishing houses?
My impression is that mainstream publishing houses don't publish new poets very often, because they are hard to market. Correct me if I'm wrong. However, based on what we know, poets who are very serious about their craft look up to us because they know we respect and understand the genre and they get an opportunity to mentor other poets as well and build (a) community.
How many subscribers do you have on your inPoetry app?
Our poetry mobile app, inPoetry, caters to lovers/enthusiasts of Indian poetry in English. The idea was to present a new poem by one of India's finest contemporary poets, each week, along with their biographical information and links to their books. We launched the Android version in 2015 and it ran for over a year. Despite the wonderful response we received, we stopped updating the app because we simply didn't have enough time to sustain it, given our other press duties. Maintaining an on-going virtual anthology is very hard work. However, we hope to revive the app by the end of this year. In the meantime, all the poems are available on our website as well. Stay tuned for more great poetry!
At a time when there is a universal call to nurture and publish translations, is there a reason why the Collective doesn't accept translated poetry?
We love translations and hope to publish translated works in the future. However, we are still a relatively new press and we want our feet to be firmly on the ground before we branch out. Also, we want to make sure we have the expertise to treat translated works with the care and attention they deserve.
What is your honest opinion of the poetry published by mainstream publishers? Would you agree they are playing it safe and publishing only classics, well-known poets or one off anthologies and compendiums?
My understanding is these presses want good writers, but they also strongly consider what will fly off the shelves. And that's perfectly okay. That's how the market works. Is it fair to poets who think their work has value beyond money? No, it isn't. Having said that, it has been nice to see mainstream publishers like Aleph, Harper Collins India and Hachette India publish strong poetic voices like Jeet Thayil, Sridala Swami, Vivek Narayanan, Meena Alexander and others.
In the West, there are numerous prestigious presses and literary magazines publishing/focusing on poetry. One doesn't see that at all in India. Surely, one cannot expect aspiring poets to graduate to full length poetry books without publishing in meaningful and influential journals. Is a journal/magazine on the cards?
India might not have as many high-caliber journals as the US, but there are definitely venues to publish one's work. The Indian Quarterly and The Caravan are two journals that immediately come to mind, although they are very selective. There are online journals too, which many people don't realise are legitimate places to publish one's work. The beauty of online journals is that one isn't limited by geography. All our poets in the Collective have been published in a variety of print and online journals as well as anthologies. Right now, we are really focussed on being a press and instead of doing a journal, we would rather revive our app, inPoetry.
How has the response been to your books, from the distributors and media? Are they available in leading bookstores, online retail stores? Do they get enough visibility in the media?
The response to our small fledgling press has been amazing! We've been featured in the main Indian dailies and invited to some of the most prestigious literary festivals in India as well as the US. To be recognised consistently for the books/voices we bring out and to administer one of the very few contests for poets from India and the Indian diaspora is an honour we don't take lightly. Our books are readily available in the US and in certain venues in India. It has been challenging to find reliable distribution in India, but we are close to finding a solution. In addition, our books are available to order online through our website and we have a very strong social media presence as well.
Do you wish to remain small and self-contained and keep publishing through the annual poetry prize? Or can we expect the collective to publish more frequently?
We would love to publish more frequently and hope to do so in the coming years. As a not for profit press, each penny we earn goes back into nurturing and promoting more Indian poetry. However, it isn't enough. Simply put, we need more money to grow. We are looking at different sponsorship and grant options and also for that special 'patron of the arts' who feels just as passionately as we do, about Indian poetry.
What do you make of the phenomenon that is Rupi Kaur? Have you read any of her works? Do you think that like Kaur, more contemporary poets should go down the social media/image-conscious route?
I think it's wonderful that Rupi Kaur has connected with so many people through her work. Personally, I'm not sure I would classify her work as poetry. To me, they seem more like musings. But then that is beauty of poetry. It means different things to different people. And if that's how Rupi Kaur presents her work, then power to her. Every poet dreams of their work reaching others and touching lives in some way. Digital media offers quick responses, wider reach and almost instant gratification in terms of likes and comments. In fact, I have forged quite a few friendships in poetry over social media and am grateful for it. However, I feel social media, though a great promotional and communication tool, can never replace connections made face to face, in seeing a poet stand in front of you and bare their heart, and in shaking their hand and letting them know how much their words mean to you.
India
Police have registered a case of culpable homicide not amounting to murder against the son-in-law of a Congress MLA in Gujarat after his SUV rammed into an autorickshaw and a bike, killing six persons, officials said.
India
Chairperson of the National Commission for Women Rekha Sharma has written to the Director General of Police, Uttar Pradesh seeking arrest of the accused and a fair and speedy inquiry into the matter.
Arts & Culture
In this exclusive, the noted mythologist discusses why Krishna continues to be so relevant even today, what he found the most challenging about working on this audiobook, how he manages to be so prolific, and if audiobooks can pose a threat to physical books.