Sivasagar: Exploring the former capital of Assam's Ahom dynasty, now a bustling tourist town
Though it isn't the most popular tourist destination, Assam's Sivasagar is home to monuments which are grand despite the absence of explicit opulence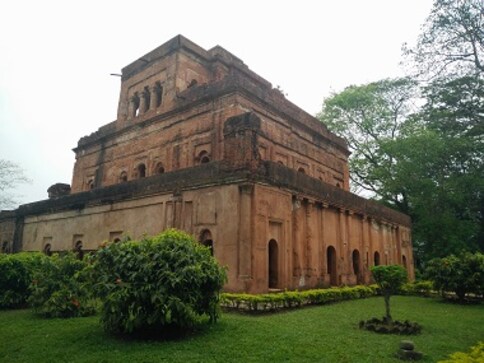 While I was getting off the bus at Sivasagar in Assam, I asked the bus driver to help me pull my bag down from the rack. He asked me if I was travelling alone, and I replied that I was. He remarked, "I would never let my daughter travel alone." I snapped back, saying it was a good thing I wasn't his daughter then.
Coming off the back of using seven modes of transport, in almost the same number of hours, to get from Majuli to Sivasagar, I was not in the best mood. It didn't help that it was pitch black at 6.30 pm, as is usually the case in the North East, and I had to navigate my way to the hotel with my backpack while getting stared at by pretty much every person on the road. As a woman in general, and one who has travelled alone previously in specific, this is something I'm pretty used to. Still, I was glad to reach my hotel and finally kick my shoes off. The good news is that after this point, my fortunes while in Sivasagar took a dedicatedly upward swing.
I settled into my simple but clean room at Hotel Brindavan. I was too tired to step out again for dinner, so I ordered a delicious local fish curry preparation along with rice on the recommendation of the receptionist and wolfed it down. And then, as had been my way for the two weeks that I was travelling in the North East, I slept at 9.30 pm and set my alarm for 5.30 am the next morning.
I woke up to bright sunlight streaming into my room. Though I was tempted to cover my head in the snug quilt and roll back over into sleep, I grudgingly pulled myself out of bed… after all, I had only one day to explore Sivasagar. While it isn't the most popular tourist destination, Sivasagar was once the ancient capital of the Ahom dynasty, from whom present-day Assam draws its name. A small but bustling town, it's around a two-hour bus ride (60 kilometres) from the larger city of Jorhat.
I started my day by taking a motor rickshaw to Sivadol, supposedly the tallest Shiva temple in India. Even early in the morning, the temple was a bustle of activity. The building itself was magnificent, built in a style that I hadn't normally seen, and topped with an eight-foot kalasha that's supposedly made of pure gold. The temple is adjacent to the Sivasagar tank, from which the city draws its name. Though I didn't enter the prayer area, the temple is surrounded by beautiful lawns to sit down in and read or to watch birds flying over the lake. (Provided, of course, that you're willing to leave your shoes unattended near the entrance.)
After this, I got a share taxi that was bound for Garhgaon, around 15 kilometres away from Sivasagar. If you're picturing an Uber Pool kind of setup here, you're sorely mistaken. Share taxis in Assam are minivans with a capacity for around eight people, but seldom carrying fewer than fourteen. From the place where I was dropped, I had to walk for around a kilometre to Kareng Ghar. No complaints though; I got to see some quaint by-lanes of rural Assam and made some dog friends who smelled the biscuits in my bag and escorted me to my location.
Kareng Ghar is a palace that's around 250 years old. Though I read that it has undergone several alterations since its construction, it retains an air of grandeur. Surrounded by impeccably maintained gardens, entry is free and visitors can explore the entire palace, including climbing to the top. (Slightly difficult but not completely impossible, even with my prosthetic leg!) The palace stands in stark contrast to the opulence of Rajput or Mughal structures that ooze wealth and grandeur at every turn. Comparatively, Kareng Ghar has no ornate stone work, no elaborate arches, no grand entrance. (I was convinced I'd been dropped off on the wrong road, because I couldn't see the palace until I'd reached the gate.) However, it retains an unmatched air of silent sophistication and beauty.
I stopped off briefly at the hotel again to check out, took my backpack on my shoulders, and took another share taxi to Rang Ghar, one of the oldest surviving amphitheatres in Asia. The long entrance with lush lawns on either side is a perfect place to take photographs of the monument, which has its roof modelled on the inverted royal Ahom long boat. When I went closer, I was fascinated by the beautiful floral and animal engravings on the outside walls.
After stocking up my Instagram account with several pictures from different angles, I walked another few kilometres to Talatal Ghar (seriously, if you're not someone who enjoys walking around, you might want to rent a vehicle in Sivasagar), passing the smaller Gol Ghar and several cows on my way. The largest of all the Tai Ahom monuments, Talatal Ghar gives one the feeling of grandeur more through its largeness and space than through explicit opulence. In the light drizzle, I explored the top floors of the monument. It apparently has three floors underground, which are now sealed off to the public. More excitingly, it has two secret underground passages as escape routes in case of an enemy attack. Unfortunately for me, the drizzle turned into a downpour quite quickly, and since I had my backpack with me, I had to make a hasty exit.
To head to my next destination, Kaziranga, I had to first take a bus back to Jorhat, and I was advised by some passers-by to stand by the side of the road and hail a passing bus rather than make my way back to the bus depot. As I tried to take shelter from the rain under a tarpaulin-roofed chai shop, five people gradually gathered around me to ask curious questions about where I was going and where I've come from. They insisted on buying me chai; one of them told me about how he's never been to Mumbai but how he hopes to send his son there to be a singer one day. Another shoo-ed away auto rickshaw drivers who came close to try to tempt me not to take the bus. Before I finally got on the packed bus half an hour later, their parting words to me were about how they would want me to remember Assam and its people well. I told them that I hadn't known a lot about the state before I'd come there, and while I was sure there was a lot more for me to learn, there was nothing about my trip there that I would have changed.
Getting to Sivasagar: The closest airport is Jorhat, around 60 kilometres away. Sivasagar (Sibsagar) has a railway station, but direct trains there are limited.
Getting around: Share taxis and motor rickshaws are a budget option, otherwise one can rent a vehicle.
Places to stay: Sivasagar mostly has budget hotels, nothing too fancy. I stayed in Hotel Brindavan which was good value for money. Other options include Hotel Brahmaputra, Hotel Talatal, and Hotel Aryan.
Entertainment
Priyanka Chopra was appointed as the brand ambassador of Assam tourism last year. However, she has remained silent on the Assam floods so far.
India
The chief minister announced a relief package which will provide Rs two lakh each to 142 tour operators and Rs 25,000 each to 605 guides to overcome losses due to the pandemic.
Business
Against the backdrop of such environment, OIL's crude oil production dipped to 3.701 million tonnes last fiscal from 3.884 million tonnes in 2011-12, the OIL chief said.<br /><br />