Growing up in the early '90s, many of our winter afternoons (especially Sundays) would entail the "oldies" — the grandmas, grandpas, and their contemporaries who would be paying us a visit — chatting about their life and times in the village of Mahinanda, in the Mymensingh district of what was then called Purbo Bangal (East Bengal). Most of their tales would revolve around their huge homesteads that were adjoined by fields, farms, ponds and what they called 'prajas' (house helps), their luxurious possessions — gold, ornaments, books, and even ivory artefacts (my ancestors claimed to have petted an elephant that was named 'Jungbahadur').
To us children, these stories seemed like visions out of a kaleidoscope; how intently we'd listen, how curious we'd be about the whereabouts of those talked-of riches! When we grew up, however, we realised those tales were far more layered: Wrapped around those memories of extravagance and opulence, was a veil of tragedy, grief and loss. The 1947 Partition — that sundered a nation and its people in 1947, and cast a long shadow that plagues the subcontinent to this day — went beyond the mass migration of goods and bodies. It was also a displacement of relationships, kinships, memories and stories.
But I didn't get a full sense of that bereavement until I experienced Sonam Kalra's audio-visual experimental performance Partition: Tales of Separation.
"Laali akhiyaan di dasdi hai, roye assi vi, roye tussi vi (The redness in our eyes shows that you have cried and so have we)... These words of the Punjabi poet, Daman have resounded in my mind from the first time I read them and in many ways, these lines have been the stimulus for putting this project together. Ever since I was a young girl, I've heard stories about the Partition. Both sides of my family came from the part of Punjab that is now in Pakistan. My mother's family was from Rawalpindi and my father's from Sargodha. Even though I did not have to live through the pain of partition myself, I have always been moved to tears when talking about it with someone. I've often wondered why I should feel so deeply about it — perhaps it lies embedded in the memory of my DNA. And perhaps, it is this pain that has led me to question this further," says Kalra, an award-winning singer and composer, who has directed and produced Partition: Tales of Separation.
While most Indians, be it of the current generation or the one before, do register Partition as an event of the past that has shaped the India of today, its true aftermath has somehow faded over time. Kalra aims at discussing that impact more than the actual event, saying:
"I think in the last few years there has been a great interest in Partition, so that's a good thing. Yes, I do believe that we must talk about it more because the more we discuss issues like this it will be talked about. It is in the history books that India and Pakistan were created in 1947 but what's missing is the oral histories of how it impacted people's personal lives, and that's what we wanted to talk about. When we discuss oral histories, people's personal lives, their personal tragedies, we truly understand the deep impact it had on human beings."
"It is the largest mass displacement, to date, in the history of humanity; people's families were torn apart. And I think you can talk about it, you must talk about it because we do not want history to repeat itself, we do not want such incidents, based on communities fighting against each other, to occur again. Hopefully, through our learning and talking about this, we can think of a peaceful way forward, a place where there is a dialogue between the two countries," says Kalra.
Kalra's The Partition Project is an experimental music performance that uses songs, poetry, visual imagery and the spoken word — personal accounts of ordinary people who lived through the separation. All the above-mentioned forms/tools — alone by themselves as well as together — converge to form an experiential journey that makes the viewers almost viscerally empathise with the real losses of the previous generation.
Kalra explains how and why she conceived of this project with so many different tools and how effectively do they help in conveying her message. "Music has the ability to cut across borders of language; music allows you to feel from deep within. I also always wanted to explore the theme of Partition through music. I decided to add theatre and video to it because I thought it was important to have some first-hand testimonials of people who had lived through it. We collected thousands of WhatsApp videos, messages of peace through people from both sides of the border."
"As far as using theatre as a tool is considered, there are so many texts written by poets like Amrita Pritam, Ustad Daman, Faiz Ahmad Faiz, among others as well as the other people of that time chronicling what they had gone through. I have added them because they were the voices of that time and they were able to, through their writings, express the pain and pathos of Partition so beautifully and honestly having lived through it. I have also worked with a contemporary poet Deepak Ramola and we wrote one of the songs — 'Assi Teri Khair Puchhde Ravaangey (I shall keep asking of your well-being)' — that is part of the performance. I have written two pieces which again form a part of the performance. So I wanted to use all these different mediums — theatre, video, visual arts and music to make it a completely experiential performance. I did it because I felt these things would add value, add depth to the performance."
While Kalra weaves the tales of separation through her music, joining her on the stage is the former radio broadcaster and theatre veteran Salima Raza, who brings nuances to the performance with her subtle theatrics and recital of various poems and accounts. Her clear voice and diction, coupled with her mastery over theatre, makes the overall experience even more riveting.
Raza, who has been actively participating in the field of performing arts, mainly theatre, for over 60 years now, met Kalra on another production a couple of years ago. For her, this project was also a means to revisit her past which had a deep connection with the Partition of India. She reminisces, "My father's side of the family belonged to Lahore and my parents lived in Allahabad and were involved in the freedom struggle working closely with Jawaharlal Nehru. I was being brought up by my grandmother in Lahore. I was eight years old and I have felt the pain of it and being separated from my entire family. I was so young I don't remember who brought me to Allahabad from Lahore... The Partition or the more colloquial term 'batwara' always had a deep impact on me."
Talking about her collaboration with Kalra, Raza adds, "We worked on choosing the text as it provides connectivity to what is otherwise a music-driven show. But sometimes we felt that something sounds amazing when read out and something sounds excellent when sung. We kept on being conscious that we never give two separate performances on the stage. When Sonam is singing, I try to feel it and be with her and when I am reading she does the same."
As much of the project is about the music, poetry and theatre, it is also about captivating the audience and immersing them completely into the narrative. That is enabled by the production design of the show: From the stage setting, props used, photographs suspended in the air (some of which bear personal messages to the recipient too) and a stark red cloth that emerges from a chest placed centrestage and winds through the audience's seating area.
By the time the show ends, one feels as if they time travelled to the past, met people on the way, heard their stories and now they are back to their own world, their own time. Gopika Chowfla, visual arts practitioner and graphic designer, explains how this effect is created:
"Sonam and I had been associates for many years when she came up with this Partition Project idea. The films that you see (in the show) are excerpts from documentaries and some of the other films we shot later. Partition has the word 'pain' in it and that was something that came up while we were working on the project. Sonam insisted that we do installations and hence I did a lot of posters and artwork including poems/ sayings/commentaries that people had put across and then it gradually started becoming more cohesive."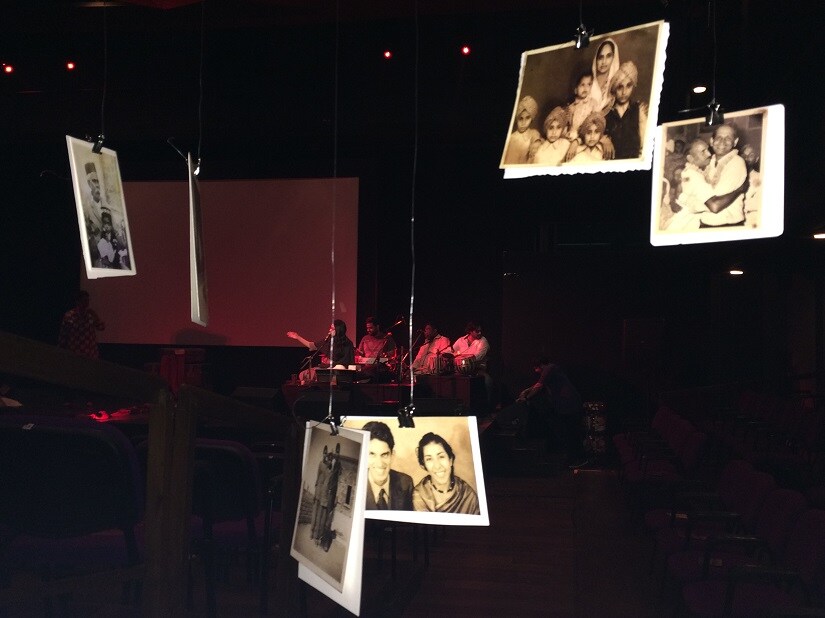 Elucidating on the other art elements used in the project, she adds, "The trunk; the red sari — symbolic of a woman's sari, symbolic of bloodshed — that goes forever as the line divides the stage and audience into two: with all these elements we wanted to create the mood of the Partition. Red is the colour of blood and the trunk symbolises how people had to move from one place to another and leave back pain and suffering." Of the photographs suspended at the entry-exit of the show's venue, Chowfla says, "People's memories are suspended, hanging after separation... they have left their homes behind and people behind… some of these things never had any conclusions or closures…"
As the show ends, Kalra, after the thanksgiving note and acknowledgments, asks every member of the audience to write a message on a postcard (that is provided as part of a kit at the beginning of the performance) for people across the border. These cards are later dropped in a huge postbox that is installed outside the gate.
I don't remember what I wrote... As a matter of fact, before the show began, I spoke to Kalra and asked if there a reason why she only chose the west-frontier as her setting. Because all I heard as a child were the tales of Bengal's separation; I related to it more closely. As I grew up, I came across friends who narrated the stories of Partition that they had heard from their grandparents: From having seen one's own brother killed in front of one's eyes to having dug a hole in the 'aangan' (courtyards) of their homes and hiding gold inside a pot thinking they would return one day. But what had gone, had gone forever, never to return. And this bereft-ness or feeling of loss is something that everybody in the world feels, relates to.
Explaining this 'global' expression of loss, Kalra concludes with a beautiful memory related to one of her performances in the past. She says, "I think people in the north (Punjab) and east (Bengal) perhaps have more families and ancestors who went through it, the majority of it. But there were people who were displaced from many different parts of India as well, Assam for instance. And I think, India as a whole we feel it, we know we have been partitioned; each of us has been touched by these stories of Partition in some ways. Also, it is not about India anymore, it is about what has happened across the world and the fact that there is this kind of human suffering elsewhere too. This is what partitions and refugee crisis can cause when people are just displaced from what they know to be home. And I think this isn't something people relate to because they are Indians, others do too. I had a few English people from Britain who came and saw my performance and on one of the postcards was written: 'When we meet I will apologise to you for what we have done.' So, I think it touched everyone."
All photographs and video shot by the writer at the National Centre for the Performing Arts (NCPA) in December 2017.
Partition: Stories of Separation will be staged at Bikaner House, New Delhi on 18 August and Quorom, Gurugram on 19 August.
Firstpost is now on WhatsApp. For the latest analysis, commentary and news updates, sign up for our WhatsApp services. Just go to Firstpost.com/Whatsapp and hit the Subscribe button.
Updated Date: Aug 16, 2018 11:20:41 IST