In focus: A photobook edited by Sanjay Kak explores the insurgency in Kashmir through the decades
Sanjay Kak talks about the thought process behind Witness: Kashmir 1986-2016/Nine Photographers.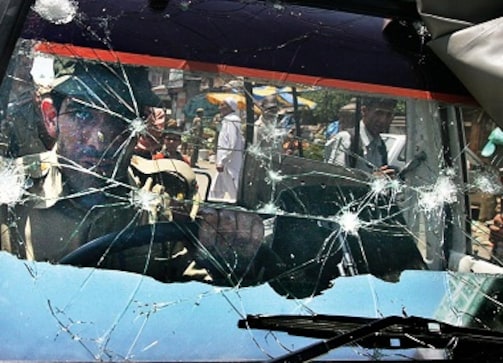 The reality of life in Kashmir is that it is always in the danger of being forgotten.
War-torn and freezing cold are some of the only few adjectives that one would use to describe the place. That is why it was important for Sanjay Kak, editor of the photobook Witness: Kashmir 1986-2016/Nine Photographers to document the goings on in Kashmir — it was about capturing moments that were almost invisible to others.
Speaking to Firstpost, Kak says, "For the longest time, the most significant thing about the way Kashmir was depicted in the media was through its absence: What little you saw was not at all what was going on in Kashmir. That has begun to change somewhat in these past ten years. Much of the coverage is still slanted, and twisted, but at least they have to report it. Like, for example the outrageous pellet-gun abuse of 2016. Or the feeling of neglect among Kashmiris after the massive floods of 2014."
It is interesting to note that the activist and documentary film director, whose last film, about the new age militancy in Kashmir, Jashn-e-Azadi: How We Celebrate Freedom has chosen a new visual medium to tell the story of Kashmir. Kak explains his choice of using still photography over video, "Simply because the work of still photographers that I was seeing was so rich, and it opened up such a complex and variegated way of understanding Kashmir. I do believe that what is important is the story, and its crucial to find the right form to tell it through. Sometimes the form has to be found within a genre — say documentary film — where we try and see which of the many ways of structuring a documentary would be best suited to the story. But at other times you have to take a risk and jump genres. In this case it was the creation of a photo-book, containing pictures, but presented in a complex design."
So how would one begin the process of capturing years filled with events that have traumatised the people who lived there?
As the iconic war photographer Robert Capa said, "If your pictures aren't good enough, you aren't close enough." Because it is important to keep a sense of veracity in the 200 photographs in the book, all the nine photographers who have contributed to the book are insiders to a varying degree — they have experienced the troubles in Kashmir first-hand.
Out of the nine photographers, the senior most in Witness is Meraj Ud din, who according to Kak is "really the doyen of photojournalism in Kashmir."
The youngest is Azaan Shah, who is not even twenty years old yet and pursues a lonely furrow as a photographer of street life in Srinagar. There is the outstanding trio of Dar Yasin, Javed Dar and Altaf Qadri, all three photographers with international wire-services. Javed Shah worked at The Indian Express over a decade, and then there's Showkat Nanda, Syed Shahriyar and Sumit Dayal.
Their perspective will of course be more personal. How does documenting Kashmir through a lens affect them?
"The book carries fairly long and detailed profiles of each of the photographers. These have come out of long conversations with them, chats that I have had over a period of a year or more. Why photography was one of the things we spoke about, and they had a fairly consistent set of answers to that: because they wanted to tell the story of what was going on around them. Sometimes, when you have been doing it for more than a decade, it can also burn you out, and you don't want to do it any more, or you cannot do it any more," he says.
Kak talks about the process that went into the book, "I'd been thinking about a book like this for over a decade, so I always had a wish-list of photographers that would have belonged in the book. That does not make this a list of the nine 'best' photographers in Kashmir or something like that. Several of the more senior photographers I wanted to include couldn't be part of it for one reason or another. There was more choice amongst the younger people because many young Kashmiris are now taking to photography. Although there were no women photo-journalists I could include, because there were none. So a mixed bag of what I thought would make for the most compelling narrative."
India
The incident comes just three days after five army personnel were shot dead during an encounter in the Surankote area of Poonch
India
The victims have been identified as Supinder Kour and Deepak Chand, both residents of Alochi Bagh area in Safa Kadal
India
The Sikh employees, working across various private and government positions, decided to suspend work while several Kashmiri Hindus moved out of the Valley to other parts of India.