For a defence brat, staying in colonial bungalows is no big deal. We spend our formative years in them and learn to love all that they come with — wooden doors and floors, dressing rooms attached with bedrooms, verandahs that you can play football in, 'servant's quarters' and rats. But 61-year -old Bonani Lodge, the first bungalow to be constructed in Kaziranga, Assam (1956) is so charming, even those from the Victorian era would be awed by it, were they to visit today.
As I park my dusty AltoK10 right in front of the porch, nobody walks up to me to say I haven't parked properly. I shut the door and trudge slowly towards the reception. A middle-aged receptionist  in a checked shirt and half-sleeves sweater is speaking softly in Assamese to a younger gentleman. They don't turn towards me and continue their conversation. Dressed in a loose t-shirt and skinny jeans, with a car that has a Maharashtra registration — I'm clearly an outsider. Landing up at 6 pm, about an hour after the sun has set, is not routine either. Usually, it's Bengali families or foreigners who frequent the place. They don't ask for my PAN card or Aadhar card. I just have to say my name and produce a hard copy of the Rs 720 receipt  they gave me when I paid in advance to book the place. These guys would never make it to Make My Trip.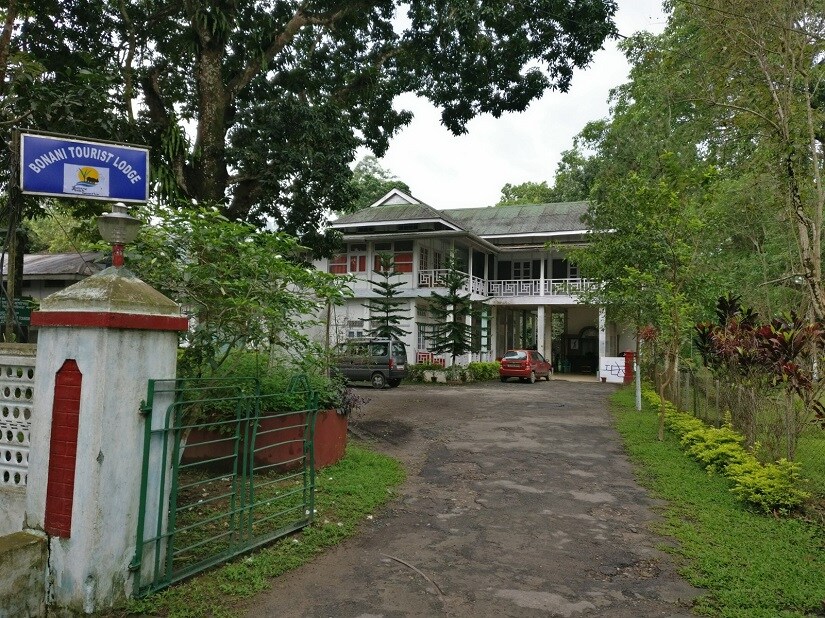 Bonani Lodge is a two-storey austere structure with five rooms. It's all-wood, even the walls. It's symmetrical and spacious. The verandah faces the garden which has a 100-year-old banyan tree. The staff says they spot a deer in the garden sometimes in the morning.
The first floor has a sitting room with rooms on either side. Just like the emergency VIP room, the sitting room is rarely opened. The rooms are large — have cane furniture, high ceilings, a TV, an AC, two balconies, a dressing room and bathrooms that you can do cartwheels in. The place can be booked for barbecue parties.
The staff stays close by and will put you in touch with villagers who'll happily give you a tour of the near by area and serve you some delicious home-cooked meals.
But right after I finish the registration process, which by the way is complete with a signature in a hardbound register with single lines, the interesting questions begin. There are no computers and they only take cash! Demonetisation, they don't care about you.
Assamese gentleman: Why are you taking photographs?
Me: The place is so quaint. I thought it I should take a picture.
Assamese gentleman: Where are you from?
Me: Maharashtra.
Assamese gentleman: What's your title? (By title he means surname)
Me: Rana.
Assamese gentleman: So where are you really from?
Me: My parents are from Punjab, but I've lived in Bombay almost all my life.
Assamese gentleman: So where all are you travelling?
Me: Well, I've been in Golaghat for a bit. I haven't visited other states in the Northeast yet.
Assamese gentleman: You should go to Meghalaya and Shilling.
Me: I have been meaning to. I'm a little afraid of travelling alone though. Is it safe?
Assamese gentleman: It is much safer than your cities, especially Delhi and Haryana.
Me: That's good to know.
Assamese gentleman: So what do you do?
Me: I run a consulting firm remotely. And I write off and on for a website.
Assamese: So you are a freelancer?
Me: I prefer independent consultant.
Assamese gentleman: But what have you studied?
Me: English literature, journalism and then I got an MBA.
Assamese gentleman: So what do you really want to do? A government job?
Me: No. I'll run my firm.
Assamese gentleman: You're single?
Me: Yes.
Assamese gentleman: Do you drink?
Me: No.
Assamese gentleman: Do you smoke?
Me: No.
Assamese gentleman: So what's your bad habit?
Me: I think I eat too much sugar.
Assamese gentleman: What?
Me: Chocolates.
Assamese gentleman: You're like a kid. Go for our cultural programme this evening. The locals have organised it. We can arrange cycles for you in the morning.
With that, I presume the interrogation is over.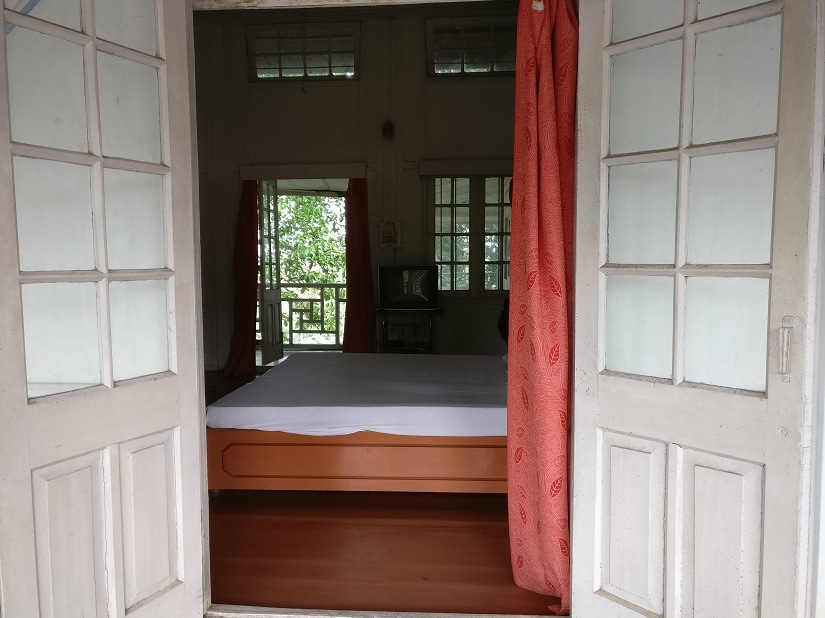 Mary Victoria Leiter Curzon , the lady on whose insistence the Kaziranga Forest Reserve was created in 1904 (wife of then Viceroy of India, Lord Curzon) would have fainted had she heard this conversation. This strange check-in interview was conducted by the tourism officer here. A very helpful gentleman. And I didn't take offense to anything he said for two reasons: People here, ask those questions. I think everyone in the nearby town of Golaghat, where I've been for a month, knows how much money I make, where I stay, how old I am and why I am not married. They're just deeply interested in these things. And to be fair to them, they offer this kind of information about themselves willingly. The second reason is that Bonani Lodge, is so quaint — anger and resentment can't linger too long.
Twenty six-year-old Dhan Bhasforao has been working at Bonani Lodge for 10 years. But when I ask him to tell me a little about the place he says, "Mein toh abhi naya hoon, aap Sir se baat kar lijiye. Woh yahan 1987 se hai." "Arey 1987 mein mera janm hua tha," I say excitedly. He leads me back to the receptionist, Tarun Saha, who isn't too keen to explain the history. "Rajiv Gandhi yahan rehte the. Amitabh Bachchan bhi aaye the. Baki toh kuch nahi. Waise ka waisa hi hai."
Out of the five rooms that Bonani Lodge has, one is always reserved for VIPs. It's only opened up for the who's who. But since the private and swish resorts came up in the area, the bigwigs of government and corporate India prefer those. However, due to protocol, "Sunflower" remains locked. Bachchan was probably the last big celebrity to stay in it.
"Priyanka (Chopra) ko kyon 7 crore diya hai? Sab naraz hai. Woh investment infrastructure mein karna chaihiye. Ab agar aap coffee mangege, toh milega. Sirf chai milega," says the chirpy Dhan Bhasfora. "Par yahan tourism officer achcha hai. Par uske paas power nahi hai. Jitna ho sakta hai, woh kar raha hai. Hum sab uske saath hai." He's still hopeful about the future, unlike Sahaji who has tired of the routine. That doesn't come in the way he does his job though. At dinner time he doubles up as a courteous waiter and serves us with great love. He speaks in hushed tones and brings hot rotis and bhat from the kitchen, just as the cook tosses them off the cooking pan. Bonani Lodge used to have a staff-strength of 60 two decades ago, it's now down to 35. Everybody works 8-10 hour shifts, even if the rooms are unoccupied. And a lonesome guard, who I didn't meet, is on the night duty.
It's 7.30 pm now and Dhan escorts me to the "cultural programme" area. It takes some effort to put on a jacket and walk out into the damp and dark night from a rather comfortable bed with pillows that have "Assam Tourism" printed on them. For a Rs 100 entry fee, you get to watch a Bihu dance, take photographs with the performers and observe Bengali families taking selfies throughout the programme. After dinner, we're told not to venture outside the lodge on foot: "Jungli suvar aa sakta hai. Hum local hai, phir bhi nahi jaata. Subha mein aap cycle lekar village mein jana. Waha rice beer milta hai. Achcha, ladies cycle nahi milega. Chalega?". "Chalega," I say.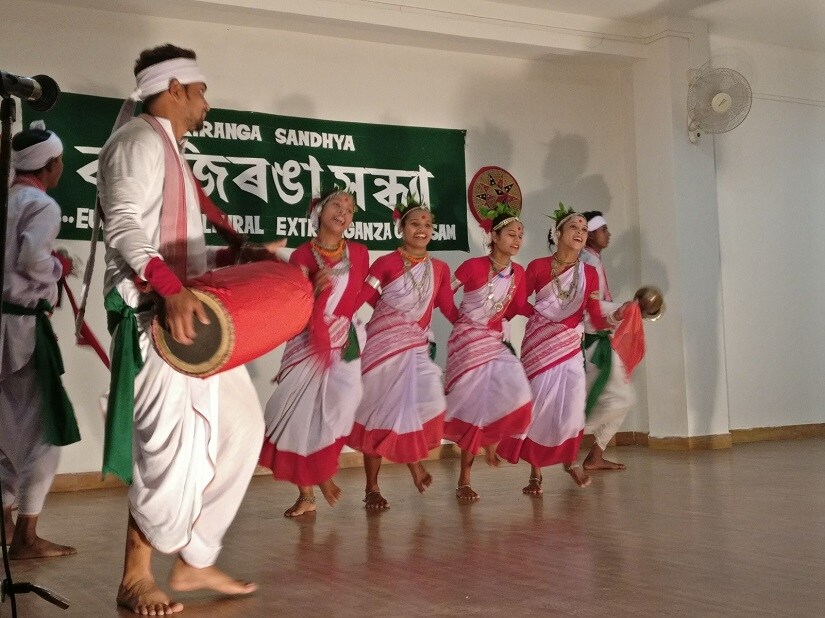 At 5.30 am the next morning I set off on my green Hero cycle with a high bar, struggling to get my feet to touch the ground every time I make a halt. I check out the nearby lodges and ride through a tea-garden.
At 7 am, the safari registration begins.
The jeep safari registration area is 200 meters from Bonani and for Rs 2,500 you can book a jeep for six people. You can book a jeep on the spot. The ride in the open air green jeeps begins at 7.30 am. The ride is delightful because the air is so clean — your lungs need to adjust to it — and the trees are so green, it seems like you're viewing them through an Instagram filter. You can see pelicans, hornbills and neelkanths. Elephants, cows and rhinoceros are roam about freely. But the Bengal tiger is hard to come by and chances of watching it in action are higher in the afternoon safari in the Bagori Range of Kaziranga. (I went for the morning ride in the Central Range.  The ride lasts for about 1.5 hours.)
There's also an "Orchid Park" 3 km from Bonani Lodge. The road is wide and the park is straight out of a fairy-tale. Flowers everywhere and pretty hosts who go all out to tell you the common and scientific names of each one. Organic drinks, authentic Assamese food and "maas" if you please, are readily available in the Rs 30-150 range. You can spend a good hour or two in the area.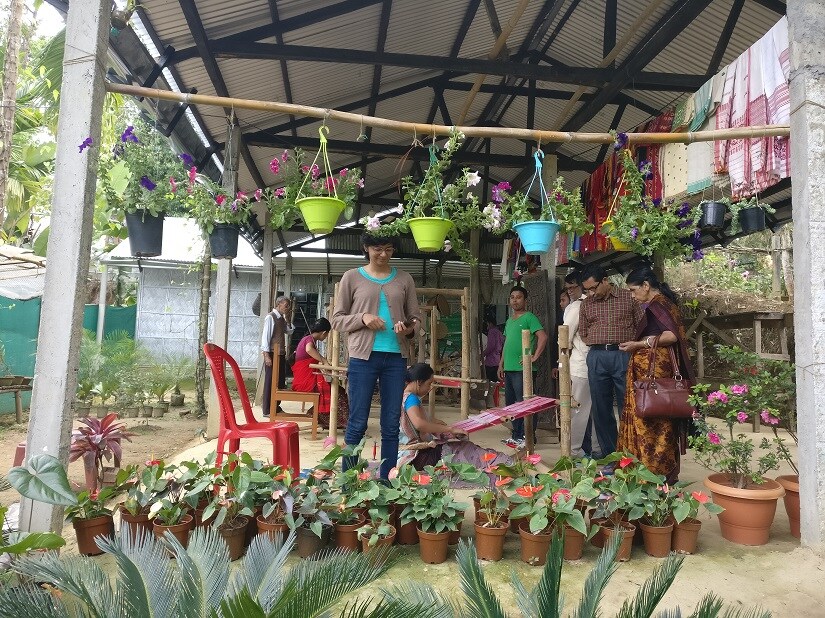 At about 12pm, I cycle back to the lodge. I'm hoping to eat something.
When it comes to food, Bonani is a little lax. You have to order your meals a day in advance and even if you do that, it's difficult to predict whether you'll be served. "Woh aaj woh aaya nahi toh mushkil hoga," Dhan tells me. So I head out again, to find something to eat. The general rule applies here too — the fancier the place looks, the more they'll charge. If you're okay with sitting on plastic chairs and washing your hands outside with water that pours out of a plastic jug, you can get a veg thali for Rs 30. Pay Rs 50 more and they'll serve you some fish.
If you're not an adrenaline junkie, and like to chill, Bonani Lodge is a good place to say. Since they have only four rooms to offer technically, you have to be careful about booking the place in advance. They don't accept credit cards or debit cards — and you can't pay online. You'll have to call the lodge, check which dates are available and then send the money via EMT (electronic money transfer). Only the post office offers this service. If you have some time (and don't mind a visit to the post office), it could be well worth your while. Kaziranga shuts down in May and re-opens in October; the lodge however remains available to be booked. I checked while leaving, they have rooms available on 21 and 27 April.
Click here for more information.
Updated Date: Apr 09, 2017 10:22 AM