Abhishek Majumdar's new play 'Muktidham' looks at 8th century conflict between Hinduism, Buddhism
Noted playwright and director Abhishek Majumdar's latest production is Muktidham, a play is set in the 8th century, in a matha in a fictional town called Beerpur. Based on historical facts and then fictionalised, Majumdar's play looks at the roots of Hindu philosophy and attempts to interpret how the communal right wing had origins in intellectual thought and then 'turned increasingly dogmatic and anti-intellectual itself'.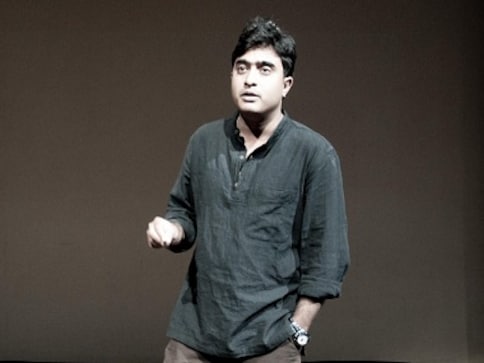 Noted playwright and director Abhishek Majumdar's latest production is Muktidham, a play is set in the 8th century, in a matha in a fictional town called Beerpur.
It is the time when the Pala kings were ruling the east and large parts of northern India. These kings were Buddhist; Buddhism was at its peak. There had been mass conversions to Buddhism. The story revolves around this Hindu temple town which is surrounded by Buddhists. The protagonist is a man called Agnivesh, a scholar in the matha.
The head of the matha, Nath Nand is soon to retire to the Muktidham to die and achieve salvation. Nath Nand, who has always separated religion from politics, is faced with a choice. Which of his students shall be his successor? Will it be Yuyutsu, who believes in opening up the doors of the temple for the lower castes? Or Agnivesh, who believes in raising an armed resistance to Buddhism?
Based on historical facts and then fictionalised, Majumdar's play looks at the roots of Hindu philosophy and attempts to interpret how the communal right wing had origins in intellectual thought and then "turned increasingly dogmatic and anti-intellectual itself".
Excerpts from an interview with Majumdar:
The play is staged in the 8th century. Why specifically that period? There has been conflict between the two cultures and others since then.
Well one of the key ideas that the current right wing seeks to establish is that we were once non-violent, and a unified religion; and that all of it changed with violence against 'us'. So there is the need to reassert that identity. That is one of the key ideas of the hypothesis. So I wanted to go into history to a time when this was actually true; and argue from within that moment, to challenge the current anti-intellectual movement. Because while the current right-wing doesn't understand what they are arguing against, they also do not understand what they are arguing for. At that point in history Brahminism was actually in a dilemma, and it had only two options, to either relax its beliefs over caste — which means losing the very idea of being Brahminical — (or) rise in revolt against Buddhism. Caste was inherent in the very situation at that time. That is where my research began from.
A lot of people, even scholars are only aware of the common Islam, Hindu and Christian friction over the ages. But not between Buddhism and Hinduism... Why do you think that has been the case? When you were writing the play, where did you look for information?
There are various kinds of material that allude to the period. Firstly, there are a lot of Buddhist writings. On Philosophy, music and scholarship. There are also a lot of plays from that time. So there is that literature available. Also for that period there are a number of descriptions of cities. And it is very interesting because it is very similar to today: There is the presence of a wealthy middle class, and this class regularly travelled to the cities like that of Pataliputra. This was their way of keeping a hold on the caste system, only by keeping it hidden. As we do in with our cities when we call them modern — when a layer below the surface they are casteist. Vandana [Menon] researched mostly from online resources. There was a lot of research on the symbolism as well, for example something like 'sindhur' that did not exist at the period. Vandana looked into resources the world over for this material.
Is it important to distinguish between Brahminism and Hinduism of that period? There was a particular class of people driving the idea of Hinduism forward, Shankaracharya for one. But few understand the distinction. Why is that?
The idea of Hinduism is (one of) identity. Brahminism is a very religious idea. And they faced a crisis back then. When Brahmins moved to the cities they were not as important, it was the merchant with the money who was proving to be more important. So most rituals we follow today originated in that era when Brahmins were trying to get more of a foothold in the cities. As far as the distinction is concerned there are layers, I think, in which Hinduism works. One is the scholarship and theological level — which is completely removed from the more popular idea that we see around. The other level is where you wonder how you bring everything under one umbrella. So it is the notion, of ignoring the Brahminical side and bringing everything under one roof, that of Hinduism. But when you think, it is all very Brahminical. So when someone says I am Hindu, but not Brahminical, it is wrong. Take for example, the idea of an arranged marriage. As long as you marry the higher caste, it is okay, but when you marry in the lower caste it is a problem. And it is mirrored in the Manusmriti, where for example, a pregnant upper caste woman with a low caste child in her womb, had to pay a different fare than a upper caste woman pregnant with a upper caste child.
Language is the key here, not only for the play itself, but of the history it portrays. The vanishing of Pali is often ascribed to driven Sanskritic scholars. Would you say that that is the reason why we know so little about the phase? Was Buddhism linguistically phased out?
The context of language is fascinating in this case. The plays of that time were written in three different languages. Upper caste males and some women spoke Sanskrit, the middle classes spoke Pali and the lowest classes spoke their own local languages. So when I was writing the play, I had to write a kind of Hindi for all the three levels. That is as far as the play is concerned. As for history, the politics of language has been in play for ages. As you go north, studying the texts of Buddhists, towards say Nepal, you see the influence of Brahminism. The upper caste always looks down on the language of the lower castes. And to destroy an idea you destroy the language. Because when you simply can't argue beyond the language you are afforded, you cannot question the system that produced it.
At the centre of the play there are two characters that stand to come into power. They also represent different ideologies. That puts the present into context. How is a communal right wing mind actually born? How does it take shape, whether in the play or in reality?
Personally, I think, the idea of power is very common. It is desirable for the human beings to have power. It is very psychological. It also appears in animals. But when we talk about the right wing of today, it is important to understand that it is generational. In the sense that the follower becomes anti-intellectual with time and also comes to power. They are all the extreme expression of that idea, but they are not the first generation. I'll give you an example, which is also a joke. So when Hitler gave speeches he did not clap along with the people, because he was the one who gave the speech. In Stalin's case, he clapped along with the crowds. To give the idea that he was the first servant, and something else was speaking through him, the good of the people. That is clearly the greater idea. And now we are in the third generation where half of them clap, the leader claps, and those who don't are punished. I don't know what the next stage will be, but this is a generational rise.
Finally, history is the central peg here. And forces — right or left attempt to find new versions of history — or try to rewrite it. Why is history so central to the argument of the right wing? Does it also point to an intellectual bankruptcy in the present context? Also when you wrote the play, where did you draw the line between fact and fiction in this context?
Firstly, since we are not a post-war country, there needs to be a crisis to push for a nationalistic identity. So they will simply manufacture a crisis. For example, it is equivalent to saying that maybe you don't see the problem today, but it has existed for a long long time; like if you are stuck in traffic, at some point of time some Dalits took over lands from the Marathas and drove them out, which led to narrower roads etc. So it creates the immediacy. As for fiction, fiction is the opposite of fact but it isn't opposite of truth. Now the characters or the towns may not be real, but there has been a time when such a crisis has existed.
Muktidham is presented in association with India Foundation for the Arts. It will be staged in Bengaluru at Rangashankara; on 27, 28 and 29 January. In Mumbai, it will be staged at Prithvi over 4-5 February. Tickets available on Bookmyshow and at the venues.
Entertainment
Rajkummar Rao's Bheed is more than just a film portraying the chaos of the COVID 19 lockdown.
Opinion
Over the last few years, Jordan Peterson has increasingly turned messianic. This is a toxic but an inevitable outcome of untreated pathologies and the frenzied, nonstop lecturing that leaves little or no time for quiet and sustained contemplation
Explainers
Fasting across religions is practiced for a wide range of reasons that include spiritual purification and self-discipline. Here is a quick look at fasting as an act of faith