World Toilet Day: Awareness, accessibility and affordability are key to success of Swachh Bharat campaign
As World Toilet Day is observed on 19 November, this occasion is yet another reminder in terms of constructing and maintaining public sanitation facilities.
When Prime Minister Narendra Modi kicked off the Swachh Bharat Mission in 2014, it marked the beginning of the world's largest ever sanitation drive. Three years down the line, a survey conducted by the Quality Council of India (QCI) found that access to toilets for rural households has increased manifold to over 62 percent, and that over 90 percent of those who have access to a toilet use it on a regular basis.
Given the nation's subcontinent-like size with a population of 1.2 billion and counting, this is indeed a job well done. However, the provision of accessible and affordable sanitation services remains a key challenge area.
Therefore, this achievement should not be treated as an end in itself. It underlines the necessity of making more such facilities and maintaining them, which is a herculean task. We need a well construed approach to bring the entire population under the Clean India Mission.
There are a few factors that still weigh against the country's long march towards making it a cleaner and more hygienic place to live in. These are awareness, accessibility, and affordability, or the three "A's".
Creating awareness about public sanitation requires a well-orchestrated nation-wide campaign with government agencies in association with NGOs, media, citizens and other players working in tandem at the grass roots.
These awareness campaigns should be aimed at making a behavioural shift in the attitudes of the people at the ground level. The target audience, to begin with, should be children and students, who can understand the concept more easily than elders.
Access is another issue that comes in the way of ensuring healthier sanitation facilities. In this regard, an appropriate model should rope in civic bodies to identify suitable locations to set up such facilities.
They should break away from the ritual of building conventional sanitation facilities that suffer from the non-availability of critical elements such as water, electricity and maintenance.
There is an urgent need to adopt new innovations and technologies in sanitation and align them with changing urban dynamics. With around 100 Smart cities planned across India, the implementation of smart, intelligent sanitation solutions is the need of the hour. A well-developed sanitation infrastructure also ensures judicious use of water and power.
The third 'A' is affordability. Taking a peek into the past might be instructive. It will give us some ideas about how to make all the three A's work. Setting up and maintaining public utilities such as safe, secure and hygienic public sanitation facilities is apportioned to the corporate sector as well.
Corporates have been generous in giving funding towards the creation of quality sanitation infrastructure for the public, women and school children under corporate social responsibility. This is an encouraging trend and there are several success stories worth emulating across India.
It is my view that while creating awareness can be left to government agencies and non-governmental organisation (NGOs) at the grass roots, the private sector has a larger role to play in ensuring a wider awareness to the needy.
As World Toilet Day is observed on 19 November, this occasion is yet another reminder for every stakeholder involved, to relook at the priorities in terms of constructing and maintaining public sanitation facilities.
Eram Scientific Solutions, the pioneers of India's automated toilet revolution, finds it more than fitting to spread the message of Responsible Pubic Sanitation centred on the three A's of awareness, access and affordability.
Therefore, one need not look elsewhere to find sustainable and enduring solutions to the question of providing responsible public sanitation to all.
Putting this trinity to work will change the sanitation landscape of the country. Betting on these winning horses will also help the country gallop several yards in the Human Development Index (HDI), provided the leadership concerned shows the political will to pave the way to achieve this ultimate goal.
The author is Managing Director, Eram Scientific Solutions. Eram Scientific is an Research and Development-focused social enterprise of the West Asia-based Eram Group, operating primarily in the water and sanitation sector. The group has built 2,500 automated toilets across India. They won the Reinvent the Toilet Challenge award by the Bill & Melinda Gates Foundation as also a Rs three-crore grant.
India
Apart from Sibal, G-23 leaders Shashi Tharoor and M Veerappa Moily have also slammed Prasada for switching to the BJP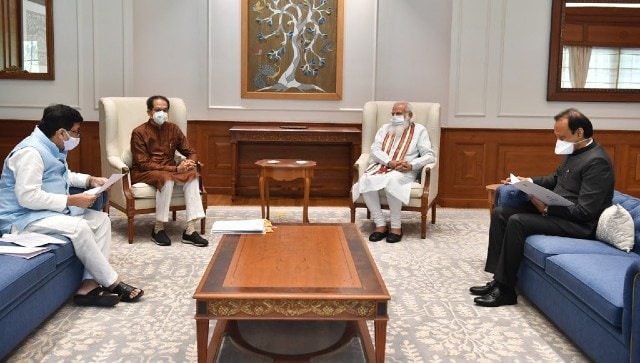 India
Maharashtra deputy chief minister and senior NCP leader Ajit Pawar and senior Congress leader Ashok Chavan also accompanied Thackeray during the meeting with the prime minister
India
Meanwhile, a slew of BJP leaders including JP Nadda, Rajnath Singh and Smriti Irani praised the prime minister's announcements and said the decisions showed the government's committment to the public