With successful entry into lunar orbit, Chandrayaan 2 completes one of few critical milestones remaining before soft-landing attempt
With a successful lunar capture, the two-week (lunar-bound) phase of the Chandrayaan 2 mission now begins.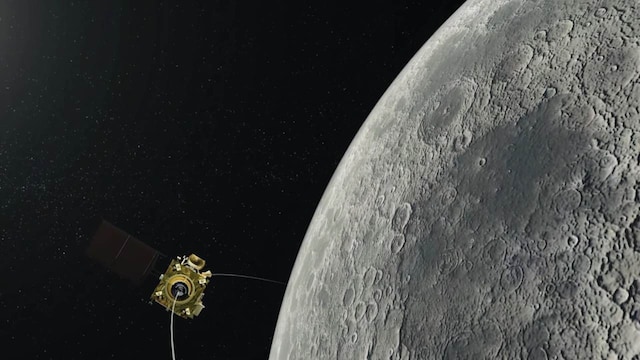 India's second moon mission Chandrayaan 2 successfully completed a major milestone today by breaking away from the Earth's orbit and entering the moon's orbit of influence. This is one of the few remaining critical milestones in the mission before the spacecraft attempts a soft-landing in the moon's South Polar region on 7 September.
The Indian Space Research Organisation announced that the spacecraft completed the Lunar Orbit Insertion (LOI) maneuver today (20 August 2019), in a tweet.
When the moon was at its apogee — its farthest point from the Earth — Chandrayaan 2's onboard thrusters fired for 1738 seconds, generating just enough thrust to slow itself down for 'lunar capture'. This controlled transfer event — breaking free from the Earth's orbit of influence and into the moon's — unfolded over several hours, beginning at 9.02 am IST in on 20 August.
The critical step required the liquid apogee motors to be fired in the opposite direction to the spacecraft's movement, slowing it down in a what's known as "retrofiring" of its thrusters. This allowed the spacecraft to come under the influence of the moon's orbit. With the location of the moon relative to the Earth (and the Earth relative to the Sun) constantly changing, the intersection of Chandrayaan 2's path with the moon's was predicted and planned well ahead of time.
Now that the lunar capture, or entry of the spacecraft into lunar orbit, was completed without a hitch or glitch, the two-week (lunar-bound) phase of the mission begins.
This is an important part of the orbiter's mission: surveilling its year-long home for the first time, ensuring that no damage was caused to its instruments on the journey thus far, and a thorough examination of the Vikram lander's landing site at the moon's South Polar region.
Chandrayaan 2 is expected to make its long-awaited powered descent and landing on 7 September in what the ISRO Chief describes as '15 minutes of terror'.
While subsequent events in the mission won't be streamed live, you can catch live updates on the mission on our dedicated Chandrayaan 2 domain, our Twitter page, ISRO's website, or Twitter page.
also read
India
ISRO has a bunch of missions remaining for 2023, all of whom are more exciting than the next. From the launch of the Aditya-L1 satellite to Chandrayaan-3 mission to moon, 2023 may prove to be a hallmark year for India and ISRO
Explainers
A team of international scientists led by an Indian professor at Ahmedabad's Physical Research Laboratory has detected an exoplanet that has the highest known density so far. It is more massive than Jupiter but has the same size as the largest planet in the solar system
India
India's ISRO joins an elite club of space agencies which use a very complex and technical device, a Rubidium atomic clock in their GPS satellites. Only 4 other national space agencies use this atomic clock - USA's NASA, EU's ESA, China's CNSA and Russia's ROSCOSMOS