Unnao Ground Report, Part 2: Fear and loathing grips Makhi as families of survivor, accused trade charges
An eerie silence hangs over the village of Makhi in the Unnao district of Uttar Pradesh. The roads are deserted and the normally ebullient villagers are in no mood to talk to outsiders. Its most prominent citizen, MLA Kuldeep Singh Sengar, has been arrested on a slew of charges including rape of a minor, kidnapping and criminal intimidation.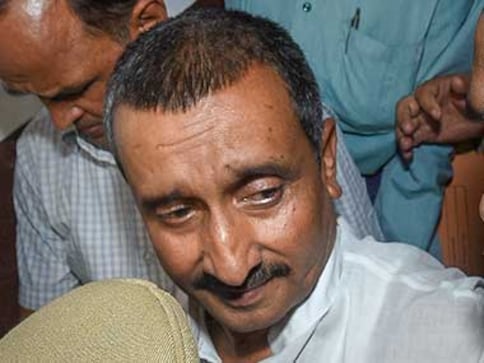 Editor's note: This is the second in a three-part series of ground reports from Unnao and nearby villages. These articles will examine the culture of fear and repression that is pervasive in the region, and which is typified by the rape of the 17-year-old girl in June 2017.
An eerie silence hangs over the village of Makhi in the Unnao district of Uttar Pradesh. The roads are deserted and the normally ebullient villagers are in no mood to talk to outsiders. Its most prominent citizen, MLA Kuldeep Singh Sengar, has been arrested on a slew of charges including rape of a minor, kidnapping and criminal intimidation.
A large contingent of police stand guard outside Sengar's home. An equally large contingent of policemen and policewomen can be seen guarding the house of the 17-year-old girl who accused Sengar of raping her on 4 June, 2017.
Sengar's home, a double-storied yellow ochre and brick red building could put some of Delhi's best known schools to shame. Two temples and a large double-storied intermediate college have also been built on his property.
Being a Sunday evening, a large number of villagers from Makhi have gathered at his home in a show of solidarity. Sengar's two sisters, along with other family members, are paying a visit to the village. 'Vidhayak ji always visited Makhi on Sunday and since he could not come, we have come in his place", the younger sister said.
Sengar has a reputation of being a political turncoat who has been pampered by all parties he has been associated with in his 20-year political career. He contested his last election from Bangarmau, where he managed to consolidate the Thakur vote. He is also known to flaunt his proximity to two other powerful Thakur politicians: Arvind Singh Gope and Independent MLA Raghuraj Pratap Singh alias Raja Bhaiya.
Those who are close to Sengar know that besides being an agriculturist and owner of several brick kilns, he also runs two jewellery shops in Unnao and Kanpur. His businesses are looked after by his family members, including three brothers, all of whom have criminal cases registered against them.
The most notorious of these is Atul, who came into the limelight in 2004 when he allegedly shot at the then Unnao additional superintendent of police Ramlal Verma after he tried to stop illegal mining allegedly being carried out by the Sengar family. The police officer was reportedly made to withdraw the case.
In 2014, Atul also reportedly fired at a journalist's father in Unnao. Atul was reportedly angry with the type of reports the journalist was writing against the Sengar family. The survivor has also alleged that it was Atul and his associates who publicly thrashed her father on 3 April. Following the public beating, Sengar allegedly told the survivor's uncle: "Maine use prasaad de diya public mein bolne ka" (I gave him a blessing for speaking in public).
Sengar's sister Sangeeta insists there is an organised campaign to defame her brother.
"The girl is of loose character. She ran away with three boys on 10 June, 2017, and then reappeared ten days later. She then slapped rape charges against all three boys who were jailed. One of the boys studying to become an engineer and this girl has destroyed his life. Her charges against my brother therefore carry no weight", Sangeeta alleged.
She further added: "The girl comes from a notorious family. Her father's elder brother was a known historysheeter with over 20 cases filed against him. He was killed by locals because of his misdeeds. All phone records should be called for. Everything should be examined carefully".
The villagers who gathered at Sengar's home listened in silence. Vikas Mishra, a neighbour who works as a government school teacher in Rasulabad, which is around ten kilometers away, nodded his head in agreement. "There are sound bites circulating on Facebook on her interactions with boys. All this CCTV footage has been submitted to the CBI", Mishra alleged. Mishra also condemned the survivor's father. "He was not of good character. He had many criminal charges levied against him by the police".
Sangeeta chimed in: "The allegation that my brother and his men beat him up is totally false. Theirs was a family quarrel with his own relatives and they beat him up. If this family had some misgivings against us, why would that girl's younger two sisters continue to study in our school even after she filed the rape complaint?" Sengar's other sister believes all this happened because her brother was was too conciliatory.
An elderly woman this reporter met elsewhere, clearly spooked, folded her hands. "I have to spend the rest of my days here. I will not say anything," she said.
Earlier, the survivor's uncle told journalists he feared that Sengar and his brothers had been threatening the villagers to keep quiet.
The survivor's uncle alleged, "On Sunday, Sengar's men went to Makhi. They threatened the villagers to remain silent and snap ties with my family or face the consequences and be ousted from the village. Two people are already missing". Walking through the village, no one else is willing to speak, other than repeat these words: "Vidhayak ji is not the type of person who will commit rape. Whenever we ask for assistance, he provides it".
Unnao is dominated by Brahmins, who comprise 20 to 22 percent of the population. However, it is obvious Sengar's writ runs large in Makhi. Sengar started his political career in Makhi as a pradhan. As his influence expanded, more family members were incorporated into politics. While he was with the Samajwadi Party, Sengar's wife Sangeeta was made the chairperson of the Unnao Zila Parishad. She still holds the position. One of his brothers, Manoj, was the head of a block-level elected body.
Sengar is known to switch parties with impunity. In 2002, he fought the Uttar Pradesh Assembly election  from Unnao's Sadar constituency and won it for the Bahujan Samaj Party. By the next Assembly election, he'd become a favourite of Samajwadi Party (SP) leader Shivpal Singh Yadav and in 2007, fought the election as an SP candidate.
In 2012, the SP changed Sengar's seat from Bangarmau to Bhagwant Nagar in Unnao from where he contested and won. But for the 2017 Uttar Pradesh Assembly elections, Sengar joined the BJP and won from the Bhagwant Nagar constituency again.
The survivor's uncle contests the charges made by Sengar's sisters. "My niece did not run away with the boys. She was abducted and brought back only after her mother filed a complaint in the Makhi thana. My elder brother was beaten by Atul and his accomplices. It was not a family dispute as they'd like people to believe. They are telling people that my uncle's son beat my brother. People are free to ask him what the truth is".
Alok Agnihotri, a senior member of People's Union for Civil Liberties, Unnao, claimed, "It's obvious that villagers are afraid of Sengar as he has been an MLA for the past 20 years".
Agnihotri is not surprised that the police allegedly did not take any cognisance of the survivor's complaint against Sengar until she met Chief Minister Yogi Adityanath.
"What was the police doing for ten months? The Unnao superintendent of police Pushpanjali Devi is reportedly related to Sengar. No one supported the girl. Why was the police silent when the girl and her family members sought their assistance? Were some larger political interests at stake?"
Agnihotri believes the death of the survivor's father is the result of criminal negligence both on the part of the district police and the district hospital authorities. Even though two doctors in the district hospital have been suspended and the station house officer of Makhi thana, along with some constables, has been transferred, the Unnao police have a ready excuse.
Swatantra Singh, Unnao deputy superintendent of police, said: "The survivor's father's death is not a case of custodial killing. He was arrested and taken to the Unnao jail. It was the jail police who brought him to the hospital for treatment. The local police had nothing to do with it".  Swatantra added, "I am in charge of the survivor and her family's security. I've deputed a large contingent to ensure that the survivor and her family members remain safe".
Click here to read Part I — Survivor says she's haunted by father's death; mother fears family can never go home
Click here to read Part III — Medical records, case timeline exposes 'cover-up' in death of rape survivor's father
India
In view of Raksha Bandhan, the chief minister also announced free rides for women in UPSRTC buses for 48 hours -- from 10 August midnight to 12 August midnight.
India
Mohammad Tahir, food supplier and the main accused for poisoning hundreds of cows, was arrested from from Adampur area. A reward of Rs 50,000 was announced by the police on him
India
The chief minister said that different programmes are proposed to be held in Varanasi, Lucknow, Agra and Greater Noida, ahead of the final summit