Travels of a political pilgrim: Understanding the Shia-Sunni Muslim divide in the country
Sunni Muslims are a majority but they lack education. However, right among this majority there exists a minority of Shia Muslims who are doing exceptionally well in education.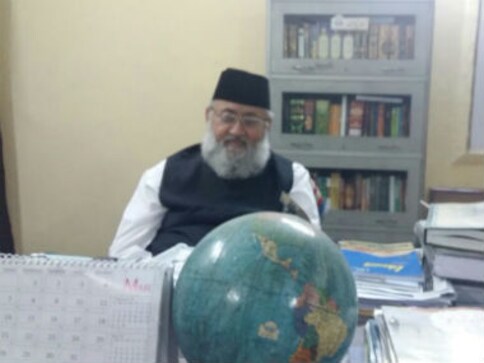 Editor's note: Uttar Pradesh is home to India's sixth largest Muslim population according to the 2011 Census, a figure whose magnitude is amplified when viewed in the context of the sheer expanse of the state and its Byzantine linkages of identities and communities. Such an examination is rendered all the more urgent considering Uttar Pradesh is now in the thick of a tumultuous election. To understand the mind of its Muslim community — its anxieties, aspirations and animating impulses - political commentator and journalist Tufail Ahmed set off on the road, sending us dispatches from its far corners. Firstpost will chronicle his travels in a multi-part series. The following is the ninth part of this series titled 'Travels of a political pilgrim'.
In the majestic city of Lucknow once governed by the Shia ruler Nawab Wajid Ali Shah, journalist Kulsum Mustafa draws my attention to the following: "Sunni Muslims are a majority but they lack education. However, right among this majority there exists a minority of Shia Muslims who are doing exceptionally well in education." This profound observation sheds light on the minority syndrome which exists among Indian Muslims, but does not exist among other religious minorities such as the Sikhs, Parsis and Jains.
Asked to explain why Shia Muslims are doing educationally better than Sunni Muslims, Maulana Saidur Rahman, the principal of the world-famous Darul Uloom Nadwatul Ulama seminary of Lucknow, states: "There is bedari (awareness) among Shia Muslims. They understand that education is necessary for progress. The Sunnis too are becoming aware." However, the causes of Muslim backwardness in India cannot be attributed solely to a lack of awareness, especially since Sunni Muslims are politically assertive, and are demanding that the government fix their life and are unwilling to part with the 'minority' tag, a relevant political tool, especially at the time of elections.
Kalbe Jawwad, the leading Shia cleric of Lucknow who was travelling, told me by phone that the Sunni Muslims get into small businesses such as mechanics, tailoring, embroidery work, meat business and others, which excludes them from the education system early in life. In Jawwad's view, there is a strong emphasis on education among Shias who, unlike the Sunnis, first complete education before getting into work. Rakesh Dwivedi, who teaches social work at the Lucknow University, explains it further: "Small-scale entrepreneurship is prevalent more among [Sunni] Muslims than among Hindus because the latter start business activities after education while Muslims begin entrepreneurial activities before education." He suggests that any educational reform for Muslims must include a teaching component on entrepreneurship at early age.
Kulsum, who is a Shia Muslim married into a Sunni family, notes that the tradition of majlis (religious gathering) inculcates a strong emphasis on educational and social life of Shia Muslims. Majalis, the plural of majlis, are held throughout the year but especially during the month of Muharram in which Shias mourn the death of Imam Hussain, the grandson of Prophet Muhammad at the Battle of Karbala in 680 CE. Every majlis is a socio-religious platform and has two parts: the first half focuses on social issues, while the second half is devoted to remembering the difficulties suffered by Ahle Bait, the members of the prophet's household, she explains.
While this insight into the Sunni-Shia difference in the fields of education and religion is relevant to understanding the Muslim backwardness, it is also pertinent to explain the so-called 'minority' phenomenon, which appears to shackle the development of Sunni Muslims. Islam has always been a religion of war for power. In early days in Mecca, the prophet preached Islam peacefully. After Hijrah (migration) to Medina where he established the first Islamic state, the prophet waged many wars. And right after the prophet's death, disputes arose over succession leading to two divisions among Muslims: Shias and Sunnis. "Islam is basically a war for the Caliphate," Kulsum observes.
So, in the mid-2014 when Abu Bakr Al-Baghdadi, the chief of the jihadi-terror group Islamic State (ISIS, also known as Daesh by its Arabic initials) declared himself as the caliph of all Muslims, a congratulatory letter was released by Maulana Salman Al-Husaini Al-Nadwi, a leading Sunni scholar of Islam at the Darul Uloom Nadwatul Ulama of Lucknow. I met him at his office. I asked him questions on the Muslim educational backwardness, his support for the Bahujan Samaj Party in the Uttar Pradesh Assembly elections, role of Islamic scholars in the life of Muslims, lack of worldly education in the syllabi of madrassas and so on. His responses were sweet and short and in phrases and half-sentences, and I felt my conversation was not progressing anywhere until I questioned him on his controversial letter to Al-Baghdadi. He came to life because this is one subject on which he had to defend himself, as he was widely criticised for supporting the Islamic State.
The first response I got from him shocked me because it was rooted in the Sunni-Shia schism in Islam. "I congratulated Abu Bakr Al-Baghdadi on the point that he had registered victories against Shion ke zalimana mazalim (the cruel atrocities of Shias in Iraq)," said Maulana Salman, adding that in the letter he had advised Al-Baghdadi to establish good relations with other countries as well as with India and not to kill ordinary people just because they belong to different sects, i.e. mainly the Shia sect. However, Al-Baghdadi continued to promote sectarianism (anti-Shia killings), he said, and the violence spread to other countries. Maulana Salman gave a post-facto justification for his support to Islamic State saying that he continued to watch its initial role and later wrote an essay against Al-Baghdadi which was published as a booklet.
"Now, Daesh is on the path of Kharijites. They talk about Islam but Islam se bari hain (are out of Islam)." Maulana Salman said. Kharijites were Islamic State-like forces in Islam, religiously devout and offering five-time prayers, and they would kill Muslims who in their theological opinion had left Islam. I stopped for a second on the use of the word bari (expelled/out) and asked him if the Islamic State is out of Islam. To which, he responded: "We do not consider it kafir [infidel, or non-Muslim]. It is so violent that it only thinks about its own group [as an organisation]."
"The Islamic State is not the spokesman of Islam," he said and added correctly that the war underway in Iraq over the past decade and more is also rooted in the geostrategic roles played by the US, the UK, Israel and other western powers. He was dismissive about the Indian Muslim youths who have been arrested over pro-Islamic State radicalisation or went to fight in Syria. Such youths are devoid of hikmat (wisdom) and lose sense, he remarked.
In the booklet titled, "Daesh is neither the agent of America nor of Israel – It is a violent and extremist Salafi organisation," Maulana Salman emphatically states: "Lots of people understand that these people [i.e. Islamic State] are the agent of external enemies. I am saying it with full confidence that it is not so. They are gripped by their thought and beliefs. They are Salafis who do not feel at rest without declaring fatwas on takfir and apostasy." Declaring takfir means deciding theologically who among Muslims has left Islam and as an apostate is therefore liable to be killed. While the booklet correctly attributes the theological roots of the Islamic State to past theologians such as Ibn Taymiyyah and Ibn Wahhab, it is significant for another issue: the writing of this booklet is driven by purely anti-Shia clamour to capture power, a key reason why Maulana Salman initially backed Abu Bakar Al-Baghdadi, a Sunni.
And therefore in the booklet, Maulana Salman lauds a conference that was called in Riyadh of 40 jihadi groups from Syria which was held to unite them against the Bashar Al-Assad regime, who heads the Shia regime in Syria. The booklet is noticeable for the fact that it doesn't imagine space for the Sunni power of Islam to co-exist with the Shia powers of the day such as Iran, Iraq and Syria. In the booklet, he speaks for the need to end sectarianism (firqawariat) from countries like Iraq and Syria but in the context of the booklet and the politics in the Middle East, the word "sectarianism" essentially means the termination of Shia power from the Islamic world, which in the unwritten imagination of Maulana Salman is necessary for the rebirth of the Sunni-led global Caliphate, which existed till 1924 when the Ottoman caliphate ended in Turkey. The battle of Karbala was the bloodiest in Islam and in fact so bloody that Muslims felt ashamed of themselves and therefore used poisoning as a method to murder Shia imams in later centuries. The battle of Karbala was also fought for control of the caliphate.
Both the viewpoints expressed by Maulana Salman and Kulsum Mustafa lead to only one definitive conclusion: the world is engaged in a continuing series of wars between the Sunnis and the Shias; it is a war of Islam for the capture and rebirth of the global Caliphate. It is Islam's war to lay siege to the global political power. This war in India transforms itself into what we understand as the minority syndrome, which is necessarily a Sunni Muslim phenomenon among the Muslims who lost power in 1857. Election times are the only times when the minority phenomenon forces the majority community to overtly behave as a minority community by wearing topi aur angochha (the Muslim cap and male scarf), Kulsum explains.
It is essentially the political behaviour of a community that does not want to behave as a minority, even though this behaviour creates victimhood and siege mentality, and therefore harms the Sunni community in educational and economic life. It is basically a Sunni Muslim tool to claim a stake in power, while the real minorities such as Shias, Jains, Parsis and Sikhs do not use it to play victimhood or to assert superiority. Lucknow-based social anthropologist Nadeem Hasnain wonders: "When will Muslims learn to live as a minority? Will they even learn or not? Why can't we understand that we cannot progress without the goodwill of the majority?" He adds: "I think our biggest complex is that we have ruled India for 800 years." When I asked Maulana Saidur Rahman, the principal of Darul Uloom Nadwatul Ulama, to explain the Muslim educational backwardness, he too diagnosed its causes in power, not in innovation, rational thought and individual initiative. "Samrajiyat (imperialism) kept Muslims backward. Everyone wants to keep Muslims backward," he said.
While it's true that Shias too lost power to the British, notably when Nawab Wajid Ali Shah was dethroned by the British, the Shia loss of power was not much. Additionally, Shia Muslims learnt to march in step with the changing times while the Sunnis did not, observes Jeelani Khan Alig, who is based in Lucknow. So, the Sunni nature of the minority phenomenon forces them to look up to the government and power to fix their economic and educational life. This siege mentality gave birth to the Khilafat movement which paved the way for the creation of Pakistan. Post-independence, India has entered a new cycle of partition, as journalist Siddharth Singh tells me, which is dividing India right in its towns and cities. I have argued earlier that India is headed to multiple partitions. The only point to understand is that the nature of this conflict is raging at the intellectual and political levels in the forms of minority politics and the communal politics masquerading as secularism in India.
Part One: Separatism and integration among Muslims in the time of Uttar Pradesh elections
Part Two: Secularism versus communalism at election time
Part Three: Is rise of religiosity on AMU campus a precursor to another 'Partition'?
Part Four: Should taxpayers be funding AMU's imams, muezzins, theology department?
Part Five: How bridging religious, worldly knowledge gap can reform Muslim education
Part Six: Be it Kairana, Muzaffarnagar or Aligarh, India is headed towards multiple 'Partitions'
Part Seven: Tracing the rise of Barelvi Islam in Indian politics
Part Eight: Farangi Mahal, once a bastion of Islamic education, looks to regain lost glory
Part Ten: Government must address 'minority' syndrome which causes social conflict
Part Eleven: Mubarakpur sits at the junction of Islamic doctrinal sects divided by Taqleed
Part Twelve: Madrassas play key role in inducing orthodoxy among Azamgarh's Muslims
The author, a former BBC journalist, is a contributing editor at Firstpost and executive director of the Open Source Institute, New Delhi. He tweets @tufailelif
Explainers
Codeine is an opioid medication that doctors may use to treat pain. It is used in cough syrups and has mild pain-relieving properties, but it is a powerful drug that one can get addicted to
Explainers
Serbia, which has refused to recognise Kosovo, cherishes the region as the heart of its statehood and religion. Kosovo's majority ethnic Albanians, who are mostly Muslims, view Kosovo as their country and accuse Serbia of occupation and repression
Explainers
Prosecutors have accused Shakira of defrauding the Spanish tax office out of 14.5 million euros on income earned between 2012 and 2014. However, the superstar has stated that she is 'absolutely certain of her innocence' and rejected a plea deal