To lose TM Krishna to intolerance, is to lose ourselves; only an annihilate vanity can make this sacrifice thinkable
TM Krishna engages with the wonderful and the un-wonderful with remarkable felicity, and foregrounds tradition not as an impoverished relic of a forgotten past but a paradigm with which politics itself can be re-thought and reimagined
In a city as muted of its radical music as Delhi, a figure such as TM Krishna is an impossible rarity. Yet, in a commensurate effort between SPIC MACAY and the Airport Authority of India (AAI) titled 'Music in the Park,' this impossibility was promised. Its infamous annulment following a tempest of outrage makes listening to TM Krishna difficult in two disparately mortised registers.
Of these, the first is trivial and concerned merely with presence — it has become difficult to listen to TM Krishna because his arrival, much like his music, has become an act of politics. A certain politics, now impenetrably ascendant, leaves, by its presence, no space untouched by vitiated assault — this forces upon TM Krishna and many others of this rapidly multiplying assortment, an absence. It has become difficult to listen to TM Krishna because he is absent, or so would one surmise on preliminary appraisal.
One calls this reading superficial because in apportioning Krishna's absence from our parks, auditoria, and other such palates of aural faculty, we fail to ask not what Krishna loses by his absence but what we lose in the unbearable difficulty of listening to him.
This, one realises, is a difficult question to ask, because in the scattered but perniciously unitive spaces of 'outrage' against Krishna's promised performance, the unbearable is a recurring motif — TM Krishna's presence inspires outrage, makes itself unbearable, and so he must be forced into absence. Among other tantalising allegations, it might be instructive to begin with the prosaic — TM Krishna is unbearable because, over the tumultuous course of his political posturing, he has marked himself as an antagonist of the present political dispensation and more fundamentally, its configuration of politics as Hindutva.
Beyond the strictly popular, however, Krishna has also been castigated for his assimilation of Islamicate and Christian themes into a richly classical and self-representatively monolithic tradition of Carnatic music. It is held, from the position of this reason, that in his incessant aphorisms on caste and its connexions with the historical practice of his music, Krishna violates the vaunted sanctity of this tradition. In his impulse towards political activism, such as in his iconic reclamation of the Tamil poromboke as a prayer to preserve the creek as an ecological site of the community, Krishna, it so goes, refuses the necessary destiny of classical music as an exercise of sublime abstraction; Krishna is unbearable because he plots the pitiable descent of classical music into the world of the mundane and dastardly.
This is a facet Krishna rarely acknowledges, but it should be under-girded that to construct any classical tradition, the erasure of dissonant un-classical traditions is but imperative as the necessary furniture of producing such a tradition. This makes impossible the effortless passage of unblemished tradition across time (it often shows, for instance, what claims to be ancient, to be beguilingly modern…) — so is, therefore, problematic when Krishna proclaims that "my music is 600 years old". Once produced, a classical tradition — only implicitly aware of its factitious primordial existence — must consign itself to abstraction if it is to exist uncontested; Krishna breaks this difficulty brokered vigilance.
Report: TM Krishna's Delhi concert rescheduled; will now be held at Garden of Five Senses on 17 November
But what makes TM Krishna's presence truly unbearable — so unbearable, indeed, that to even let this Carnatic artist arrive in the national capital with his music and his musicians is sacrilege — is the reckoning he forces upon Hindutva by his merely performative existence. TM Krishna is unbearable, and absent, because he forces Hindutva to look at how constructed it is. His invocation of the Islamicate and the Christian in the carefully negotiated bounds of a Hindu classical tradition to a point of such rupture that the certitude of 'Hindu,' 'Muslim,' and 'Christian' blurs unto strange dissolution harks ceaselessly to South Asia's intricate and inseparable traditions of thinking (of) the divine and the musical. This, as we well know, is a certitude Hindutva needs for bare existential survival.
Furthermore, and trenchantly, Krishna does not, in the romance of these intricate and inseparable traditions, unsee that they are forever doubled by caste and the terrible exclusions it fosters in both paradigmatic movements of religious traditions and quintessential acts of quotidian musical practice. This is an acknowledgement Hindutva, in its fanatical search for the glorious, can never make. Krishna, on the other hand, engages with the wonderful and the un-wonderful with remarkable felicity, and in the greatest gesture, foregrounds tradition not as an impoverished relic of a forgotten past but a paradigm with which politics itself can be re-thought and reimagined.
What, then, does the difficulty of listening to TM Krishna mean — what makes it so very unbearable? To lose TM Krishna to intolerance, or, to take Ramachandra Guha's word, barbarism, is to lose ourselves. Only an annihilate vanity can make this sacrifice thinkable.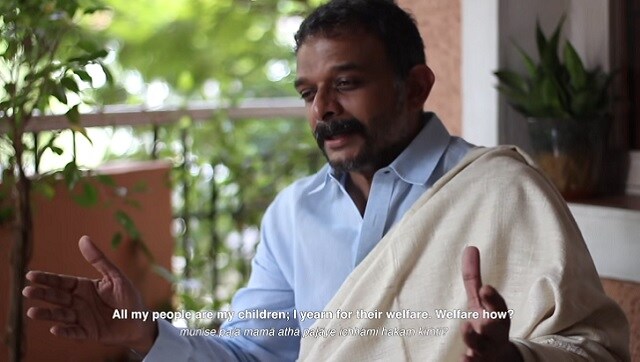 Arts & Culture
In the stunning Edict Project, TM Krishna has sung the lines that Ashoka engraved in rock and pillar millennia ago.
Life
Though most of its compositions are religious in content and in praise of Hindu deities, Carnatic music is not religious music. It has an appeal beyond its religious association
Life
Carnatic vocalist and social commentator TM Krishna will be performing to the works of the 20th-century philosopher-poet-saint and social reformer from Kerala, Narayana Guru.