TM Krishna's concert called off: AAI cites 'exigencies of work', but art and culture fraternity demoralised
Carnatic vocalist TM Krishna has become a target of some right-wing trolls who are objecting to the mention of Jesus and Allah in his lyrics.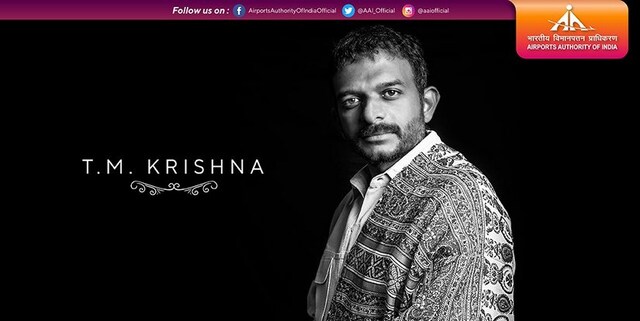 Carnatic vocalist TM Krishna has become a target of some right-wing trolls who are objecting to the mention of Jesus and Allah in his lyrics. This has allegedly led the Airports Authority of India (AAI) to scrap the festival "Music in the Park" that was to be held in the national capital on 17 November.
The festival has been an annual event in Jaipur and Delhi for the last twelve years. Sandeep Chandoke, the coordinator of the festival in Jaipur is bemused at the outrage on social media, especially because Krishna performed peacefully for over two hours in front of an audience of nearly 700 at the Jaipur edition of the festival on 10 November. "The chief minister's office whets the list of performers and two government bodies – the tourism department and the Jaipur development authority – co-sponsor the event. The government of Rajasthan put out ads in major regional papers like Patrika and Bhaskar, and no protest of any kind unfolded," he said. He added that such an event in a small city like Jaipur cannot take place without the support of the local authorities.
Rashmi Malik, from Spic Macay, who organises the festival in Delhi, said that she signed the MoU with the Airports Authority of India last year and the list of performers was drawn jointly by SPIC Macay and the AAI. She said that the reason given for postponing (and not cancelling) the event was that the AAI isn't able to cope with putting out a large concert like this one on the same weekend. In an email, AAI informed SPIC MACAY that the concert was called off. The email stated: "(Due to) some exigencies of work, we are not in a position to go ahead with the dance and music concert jointly organised with SPIC MACAY on 17 and 18 November, 2018 at Nehru Park, New Delhi. Hence, we request you to kindly postpone to a new date and inform all concerned. The new date will be discussed with SPIC MACAY soon."
Meanwhile, responding to right-wing comments online, Krishna has made his stand clear in asking for a stage anywhere in Delhi to show that he will not be cowed down by such threats. He told Firstpost that the trolling began a day after the concert in Jaipur on 10 November. "Until 4 pm on November 13, the AAI was making extra security arrangements and asking us not to worry about the threats. Then suddenly, at 5 pm, the email citing 'some exigencies of work' was sent to Spic Macay," he said.
Krishna is baffled at how that is possible, especially because it takes time, effort and money to organise a concert of such a scale. "We don't know what is happening behind the scenes. But the trolling isn't happening arbitrarily; obviously, there is a mechanism by which these things work," he remarked, further saying that the trolling took place due to his political positioning, and that he finds it ironic that a BJP MP Sonal Mansingh was also going to perform at the same event. "Had they gone after me, it would have been easier to call them out, it would have been too obvious" said Krishna, who is disgusted at the fact that such an incident has taken place in the heart of the national capital.
Rashmi Malik of SPIC Macay said that what is happening on social media is a misinterpretation of the Ganga-Jamuni tehzeeb and delivers a massive blow to the morale of people working in the fields of music and dance.
Bharatnatyam exponent Priyadarshini Gobind, one of the other performers at the event, told Firstpost that the organisers didn't inform her why the event was "postponed." On the question of the way in which Krishna has been trolled online, she said, "I am a practicing Hindu and I was taught that tolerance is one of the fundamental pillars on which our religion rests...We may not agree with everything, but it is important in our democracy and our religion to allow a person to express his point of view without incurring a political or religious backlash."
Ustad Shahid Parvez Khan, sitar player and a seventh-generation member of the Etawah Gharana, was also scheduled to be a part of the 17 November event.
Ashok Jain, a member of SPIC Macay in Kota, Rajasthan, said that fundamentalist groups on social media display an arrogance towards culture, but the people who come to concerts are quite different, which is why safety of artists has not been a concern. However, it is the idea that music and dance constitute a space that can merge religious cultures which is being looked at as a threat by those who are misinformed about the history of Indian culture. An example of the syncretic nature of these fields is the Kirana gharana, which coalesced around Ustad Miyan Bande Ali Khan, a player of the rudra veena in the early 19th century. Bharat Ratna Bhimsen Joshi hailed from the Kirana gharana and still continues to mesmerise people with swara and shabda.
Jain recalled, "In Srinagar, we organised a festival to promote peace and harmony, where the late dhrupad singer Fahimuddin Dagar incorporated Shiv and Ganesh stotras in his performance, and Kathak exponent Uma Sharma danced to Ghalib poetry." He noted that threats to artists pushing the envelope isn't a new phenomenon. He gave the example of the raga priyadarshini that Ustad Amjad Ali Khan had dedicated to Indira Gandhi, and how the sarod maestro was criticised for it.
This prejudice, which is directly or indirectly shielded by power, manifests itself in the preference given to some dance and music forms over others. At the 44th Khajuraho dance festival this year, veteran dance critic Padmashri Dr Sunil Kothari, who has been associated with it since its inception, felt that the charm of the festival, which was once every dancer's dream stage, has taken a beating. He told Firstpost that this year, the Mohiniyattam, Sattriya and Kathak forms did not find any representation, and remarked, "A festival which has acquired international reputation turned out to be a free-for-all for Kathak dancers of questionable quality and that raised questions about the discretion of the jury members." Wasifuddin Dagar, who represents the 20th generation of an unbroken chain of dhrupad singers from the Dagar clan, told Firstpost that if the "Music in the Park" festival has been cancelled owing to threats Krishna is receiving on Twitter, then it is disappointing. "SPIC Macay is a very neutral cultural organisation (it explicitly calls itself a non-political organisation on its website) and the reason for cancelling an event should be crystal clear. Krishna is a wonderful artist who has come out with interpretations and innovations in Carnatic music, like slowing down the tempo," said Dagar, who expressed disbelief at the fact that Krishna's music has managed to offend some people.
India
During the initial probe, the Bangladeshis said that they worked as agents for Bangladesh nationals who were visiting India for medical treatment
India
National capital Delhi has recorded 40 deaths due to COVID-19 from 1-10 August, nearly thrice the cumulative figures registered in the last 10 days of July when 14 people had succumbed to the viral disease
India
Twenty-eight Delhi University colleges, partly or fully funded by the Delhi government are locked in a tussle with the government over the issue of the release of funds over the last two-three years