Terror threat: Why Gogoi's remark on Ulfa-Qaeda link can't be ignored
Gogoi, who has recently been under fire from the Congress high command for increasingly losing electoral ground to the BJP, may be trying to deflect attention from real issues, but his statement cannot be taken lightly.
New Delhi: For Al Qaeda, an organisation desperate to claw back into the space it was forced to vacate by Islamic State (IS), every trouble spot has become a fishing ground for new allies. Given this backdrop, Assam Chief Minister Tarun Gogoi's remark that the banned outfit United Liberation Front of Asom (Ulfa) seemed to be in cahoots with the terror outfit with a global footprint, does not come as a big shock.
"We have got some information that Al Qaeda is trying to gain access to Assam. We have taken steps to prevent any such development and asked all concerned to remain cautious," Gogoi said on Saturday, adding, "The global terrorist outfit had tried to set up links in the north-east and Assam in association with insurgent groups here earlier too, but failed to do so."
Gogoi, who has recently been under fire from the Congress high command for increasingly losing electoral ground to the BJP, may be trying to deflect attention from real issues, but his statement cannot be taken lightly. Only recently, Al Qaeda chief Ayman al-Zawahiri had released an online video asking the Muslims of the Indian subcontinent to join the group. Announcing a branch in India, he mentioned that it would fight on behalf of Muslims suffering injustice and oppression in Burma, Bangladesh, Assam, Gujarat, Ahmedabad and Kashmir.
"It's not that Al Qaeda will formally open a branch in India first and then operate. It may operate through sleeper cells of already existing terror outfits in many states, including Assam. There are reports of Pakistan's Inter-Services Intelligence (ISI) supporting Al Qaeda in Af-Pak region, and the same pattern can't be ruled out in India, especially after the recent arrest of the ISI agent Arun Selvarajan from Tamil Nadu," a central intelligence source said.
During his interrogation by National Investigative Agency (NIA), Selvarajan revealed that he had helped ISI in carrying out reconnaissance of India's strategic sites in South India, and allegedly planned to carry out a terror attack in Chennai like Mumbai 26/11.
"It's possible for the Ulfa to tie-up with Al Qaeda to boost its terror activities in the state, because in the past it had joined hands with extremist groups of Bangladesh. Ulfa's Paresh Barua had also stayed in China's Yunan priovince," said former director general of Border Security Force, Prakash Singh.
"Since I've worked in Assam, I know about its police intelligence, which is efficient. One should not ignore this information, which is very serious. Instead of dismissing it as a rumour, the Central intelligence agencies should verify its correctness and no chance should be taken, even if it comes out to be false after investigation," cautioned Singh, who also had served as Director General of Police in Assam.
It was way back in August 1999 in Guwahati, when the first arrest of any 'ISI operative' was made in the country. The Assam Police had arrested four alleged terrorists, two of whom were Pakistani nationals - Md Fasiullah Hussaini alias Hamid Mahmood alias Khalid Mehmood of Hyderabad (Sind) and Md Javed Waqar alias Md Mustafa Abdul Rahman Danish of Karachi. Both of them were alleged to be top operatives of the Pakistan-based Harkat-ul-Mujahideen.
In 2008, a report was tabled in the Assam assembly disclosing for the first time about the presence of Muslim terrorist organizations in the state. The Assam government had informed the state assembly that the two Islamic militant groups, including the Pakistan-based Harkat-ul-Mujahideen, were particularly active across Assam. Later, some militant organisations that were named to be active in the state included the Muslim United Liberation Front of Assam, Muslim Liberation Tigers of Assam, Islamic Liberation Army of Assam, United Reformation Protest of Assam and People's United Liberation Front.
The serial bombings in Assam in 2008 allegedly pointed fingers at several Islamic militant groups and fundamentalist organisations, and the police accused jihadi groups for the blast. Three Islamist militants with suspected links to the ISI were killed in an encounter with the security forces in Goalpara district. Similarly, in 2009, the National Democratic Front of Bodoland (NDFB) militant and a key perpetrator in the Dhekiajhuli blast case, Prabhat Basumatary's name surfaced. He was allegedly stated to be an ISI operative.
"Assam's own extremist groups already have links with the ISI," the intelligence source added.
Affirming Ulfa's strong links with the Islamist terror outfits in Bangladesh and the ISI, and presence of Islamic terrorist organisations, which are different from the ethnic terror groups like Ulfa, NDFB etc., Maj Gen (Retd) Dhruv Katoch, director of Centre for Land Warfare Studies (CLAWS), is skeptic about Gogoi's claims.
"It's a serious issue no doubt, but I fail to understand why the Assam CM instead of giving the facts and figures to Central intelligence agencies, went public about it. Is it to create fear in the minds of people and divert their attention from any weakness of his government," he questioned. "After the Bangladesh government has thrown Ulfa out, it has been operating from India-Myanmar border, which is virtually a 'no man's land', and Gogoi's claim needs a thorough investigation by the Central government. After all, the onus is on the CM," said Katoch, who has had a long stint as a counter-terrorism expert.
"The forthcoming festival season is a very sensitive period in the state. Following, the Intelligence Bureau's countrywide alert on 4 September after the Al Qaeda released its video, and the CM expressing his concern over the possible link between Al Qaeda and Ulfa, the state is closely monitoring the situation, so that no untoward incident occurs," a senior official in Assam government said on condition of anonymity.
Find latest and upcoming tech gadgets online on Tech2 Gadgets. Get technology news, gadgets reviews & ratings. Popular gadgets including laptop, tablet and mobile specifications, features, prices, comparison.
Lifestyle
Social media platforms act as sites wherein death, loss, and mourning are increasingly encountered and negotiated. With the online omnipresence of grieving, it becomes a constant challenge for women, especially those bereaved, to perform 'good grief'.
India
The Buddha nullah picks up toxic effluents in massive quantities and around 200 MLD of untreated sewage a day before it meets the Sutlej river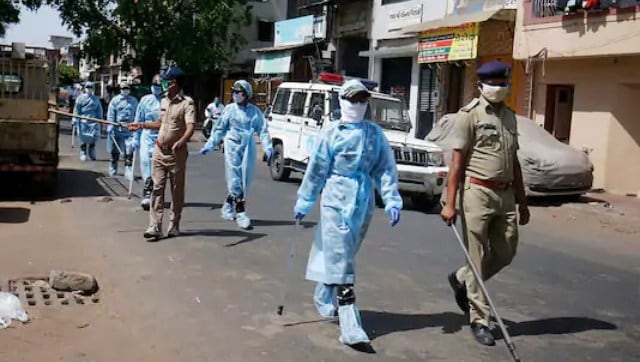 India
The police needs clean localised data to formulate strategies on where to increase patrolling and where to be stricter in enforcing the lockdown.