Students in Mumbai call off rail roko protest after govt promises action; train services resume on Central Line
After three hours of protesting, student protesters in Mumbai called off their rail roko agitation on Tuesday on the Central Line.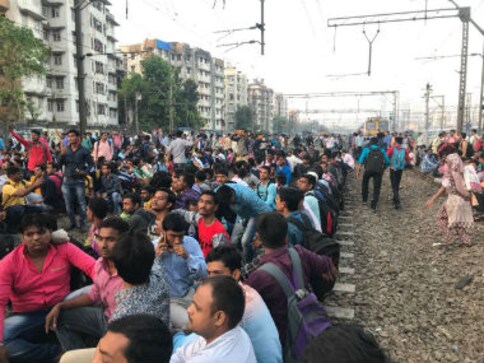 After three hours of protesting, student protesters in Mumbai called off their rail roko agitation on Tuesday on the Central Line after the government assured them that their demands will be met.
A protester also said that the government had promised a discussion on this issue within two days.
A flash agitation by job-seekers over issues pertaining to railway recruitment had culminated in a rail-blockade, police caning and retaliatory stone-throwing. This led to a virtual paralysis of the Central Railway (CR) suburban train services in Mumbai on Tuesday.
For nearly three hours, the services were severely disrupted as the protestors squatted and laid on the railway tracks between Matunga and Dadar on the CR.
The agitation led to a cascading effect even on the Western Railway with all trains running packed to capacity.
More than 4.5 million commuters were affected for the second consecutive day following a strike called on Monday by drivers of cab aggregators and app-based taxis that disrupted in Mumbaikars' schedules.
Attempting to restore normalcy, the local police resorted to a mild lathi charge to disperse the protestors. Some retaliated by pelting stones at the police.
Several persons and police personnel were injured in the fracas even as top police and railway officials rushed to the site to control the situation. The officers and constables injured in stone pelting by agitators include Nitin Bobade, PI Satav, PSI Mane, WPC Sanap, WPC Puralkar, Sachin Mor, Satendra Kumar, Manoj Yadav, Jasvir Rana, Dharmendra Kumar, Prakash Landage.
The protests were carried out by activists of the All India Act Apprentice Association (AAAAA). It demanded scrapping of the 20 percent quota for direct recruitment and jobs for local candidates in all states who have cleared the All India Railway Act Apprentice Exams.
They claimed they had taken up their demands right upto the Railway Minister Piyush Goyal who met them but there was no progress in the matter.
Shiv Sena MP from Mumbai Rahul Shewale met top CR officials to resolve the situation and later said that the railways would hire over 12,400 candidates who have cleared their apprenticeship exams.
A CR spokesperson earlier said that there was no provision of giving job to apprentices as per the Apprentice Act who are only trained for a specific period to hone their skills and gain experience.
"However, the Ministry of Railways has taken a decision and reserved 20 per cent of the seats filled through direct recruitment. The notification is already issued with the last date of submitting application on 31 March. Apprentices can apply against this notification and Special Examination will shortly be held for apprentices who have done training in Railway Workshops under the Apprentices Act," the spokesperson said.
Meanwhile, the BEST had deployed extra buses to ferry commuters to and fro from various points like Dadar, Matunga, Kurla, Sion and other stations.
The protests threw out of gear the entire suburban and long distance railway schedules in Mumbai, Thane, Palghar, Raigad, Pune with commuters stranded for hours.
The opposition Congress and Nationalist Congress Party demanded a discussion on the issue in the Maharashtra Legislature on a priority basis.
With inputs from IANS
India
Addressing the BJP's national office bearers' meeting in Jaipur via video conferencing, Narendra Modi said that eight years of NDA government have been of fulfilment of the expectations of small farmers, labourers and the middle class
Politics
Narendra Modi first entered Parliament in 2014 to much pomp. Be it his speeches or his witty remarks, when the prime minister is in attendance, it comes with some bit of drama
Opinion
Rahul Gandhi, an improbable prime minister-in-waiting, will be 52 on the 19 June 2022. It has been eight years since the Congress lost power, reduced to a little over 40 seats in Parliament. He is even challenged to lead the Opposition