Sengol, the 'Dharma Dand': 10 FACTS about India's symbol of power that Congress HID from you
Prime Minister Narendra Modi will install the golden sceptre near the Speaker's seat. Traditionally called the 'Sengol', it has roots in Tamil culture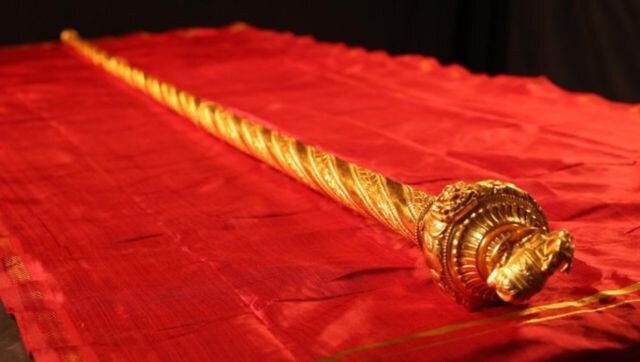 A historic sceptre, a 'Sengol', will be reintroduced in the new Parliament building which will be inaugurated by Prime Minister Narendra Modi on Sunday, 28 May.
PM Modi will install the golden sceptre near the Speaker's seat. Traditionally called the 'Sengol', it has roots in Tamil culture. The word Sengol means "righteousness."
As Opposition boycotts the historic event, here is a look at 10 facts about India's symbol of power – Sengol – that Congress hid from you.
10 FACTS about Sengol
1. The golden Sengol was studded with jewels
2. It was worth Rs. 15,000 at that time
3. Mountbatten asked Nehru about how to symbolise the transfer of power
4. Nehru asked Rajaji. Rajaji told Nehru that when tamil kings assumed power the Rajaguru would head over the sengol — Sengol — to the king and we can get a saint to do the same"
5. Rajaji got in touch with the Tiruvaduthurai Adheenam pontiff and requested him to do the sacred ritual
Also Read: 'Golden walking stick gifted to Nehru': Left-Congress ecosystem has censored Sengol's history, says BJP
6. The Chief Pontiff of the Adheenam wasn't well but he made all arrangements and got the Sengol — Sengol — with Rishab [Bull] on top of made by Vummidi Bangaru Chetty Jewellers
7. Sadaiyappa thambiran swami — the deputy of the Chief Pontiff — along with the singer [othuvar] Asthana Nadaswara Vidwan [the famous Rajarathinam Pillai] left for Delhi in a special flight arranged for them
8. On August 14, night at 11:45 the the singer sang the 13 verses from the Tamil text thevaram authored by saint Thirugnanasambandar [one of the four highly celebrated nayanmars] each of which ended with the blessing "you will rule it is my command"
9. The nadaswara vidwan Rajarathinam played the nadaswaram and Nehru was given the holy ash and a sandal mala
Must Read: Hands of Gold: PM Modi to honour 60,000 workers who built new Parliament building
10. After giving the sengol — thambiran swami told Pundit Nehru "this golden sengol is your sengol and symbol of our rule".
Read all the Latest News, Trending News, Cricket News, Bollywood News,
India News and Entertainment News here. Follow us on Facebook, Twitter and Instagram.
also read
India
The prime minister said that the new parliament portrays our country's diversity. The complex has used granite from Rajasthan, the woodwork has come from Maharashtra and the carpet has been handwoven by craftsmen from UP's Bhadohi
India
Slamming the opposition for not participating in the inauguration ceremony, Union Tribal Affairs Minister Arjun Munda said that they should not do politics over the event
India
The police force is on high alert to ensure that no protestor moves toward the new Parliament complex as permission has not been granted to hold the 'Mahila Mahapanchayat'