Right to Privacy is Fundamental Right: How the Supreme Court judgment affects you
Only the theoretical right to privacy has been established by this judgment and right at this moment, your day-to-day life remains unchanged.
The Supreme Court in a unanimous judgment 9:0 on Thursday declared the Right to Privacy to be a Fundamental Right. It is a big victory for pro-privacy advocates who can now point to the constitutional bench judgment should the right ever be questioned.
However, it important here to remember that only the theoretical Right to Privacy has been established by this judgment. It has removed the earlier hurdles of the cases of MP Sharma and Kharak Singh which had held Right to Privacy not to be a Fundamental Right. However, right at this moment, your day-to-day life remains unchanged.
What the judgment does is to open a bundle of possibilities. Privacy is a wide-ranging concept and now many freedoms could find new life under it.
Aadhaar
First the big one: don't throw away your Aadhaar card just yet. This judgment does not in any way invalidate the Aadhaar scheme. That will have to be examined in a separate case which will look at the validity of the scheme. However, this case does give a boost to anti-Aadhaar arguments which rely on privacy as now the government can no longer say that there is no Right to Privacy.
That being said, Soli Sorabjee while talking to The Economic Times said, "You cannot make a blanket and categorical statement that Aaadhaar will be banned or is unconstitutional. No Fundamental Right is absolute. It is always subject to reasonable restrictions." Thus even after recognising Right to Privacy as a Fundamental Right, the court could still save Aadhaar under a reasonable restriction.
Meghnad S told Firstpost that "Aadhaar might slip through the cracks because an arbitrary restriction like national security might be used. It's about a larger question of privacy right now."
Section 377 and LGBT rights
The court delves into LGBT rights and in particular the case of Suresh Kumar Koushal v. Naz Foundation which had struck down an order of the Delhi High Court which had decriminalised homosexuality. While Thursday's bench left the validity of Section 377 to be decided in the appropriate case, this observation makes it very hard for the court to uphold the Koushal case.
Justice Chandrachud in his judgment (in which he was joined by Justices RK Agrawal and S Abdul Nazeer, and CJI JS Khehar) said that they disagreed with the manner with which the Koushal case dealt with the privacy-dignity based claims of LGBT people. The court says:
"Their rights are not "so-called" but are real rights founded on sound constitutional doctrine. They inhere in the right to life. They dwell in privacy and dignity. They constitute the essence of liberty and freedom. Sexual orientation is an essential component of identity. Equal protection demands protection of the identity of every individual without discrimination."
In essence, this judgment paves the way for homosexuality to be decriminalised but we will still have to wait for the ruling in the appropriate case.
Data protection
An important aspect of privacy is data protection and now that privacy is a Fundamental Right, new legislation will have to come in to regulate entities who collect data. Mishi Choudhary, a technology lawyer at SFLC.in told Firstpost, "Now that privacy has become a fundamental right, there will have to be legislation put into place which will impose regulatory liabilities on government or private actors who collect data on people's behalf. There will be a need to set up appropriate and detailed standards of care regarding what is done with your data and how it is used."
The first steps for this have already been taken by the government as it has appointed an expert group headed by former Supreme Court judge BN Srikrishna to draft a data protection law.
Euthanasia and abortion
Justice Chelameshwar's observations on these issues merit discussion as they could set the field for greater individual rights in these aspects.
On euthanasia, he says: "An individual's rights to refuse life prolonging medical treatment or terminate his life is another freedom which fall within the zone of the right of privacy." Since the Right to Privacy is now a Fundamental Right, Justice Chelameshwar's words could well support the arguments for euthanasia.
While talking about abortion, he says, "A woman's freedom of choice whether to bear a child or abort her pregnancy are areas which fall in the realm of privacy." Given the recent debates on abortion, these observations could help in pushing through a change in India's abortion law.
Marital rape
The judgment can also have an effect on the legality of marital rape. Arguments on the constitutionality of marital rape will be heard on Monday in the Delhi High Court. According to Karuna Nundy, an advocate in the Supreme Court, the recognition of the Right to Privacy should bolster the arguments for a woman's right to bodily integrity.
Constitutionality of marital rape will be heard Mon, Del HC. #RightToPrivacy shd bolster our arguments on women's right to bodily integrity. https://t.co/ThKp8qCQ6W

— Karuna Nundy (@karunanundy) August 24, 2017
Judgment not exhaustive
In their own words, the court 'did not embark upon an exhaustive enumeration or a catalogue of entitlements or interests comprised in the right to privacy.' Thus while a Right to Privacy has established, more cases will come up before the court which will challenge State actions and will thus sculpt the actual contours of the right. The judgment does give a boost to the arguments being made for greater individual freedoms in issues like marital rape and LGBT rights. However, until the litigation in those cases reaches fruition, the true effect of the ruling will stay veiled.
World
The organisation was established by the G-7 Summit that was held in Paris in 1989 in response to mounting concern over money laundering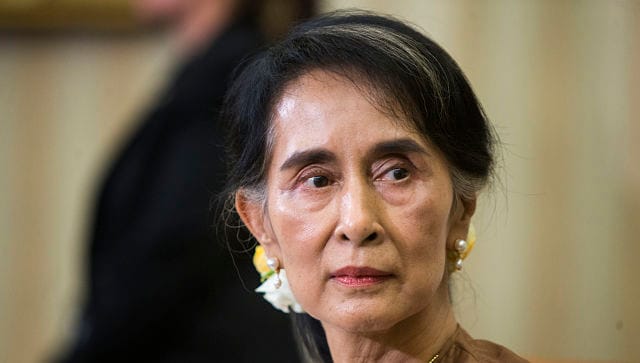 World
The sedition charge calls for up to two years' imprisonment for anyone found guilty of causing fear or alarm that could cause an offence against the State or public tranquility
World
A signed coalition agreement was formally presented to the Knesset secretariat Friday, the last step before a vote and the swearing-in of the new government