Reliance Jio 4G services launch splits social media into extreme halves
Here's how social media reacted to the Reliance Jio launch
When Reliance Jio launched its 4G LTE network services, the disruptive free local voice calls and low tariffs were the talk of the web. Social media couldn't resist commentary on how other telecoms would have to up their game to keep up. Twitter and Facebook being what they are, a divide quickly formed.  Firstpost sifted through the chatter to see what both sides had to say.
When Chairman of Reliance Industries, Mukesh Ambani offered the promise of free voice calls, zero roaming and cheaper data, some really hilarious reactions to Reliance's expected domination surfaced.
Twitterati had a field day wondering how the competition was reacting to this launch.
CEOs of Airtel, Vodafone and BSNL outside Reliance #Jio office. pic.twitter.com/xHOJAdEqeZ

— The-Lying-Lama (@KyaUkhaadLega) September 1, 2016
.@Airtel_Presence and @VodafoneIN right now. #Jio pic.twitter.com/ceOYq97Hv6

— Rofl Jio Gandhi (@RoflGandhi_) September 1, 2016
Pic 1: Jio
Pic 2: Airtel , Idea , Vodafone , BSNL
.@KyaUkhaadLega pic.twitter.com/0bKDO2Km4G

— Brock (@HooCheeReePa_Pk) September 1, 2016
Just reading Mukesh Ambani's speech about #Jio ."Duniya hila denge hum" wasn't only for Mumbai Indians, by the looks of it.

— Harsha Bhogle (@bhogleharsha) September 1, 2016
Tum please Jio hazaaron saal#relianceagm pic.twitter.com/SVHA1iVudv

— All India Bakchod (@AllIndiaBakchod) September 1, 2016
Jio is a great name because that is the exact opposite of what you'll do when you have that much data in your hands

— Rohan (@mojorojo) September 1, 2016
Girl: I got you a jio sim so now we can speak all day for hours on end for free!

Me: ummm..I hate net neutrality?

— Sanjay Manaktala (@smanak) September 1, 2016
People entering shop to get Reliance jio sim #RelianceJio4G pic.twitter.com/i4EbHJpHBF

— Susie (@Ethereal_Rayne) September 1, 2016
You vs the guy she told you not to worry about. #Jio pic.twitter.com/XqXog3E3Rl

— Rofl Jio Gandhi (@RoflGandhi_) September 1, 2016
Airtel 4G Girl: Itne saste plans? Kuch toh gadbad hai
Ambani: Gadbad nahi Jio Hai yaar

— Sand-d Singh (@Sand_In_Deed) September 1, 2016
Jio was on the receiving end, however, for a full-page ad on the front pages of national English national dailies featuring Prime Minister Narendra Modi's picture.
Below the picture was printed Mukesh Ambani's dedication of Jio to Modi's Digital India vision with which he opened his speech during Thursday's launch: "Our Prime Minister Narendra Modi's vision for Digital India is a life changing moment. Jio is a dedication to that Digital India dream of the Prime Minister, his vision for the 1.2 billion people of India."
Here's how social media reacted to it:
Any more proof reqd to prove that - मोदी जी अम्बानी की जेब में। pic.twitter.com/YyBOUQn9Xt

— Arvind Kejriwal (@ArvindKejriwal) September 2, 2016
Narendra Modi's Pic in Reliance Jio Ad is Tricky debate. Companies can't use PM's Pic for Promotion - but they can use their employee's pic

— Joy (@Joydas) September 2, 2016
Narendra Modi is endorsing Reliance Jio.
Makes sense for the PM to endorse a brand.
Especially for him: since Roaming is free.

— Sorabh Pant (@hankypanty) September 2, 2016
Well, you do know that "I'm Jio'd" is an anagram of Modi-ji. pic.twitter.com/jKfcLbLpob

— Ramesh Srivats (@rameshsrivats) September 2, 2016
The social media chatter, it would seem, does underscore what Mukesh Ambani said about Jio being a disruptor.
Disclosure: Firstpost is part of Network18 Media & Investment Limited which is owned by Reliance Industries Limited.
Politics
Singh's advisor said the chief minister will not meet Sidhu till he publicly apologises for 'derogatory social media attacks'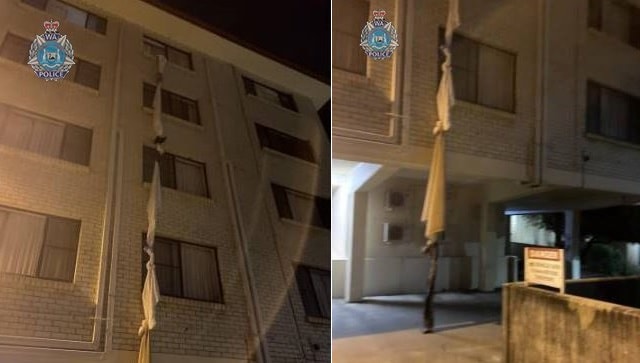 World
After his escape, the man was found eight hours later in Mount Lawley, north of the city, by the law enforcement agency
Entertainment
Akshay Kumar said he got emotional after listening Ajay Devgn recite the poem Sipahi, by Manoj Muntashir.