Rahul Gandhi leads midnight march to India Gate highlights: 'What happened at Kathua, Unnao is beyond humanity'
LIVE NEWS and UPDATES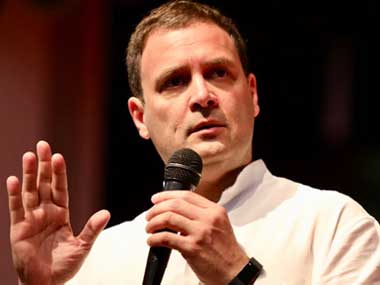 21:34 (IST)

Armed with placards, Congress workers in Raipur stage protest

21:25 (IST)


Chhattisgarh Congress workers hold candle light march at Raipur

देश में महिलाओं पर बढ़ते अत्याचार के विरोध में प्रदेश अध्यक्ष भूपेश बघेल एवं नेता प्रतिपक्ष टीएस सिंहदेव के नेतृत्व में सांय सात बजे रायपुर में कांग्रेस भवन से जय स्तंभ चौक तक पैदल कैंडल मार्च निकाला जाएगा। सो रहे चौकीदार को तो अब बोलना ही होगा। #SpeakUp #IndiaMarchForJustice

— INC Chhattisgarh (@INCChhattisgarh) April 13, 2018

20:43 (IST)


If women are suppressed, it is a blatant attack on the spirit of democracy: Ashok Gehlot

​

Our President Sh #RahulGandhi is a firm believer in empowerment for the other half of the population, If women are suppressed, it is a blatant attack on the spirit of democracy. Our party draws inspiration from his thoughts, and from the time-tested ideals of the Congress party.

— Ashok Gehlot (@ashokgehlot51) April 13, 2018

20:36 (IST)


Delhi Congress chief Ajay Maken announces protest schedule


आज रात को १० बजे, हर ज़िले में उन्नाव एवं कठुआ में रेप के विरोध में, एवं सरकार तथा भाजपा की, जुर्म में संलिप्तता के विरोध में कैंडल लाईट मार्च करेंगे!

ट्वीट में सलग्न हैं, ज़िला-वार, एकत्र होने के स्थान-कृप्या शामिल हों! pic.twitter.com/xmqh1TIoQw

— Ajay Maken (@ajaymaken) April 13, 2018

20:21 (IST)

Kathua and Unnao rape cases cannot be termed normal: Congress

Speaking to the press earlier today, Congress spokesperson Abhishek Singhvi noted that the Kathua and Unnao incidents cannot be termed as "normal cases" and said these have shamed the nation.

The BJP cannot belittle the fight of women for equality and dignity, the party said.

20:13 (IST)

Narendra Modi breaks silence on rape cases


In his first comments on the gruesome incidents of rape in Unnao and Kathua, Prime Minister Narendra Modi said today that no criminal will be spared and daughters will get justice. He said such incidents shake our sensibilities.

Congress workers holding candle light march in Indore

Congress workers holding candle light march in Bhopal

19:45 (IST)

Congress workers holding candle light march at Bhopal

Madhya Pradesh Mahila Congress president Mandhavi Chouhan and other Congress leaders Mahendra Singh Chouhan and district president PC Sharma at candle light rally in Bhopal.

Madhya Pradesh Congress leaders holding candle march in Bhopal

19:11 (IST)


Congress to hold candle light march in Bhubaneswar

Kindly join us in the "Candle Light March" to protest against increasing atrocities on women in the country at 8 PM tonight (13.04.18) from Congress Bhawan,Master Canteen Square, #Bhubaneswar

- @prasadHofficial pic.twitter.com/tU4SMSkr4a

— Odisha Congress (@INCOdisha) April 13, 2018

Congress to hold candle light march at Indore today

Madhya Pradesh Congress president Arun Yadav along with PCC secretary Sanjay Kapur will hold a candle light March at Indore from Gandhi Hall to Gandhi Statue at Regal Chowraha. It will begin at 7 pm.

Candle March in respective state capitals will begin after the sunset and it becomes dark.

18:50 (IST)

Congress holds protest at Mumbai's Azad Maidan

AIMCC GS Smt. Janet D'souza Mumbai Mahila Congress President Smt. Ajanta Yadav along with Congress Activists & Civil Society members header by Smt. Suchita Dalal protested at Azad Maidan to demand justice against the horrendous Rape of #UNNAO & #Kathua Its Time, PM Modi #SpeakUp pic.twitter.com/MPWIWktgiu

— MumbaiCongress (@INCMumbai) April 13, 2018

Congress continues protest over rising crimes against women in the country

Congress national spokesperson Priyanka Chaturvedi told Firstpost, "Taking a cue from yesterday's midnight candle light March in New Delhi from AICC HQ to India Gate led by Congress president Rahul Gandhi, the Pradesh Congress Committees in states will also hold candle light march."

Madhya Pradesh Congress to hold protest in Bhopal at 7 pm today

The Pradesh Congress Committee of Madhya Pradesh will hold a candle light March at Prabhat Chowk in Bhopal. Several Congress workers especially the youth have started gathering at PCC office 'Indira Bhawan' in Bhopal. Many will join the rally near Prabhat Chowk.

18:21 (IST)


Congress ups the ante against the govt

The party has upped the ante against the government over alleged inaction in the Kathua and Unnao rape cases. On Thursday, party president Rahul Gandhi led a midnight march to the India Gate in Delhi asking Prime Minister Narendra Modi to save and protect the girl child.

Gandhi, amid slogans against the BJP and the prime minister during the march, had claimed that the women of the country are afraid to go out and the government must ensure their safety.

18:17 (IST)

Congress to stage nationwide protests today

Congress will take forward the protest march against the Kathua and Unnao rape cases and has asked its cadres at state and district headquarters to stage similar demonstrations across the country on Friday, demanding justice for the victims.

The party general secretary (organisation) Ashok Gehlot has told all state Congress chiefs to galvanise the cadres in each state and stage candle-light marches at all state and district headquarters.

18:13 (IST)

Updates for 13 April start from here

02:02 (IST)

Rahul Gandhi makes his way back home Friday morning

Rahul Gandhi tears into BJP for Unnao and Kathua horror and then leaves India Gate around 1:30 am Friday

"This is not a political issue but a national issue. This is related to atrocities against women. Government should come forward and do something for women's safety. Here, common man and representatives of different parties have gathered seeking justice for victims."

"We'll have to save our daughters from this government": Congress spokesperson Rajiv Tyagi

What happened in Kathua is beyond humanity: Rahul Gandhi at India Gate

"What happened in Kathua is beyond humanity, an 8 year old innocent was kidnapped, brutally raped by many men, including a juvenile and tortured till she died. This defies all human values we have grown with as a society.

This brutality instead of being punished is actually being shielded. We absolutely condemn this and hope BJP wakes up to its commitment to the people of the nation and ensures stringent punishment is meted out to the perpetrators of the crime.

We see similarly how in Unnao an underage girl was allegedly raped by elected representative of the BJP and members of his family. Instead of ensuring justice was done to the victim, we have seen how ger family has been threatened and silenced by the accused.

The father of the victim was beaten to death in judicial custody. Only an outrage led to action from Adityanath government. In both the cases we seek immediate action against the accused and allowing justice to prevail even if it involves those who hold positions of power".

BJP government's Beti Bachao tag line becomes the night's marquee poster

00:42 (IST)

"We'll have the wake up the government": Ghulam Nabi Azad

The govt is sleeping & so at this time Congress will have to wake them up. PM had given a slogan 'Beti Padhao, Beti Bachao' & it's in his regime that our girls are being raped. He isn't taking action against his ministers who are trying to save the rape accused: Ghulam Nabi Azad pic.twitter.com/PtfZkFlbSB

— ANI (@ANI) April 12, 2018

00:40 (IST)

Dressed in an indigo kurta, Priyanka Vadra joins her brother at India Gate; Robert Vadra is there too.

Priyanka Gandhi Vadra & Robert Vadra arrive for the candlelight march at India Gate against Kathua & Unnao cases. #Delhi pic.twitter.com/Gn1CKVq5jb

— ANI (@ANI) April 12, 2018

Crowds moving from Congress HQ to India Gate; Priyanka Vadra joins Rahul Gandhi for candlelight march

Some female reporters have been roughed up by Congress workers, say Firstpost reporters on location.

00:28 (IST)

Let us march or we'll sit here all night: Priyanka Vadra

#RahulMidnightMarch Priyanka Gandhi along with daughter & husband join the march. "Why is the media stopping us from reaching India Gate. Stay quiet. Remember what you've come here for. Let us march or we'll sit here all night," says Priyanka to supportershttps://t.co/rqBrS6zmuq pic.twitter.com/4udXgLZUh3

— News18 (@CNNnews18) April 12, 2018

Just in: Priyanka Gandhi will be joining Rahul Gandhi at India Gate

Rahul Gandhi arrives at India Gate, accompanied by Ashok Gehlot and party cadre

00:05 (IST)

Congress spokesperson Priyanka Chaturvedi comes to Rahul Gandhi's defence on Twitter

RG was and is with the family of Nirbhaya, I am sure you would have got to know her family's view.
However, I am sure you seek justice for 8 year old Asifa AND Unnao's CV 16 year old braveheart & just as much as you did for Nirbhaya like all Indians. 🙏 https://t.co/m4fnsyKLhI

— Priyanka Chaturvedi (@priyankac19) April 12, 2018

This is a protest against Modi government: Priyanka Chaturvedi

"This candle March is to raise a voice of protest against Modi government and create awareness amongst people about the atrocities and injustice in the country, and how the government is maintaining silence and not taking action against the accused," Congress spokesperson Chaturvedi told Firstpost.

Save the girl child or the rapist?

Congress leader Digvijay Singh walks in front of a poster that takes on the BJP government's 'Beti Bachao' push - "Beti bachao ya balaatkaari bachao?"

Fresh visuals en route India Gate from 24 Akbar Road

Supporters moving from Congress party office towards India Gate. Rahul Gandhi is not part of this crowd.

Huge police force deployed for Rahul Gandhi candlelight march in New Delhi.

23:33 (IST)

Sanjay Nirupam: "Unnao and Kathua rape cases are a shame"

23:23 (IST)

Congress social media chief tweets hashtag for candlelight march

India mourns it's daughters, #IndiaMarchForJustice

— Divya Spandana/Ramya (@divyaspandana) April 12, 2018

Congress leaders gather at 24 Akbar Road

We've not been asked for permission ahead of Rahul Gandhi's candlelight march: Delhi Police

Ghulam Nabi Azad reaches 24 Akbar Road ahead of Rahul Gandhi candlelight march

Scene outside Congress HQ at 24 Akbar Road in New Delhi

22:53 (IST)

"Shaken to my core": Anushka Sharma

The cruelest form of evil is harming an innocent child. What is happening to the world we live in??? These people should be given the most severe punishment there is! Where are we heading as humanity?
Shaken to my core.#JusticeforAsifa

— Anushka Sharma (@AnushkaSharma) April 12, 2018

22:23 (IST)

The candlelight march will start from AICC Head Quarters, 24 Akbar Road, and end at India Gate

22:06 (IST)

Meanwhile, Jammu and Kashmir Deputy CM Nirmal Singh speaks up on the two rape cases

Jammu and Kashmir Deputy CM Nirmal Singh says, "Justice should be done to her.There shouldn't be politics on that.Criminals who did it have no religion like terrorists have no religion. All communities, Hindu & Muslims have fought for that girl & only disgruntled elements are trying to give wrong message." -ANI
Congress president Rahul Gandhi, intensifying his attack on the Centre over the Kathua and Unnao rape cases, is holding a candlelight protest at India Gate in New Delhi.
The Congress has been slamming Prime Minister Narendra Modi over his silence on the on two cases of gang rape in Jammu and Kashmir and Uttar Pradesh, both BJP-ruled state.
Rahul, earlier took to Twitter to express anguish and shock on the brutal rape and murder of an eight-year-old in Jammu and Kashmir's Kathua, while he taunted the BJP for failing to act against its own MLA accused of gang-rape and murdering the victim's father in Uttar Pradesh.
UP में अपनी बेटी के लिए न्याय की गुहार कर रहे एक पिता पर हुई बर्बरता ने मानवता को शर्मसार कर दिया है। आशा है कि प्रधानमंत्रीजी भाजपा शासन में महिलाओं पर हो रहे अत्याचार, कानून तंत्र की विफलता और बढ़ती अराजकता के लिए भी जल्द ही उपवास रखेंगे। pic.twitter.com/MsXOW0QbPW — Rahul Gandhi (@RahulGandhi) April 11, 2018
The Congress party also lashed out at the government after two BJP ministers in Kashmir were seen making controversial comments in favour of the accused in the Kathua rape case.
Slamming Modi over his day-long fast against the washout of the second part of Parliament's budget session due to disruptions, which the BJP blames on the Congress, Congress leader Kapil Sibal said: "Why don't you fast against incidents of rape?"
In the Unnao rape case, a 17-year-old minor has alleged that BJP MLA Kuldeep Singh Sengar and his men abducted and gang-raped her in 2017. The woman tried to immolate herself in front of Chief Minister Yogi Adityanath's residence, alleging police inaction. The woman's father, who had been picked up by the police on some vague charges died the next day, on 3 April, after being thrashed by Sengar's brother and his supporters.
The MLA has made several appearances in front of the media and claimed his innocence. Meanwhile, the government failed to arrest Sengar while an FIR was only registered on Thursday under various sections of IPC, including the stringent Protection of Children from Sexual Offences Act (POCSO) Act. The case has now been handed over to the CBI.
In the Kathua case, a small child of eight was picked up by the members of the majority community, apparently to scare and dislodge the members of the girl's nomadic tribe from the area. A crime that is described in blood curling detail in the chargesheet filed by a SIT of Jammu and Kashmir Police, the child was raped five times by four men and was later strangulated and bashed to death.  The SIT has arrested eight people, including two Special Police Officers (SPOs) and a head constable, who was charged with destroying evidence. Lawyers of the Jammu Bar Association and members of Hindu Ekta Mach have been protesting against the arrest. They demand a CBI probe alleging that the local police is biased against the Dogra community and is incriminating them on false charges.
Updated Date: Apr 15, 2018 22:58:39 IST