Punjab's Migrant Workers in West Asia, Part IV: Families of Indians killed in Iraq await compensation, face uncertain future
Given the state's massive unemployment problem, thousands of marginalised and poor youths continue to ignore the risks and seek prospects in the Middle East
Editor's note: On 20 March, External Affairs Minister Sushma Swaraj told Parliament that 39 Indian workers, most of them from Punjab, were killed by the Islamic State in Iraq last year. Given the state's massive unemployment problem, thousands of marginalised and poor youths continue to ignore the risks and seek prospects in the Middle East. This is the conclusion of a four-part series analysing the plight of Indian workers in the region.
Surjit Singh Mainka's family in Jalandhar, Punjab, waited for four years, praying for his safe return from Iraq. Mainka was one of the 40 Indians abducted by the Islamic State from Mosul in June 2015. Their hopes were dashed by External Affairs Minister Sushma Swaraj's announcement in Parliament on 20 March, that 39 of those abducted were killed. The only person who managed to escape posed as a Muslim from Bangladesh. The others were taken to Badoosh and killed.
After years of uncertainty, news of Mainka's death has left his family shattered. But even as they grieve his death, they're saddled with the burden of a Rs 2.5 lakh loan that Mainka had taken to finance his travel to Iraq, where he worked for a construction company.
Mainka, 30, a carpenter, was the sole breadwinner of his family, and he is survived by his mother, wife, and a seven-year-old son. He was duped twice by a travel agent before finally heading to Iraq in 2013.
In the years leading to his departure to Iraq, when Mainka was saving money for the move, his mother and wife used to stitch footballs to earn money. They stopped doing that, but fear they may have to start again. Harbans Kaur, Mainka's mother, said they have to repay the loan taken by Mainka, and are worried about the expense, which is in addition to running the household and securing her grandson's future.
"The government didn't bother informing us that my son died long ago. Even after they did inform us, they aren't thinking about what will happen to the many families who have lost their sons and were unaware of it until recently," said Kaur.
There are many such families who are left in the lurch, with no means of livelihood and loans to repay. Their children have had to drop out of schools and the remaining family members, most of them women or elderly parents, have taken up odd jobs for sustenance. Neither the Centre not the state government in Punjab has announced any ex-gratia for the families of the victims.
Punjab chief minister Captain Amarinder Singh promised adequate compensation from the state government, but also demanded that the Centre compensate them since the tragedy occurred outside the country. He wrote a letter to Swaraj urging her to ensure that the Centre provides all necessary assistance to the families in performing the last rites of the victims. "The Government of India should also announce an ex-gratia relief to the families of the deceased Indian nationals," he wrote.
The victims' families are hopeful that the government will provide them ex-gratia and give them jobs so they can pull their families out of the rut they're in. Manjeet Kaur, the widow of Davinder Singh (another victim) from Chak Desh Raj village, said. "Besides relief, the government should provide a job to at least one member from each of the affected families, so that we can secure our futures," said Kaur, who works as a housemaid to fend for her three children whom she wants to give a good education.
Kamaljit Singh of Chhauni Kalan village in Hoshiarpur district left for Iraq in 2014 and is survived by his wife Harwinder Kaur, a son, and a daughter. His brother Parwinder Singh said the family is in shock ever since they learned about his death. "The government must provide a job to Kamaljit's wife so she can take care of her children," he said.
Let alone ex-gratia, since October last year, the victims' families haven't even received the monthly compensation of Rs 20,000 that was promised to them in 2014. After news of their abduction broke, the then Shiromani Akali Dal-Bharatiya Janata Party (SAD-BJP) government in Punjab announced a relief of Rs 20,000 a month for the affected families.
However, Davinder Singh from Punjab's Kapurthala district, whose brother Gobinder Singh was killed by Islamic State, said they haven't received the money for the past six months.
Deputy commissioner of Kapurthala, Mohammad Tayyab, said the administration was unable to disburse the money all this while as it had not received relief funds from the state government. "We have now received the funds and disbursed it to the concerned families," said Tayyab. Ranjit Kaur from Amritsar, whose son Jatinder Singh was also a victim, said in the absence of the monthly aid, their lives had been crippled. "After news reports on the failure of the government to provide the relief surfaced, the district authorities gave us cheques after six months," Ranjit Kaur said.
The Ludhiana-based NGO, Helping Army, which provides essential commodities to the poor and the needy, has also appealed to the government to provide relief to the affected families immediately. Sahibjot Singh Chawla, a member of the NGO, said, "In case the government fails to provide relief to the families, our NGO will take the responsibility and do whatever possible."
Leader of Opposition in the Punjab Assembly, Sukhpal Singh Khaira of the Aam Aadmi Party (AAP), said the government should pay Rs 1 crore each to the families of those killed in Iraq. Khaira raised the issue during Zero Hour in the state Assembly, and added that the district administration officials should help the victims. "This is a tragedy not for some families alone, but for the whole state, and we should tackle it together. Providing relief will not lessen their sorrow but will at least give them strength so they do not have to fight for even the basic necessities of life," said Khaira.
The last thing the victims' families need right not is having to worry about their monetary situation. The family of victim Pritpal Sharma from Dhuri in Sangrur district of the state is not ready to believe that he is dead. His wife Raj Rani said she wanted the government to bring back the remains of her husband so she can perform his last rites. "First, the government kept us in the dark by not telling us that our kin is dead. Now they have not even been able to bring back their mortal remains. I was not able to see my husband before he died. I wish I can at least see his mortal remains," she said.
On 21 March, due to miscommunication from the district administration, the families of two of the victims reached Amritsar airport to receive their mortal remains, but had to return empty-handed.
Read Part 1: Lack of opportunities makes state's youth ignore life-threatening risks
Read Part 2: Travel agents who sent Indians to work in Iraq under probe
Read Part 3: Lack of jobs at home pushes Indians into fatal Gulf trap
The author is a Ludhiana-based freelance writer and a member of 101Reporters.com, a pan-India network of grassroots reporters. With inputs from Amit Sharma in Amritsar.

World
At least five other Americans are known to have died fighting in Ukraine, according to State Department statements and reports from individual families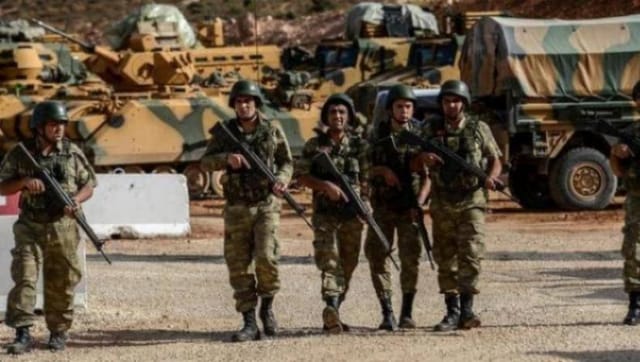 World
The attack in the early morning hours on the Zilkan facility, which houses Turkish troops in the northern Iraqi province of Ninevah, went unacknowledged at first
Football
Long banned from hosting international football matches, war-torn Iraq had been counting on the Gulf Cup to burnish its image but it had already been forced to apologise for organisational lapses.