Pranab Mukherjee praises Narendra Modi, says prime minister a quick learner, does things in own style
In his candid speech, the president expressed serious concern over disruptive politics and mentioned how Lok Sabha's productivity had declined over the years due to disruptions and walkouts.
President Pranab Mukherjee on Friday praised Prime Minister Narendra Modi for being a quick learner despite having no experience at the national level prior to taking charge at South Block.
"Prime Minister Narendra Modi is a quick learner and he quickly picked up things," said President Pranab Mukherjee while addressing the India Today Conclave in Mumbai.
Mukherjee said Modi despite being a rank outsider from the state level and without experience as a parliamentarian, he gained mastery over external relations and complicated external economy. The president said Modi has his own way of dealing with things.
While appreciating Modi's way of dealing with issues, he delved on the functioning style of various Indian prime ministers. He said a prime minister derives authority from people and how he uses that authority is important. "Office (that of the president and prime minister) is nothing but a service, service to people," said Mukherjee, who spent 37 years as a parliamentarian and more than 22 years in various ministries.
The president also praised former prime minister Atal Bihari Vajpayee and his art of winning his opponents.
Walking down the memory lane, the president cited how Vajpayee used to remind representatives of people on how to win over opponents and influence others in the House without being loud and brash.
He narrated an incident related to Vajpayee during the NDA government's first full term to drive his point home.
"One day in Rajya Sabha, PM Vajpayee walked to my seat and requested not to be too harsh to his cabinet colleague George Fernandes as the latter was very competent. I was surprised and told him instead of coming to me, he should have called me. That was PM Vajpayee's way of handling issues. We should learn from him how to win over critics," Mukherjee said.
Referring to a meeting he had with a few parliamentarians two days ago, he said, "As a President, I'm an ornamental head, yet people come to me with representations. Two days back some parliamentarians came to me with a representation to resolve the Kashmir issue. I asked them to take a leaf out of Vajpayee's way of dealing and convincing opponents."
Mukherjee even gave an idea on what he would like to see before his term ends in July. He said that he wants to see that Parliament functions effectively and with lesser disruptions.
In his candid speech, the president expressed serious concern over disruptive politics and mentioned how Lok Sabha's productivity had declined over the years due to disruptions and walkouts.
Citing statistics, Mukherjee said, "In the first Lok Sabha (1952-57), there were 677 sittings and 319 bills were passed, whereas in the15th Lok Sabha, only 357 sittings took place and 181 bills were passed. This happened due to disruptions, which is unacceptable to me. The first budget was of Rs 397 crore, whereas the size of the latest budget is Rs 17 lakh crore. Make a comparison of the time spent on discussions on expenditures! Nobody has the moral authority to disrupt or stall the proceedings of the House at the cost of taxpayers' money."
Almost two-third of his speech witnessed his deep concern over the decaying proceedings in Parliament.
"We should build a strong and broad consensus to stop disruption in Parliament, so that our system can function. Don't make Parliament ineffective, it's a primary forum of debate," Mukherjee said.
In course of his speech, the president also referred to the influence India's first prime minister Jawaharlal Nehru had on him.
"Nehru had a dominant influence on me. I still remember what he had said, "I don't want India to say yes to one man…".
Holding former prime minister Indira Gandhi in high esteem for her role in the 1971 Bangladesh war, Mukherjee said that he had the longest tenure of 10 years as a minister under her.
The president also had a word of appreciation to the last prime minister he served under — Manmohan Singh — saying he has profound knowledge and gave a free hand to his ministers with minimum interference.
Making his retirement plan clear, Mukherjee said he would like to quit public life and go back to his native place in West Bengal and lead Durga Puja at his home as long as he can.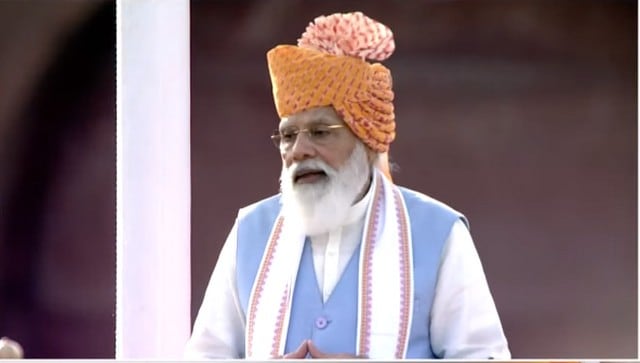 India
Responding to a question that opposition and critics term Modi an autocratic leader who takes all decisions on his own, Shah described the prime minister as a "democratic leader".
India
On 7 October 2001, he was sworn in as Gujarat chief minister for the first time
India
The prime minister also said that the real meaning of 'intellectual dishonesty' could be seen in those opposing the farm legislation and said that every decision he took was taken keeping the poorest or weakest person in mind