Pakistani helicopter violates Indian airspace in Jammu and Kashmir's Poonch, retreats after army sentries open fire
As per norms recognised by both India and Pakistan, helicopters are not supposed to come within a kilometre of the Line of Control or LoC and fixed-wing aircraft within 10 km of the LoC.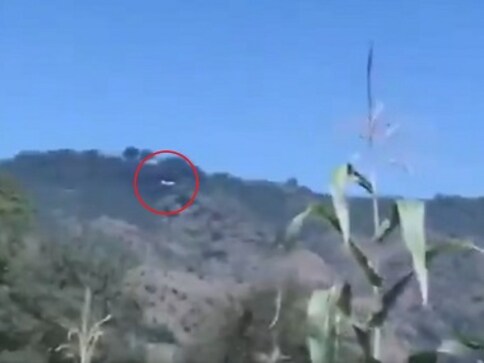 A Pakistan chopper breached the Indian airspace along the Line of Control in Jammu and Kashmir's Poonch area on Sunday, after which the army made efforts to shoot it down.
ANI released a video of the chopper flying in the Indian airspace:
Jammu-based public relations officer of the Indian Army Lieutenant Colonel Devender Anand said the helicopter violated the India airspace around 12.10 pm on Sunday. Official sources that said the white-colour chopper crossed into this side in Gulpur sector. It hovered in the Indian airspace for sometime but headed back across the border after it was "engaged by air sentries", the army said.
"Air sentries at forward posts had engaged it with small arms," Lieutenant Colonel Anand said, adding that, it was most likely a civilian chopper and was flying very high. Three forward posts fired small arms after noticing the airspace violation, sources said.
As per norms recognised by both India and Pakistan, helicopters are not supposed to come within a kilometre of the LoC and fixed-wing aircraft within 10 kilometres of the LoC, NDTV reported.
India and Pakistan lock horns at UNGA
The incident comes amid a war of words between India and Pakistan after a series of events heightened tensions between the two neighbours.
External Affairs Minister Sushma Swaraj and Pakistani counterpart Shah Mahmood Qureshi have hit out at each other on the sidelines of the 73rd session of the United Nations General Assembly (UNGA) this week in New York. In Swaraj's address, she blamed Pakistan for spreading terrorism in India. "In India, it is unfortunate that terrorism comes from one nation in our neighbourhood. The biggest evidence of this fact is that Osama bin Laden was found in Pakistan," Swaraj had said on Saturday.
"America was searching for Osama bin Laden everywhere but did not know that Pakistan, which claims to be a big friend of the US, was hiding him," she said.
"And then, Pakistan behaves as if they didn't do anything wrong. And this sort of behaviour continues. The mastermind of 26/11 (Mumbai Attacks), Hafiz Saeed, continues to roam free in Pakistan and conducts rallies and participates in elections," she added.
Pakistan shot back in its own speech, accusing India of financing terrorists and declaring that New Delhi "preferred politics over peace". Qureshi said it was the third time that the current Indian administration had called off talks, "each time on flimsy grounds".
He said in his speech that "Pakistan continues to face terrorism that is financed, facilitated and orchestrated by our eastern neighbour". He referred to extremist attacks in his home country, including one at an army school in the northwestern city of Peshawar in 2014 that killed more than 150 children, which he said were perpetrated by "terrorists supported by India".
Qureshi's speech prompted a vehement response from India, which exercised its right of reply at the end of the daylong meeting and accused Pakistan of spreading "fake allegations and fake facts". Pakistan, in turn, responded by accusing India of "practising terrorism as an instrument of state policy".
Prior to the UNGA, New Delhi had called off the meeting between Swaraj and Qureshi that was scheduled to take place on the sidelines of the UNGA. Ministry of External Affairs spokesperson Raveesh Kumar said that since the announcement when India confirmed the talks, two extremely disturbing developments have taken place.
The developments Kumar was referring to were the brutal killings of three Jammu and Kashmir policemen at the hands of Hizbul Mujahideen terrorists; as well as Pakistan's decision to declare slain Hizbul Mujahideen commander Burhan Wani as a "freedom icon". Pakistan also commemorated the "victims of atrocities by Indian troops in Kashmir" by issuing 20 special postage stamps which carry captions such as: 'Burhan Wani (1994-2016) freedom icon'.
The stamps carry photos of Wani and his two associates who were killed in a gunbattle with police in the Anantnag district of Jammu and Kashmir in July 2016.
"The latest brutal killings of our security personnel by Pakistan-based entities and the recent release of a series of 20 postage stamps by Pakistan glorifying a terrorist and terrorism confirm that Pakistan will not mend its ways," Kumar had said.
With inputs from PTI
Opinion
One must admire the audacity of the British establishment which has taken to the most egregious slander against Prime Minister Narendra Modi on the BBC, trying to incite Muslim revolt in India with blatant lies, even as it is negotiating the FTA
India
According to a report, Naravane said the Indian Army gained a major moral advantage, stemming from the fact that, for the first time in decades, an adversary had inflicted casualties on Chinese soldiers
India
India has been calling for peace and diplomacy to end the ongoing war between Russia and Ukraine