'Terrorists are called freedom fighters in Pakistan': Sushma Swaraj hits out at Islamabad during UNGA speech
Sushma Swaraj, while delivering her statement at the UN on Saturday, blamed Pakistan for the terrorism being spread in India.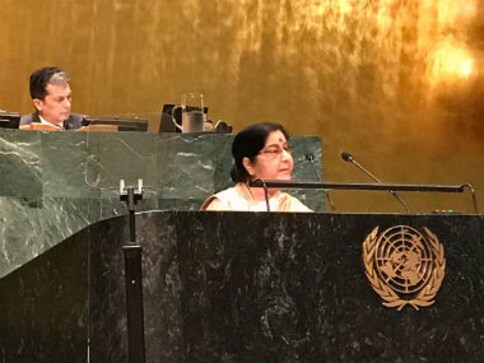 External Affairs Minister Sushma Swaraj, while delivering her statement at the 73rd session of the United Nations General Assembly on Saturday, blamed Pakistan for spreading terrorism in India.
"After the end of the 20th century, there was hope for peace in 21st century. But terror attacks like 9/11 and 26/11 have disappointed us. Today, the monster of terrorism is progressing," she said.
"In India, it is unfortunate that terrorism comes from one nation in our neighborhood. The biggest evidence of this fact is that Osama bin Laden was found in Pakistan," Swaraj said.
"America was searching for Osama bin Laden everywhere but did not know that Pakistan, which claims to be a big friend of the US, was hiding him," she said.
"And then, Pakistan behaves as if they didn't do anything wrong. And this sort of behaviour continues. The mastermind of 26/11, Hafiz Saeed, continues to roam free in Pakistan and conducts rallies and participates in elections," she added.
Raising the issue of cancellation of the proposed talks between India and Pakistan, Swaraj said, "There have been rumours that India is not ready for talks. On the contrary, we believe that even the most complex issues can be resolved through talks. That is why we began talks with Pakistan many times. But on all those occasions, talks stopped because of negative action by Pakistan."
She informed the General Assembly that various governments in India over the years have tried the peace option. Prime Minister Narendra Modi, by inviting the Heads of the SAARC nations to his swearing in ceremony, had begun his attempt for dialogue on his very first day in office. Swaraj said she too had in December 2016, personally gone to Islamabad and offered a comprehensive bilateral dialogue.
"But soon after, Pakistan-sponsored terrorists attacked our air force base in Pathankot on 2 January. Please explain to me how we could pursue talks in the midst of terrorist bloodshed," she asked.
Swaraj also hit out at Pakistan for time and again accusing India of human rights violations, saying "who can be a greater transgressor of human rights than a terrorist?"
"Those who take innocent human lives in pursuit of war by other means are defenders of inhuman behavior, not of human rights. Pakistan glorifies killers; it refuses to see the blood of innocents," she said. In another strong retort, Swaraj said it has become something of a habit with Pakistan to "throw the dust of deceit and deception against India in order to provide some thin cover for its own guilt."
Swaraj then said that the meeting proposed by Imran Khan had been cancelled because of similar reasons. "Imran Khan, in a letter to Prime Minister Modi, proposed a meeting between the two foreign ministers of India and Pakistan. But just a few hours later, we got news that three Jammu and Kashmir Police personnel were abducted and then killed. Can talks be conducted in such an environment?" Swaraj said.
"Pakistan spreads misinformation about India by spreading false news," she further said. She recalled that the United Nations had seen Pakistan's use of deceit and deception last year when its representative, using her right to reply, displayed some photographs as "proof" of "human rights violations" by India. In a major goof-up and embarrassment for Pakistan on the global stage, the photographs turned out to be from another country, the minister noted. "Similar false accusations have become a part of its standard rhetoric," Swaraj said.
"Each year, for last five years, India has been arguing from this podium that lists are not enough to check terrorists and their protectors. We need to bring them to accountability through international law," she said.
She also said that India had proposed a draft document in 1996 on the Comprehensive Convention on International Terrorism (CCIT) at the UN but even till today, that draft has remained a draft, because UN member states cannot agree on a common language. "On the one hand, we want to fight terrorism; on the other, we cannot define it."
"This is why terrorists with a price on their head are celebrated, financed and armed as liberation heroes by a country that remains a member of the United Nations," Swaraj said.
"Terrorists are called freedom fighters in Pakistan. And their cruelty is called bravery," said the external affairs minister.
"The country prints postage stamps glorifying terrorists. If we do not act now, we will have to deal with conflagration later," Swaraj said, referring to Pakistan releasing a series of 'commemorative' postal stamps glorifying Hizbul Mujahideen terrorist Burhan Wani as a "freedom fighter".
Swaraj also said that the influence of the United Nations was slowly decreasing and that the Security Council needed to be expanded and improved.
"Slowly, the influence of the United Nations is decreasing. We hope that the UN's future will not be like that of the League of Nations. There are improvements needed in the UN," Swaraj said.
"Today, the Security Council only includes the nations which emerged as winners after the Second World War. But is this acceptable today? I appeal that the Security Council should be expanded and improved," she said.
"Reform cannot be cosmetic. We need to change the institution's head and heart to make both compatible to the contemporary reality," she said.
Swaraj warned against a delay in reforming the world body, saying reform must begin today as tomorrow could be too late.
"If the UN is ineffective, the whole concept of multilateralism will collapse," she said. At a time when there is much debate about multilateralism, which as UN Secretary-General Antonio Guterres said is under fire precisely when it is needed the most, Swaraj said India will never weaken the multilateral mechanism.
Swaraj also spoke on the issue of climate change and said that developed nations cannot turn away from their responsibilities with respect to this issue.
"Climate change affects the poor the worst. The developed nations who have destroyed the environment for their progress cannot turn away from their responsibilities," she said.
She asserted that the principle of common and differentiated responsibilities and respective capabilities was reiterated in the 2015 Paris Agreement on climate change.
Swaraj told the 193-member UN body that India has risen to meet the challenge of climate change.
Modi in partnership with France launched the International Solar Alliance (ISA). The ISA is a treaty-based body which intends to promote solar energy in the 121 tropical countries.
Modi and French President Emmanuel Macron were conferred this week with the UN's highest environmental honour — Champions of the Earth Award — for their contributions.
The two leaders are recognised in the Policy Leadership category for their pioneering work in championing the ISA and promoting new areas of levels of cooperation on environmental action, including Macron's work on the Global Pact for the Environment and Modi's unprecedented pledge to eliminate all single-use plastic in India by 2022, she said.
Swaraj said that the ISA now has 68 nations and in March, India and France chaired the Founding Conference of the ISA in which 120 countries participated. "Our prime minister has described his vision of sustainable and available energy in a typically apt phrase: One Sun, One Grid. This breakthrough concept can become the solution we seek to the problems," Swaraj said.
Swaraj also spoke of the various measures taken by the Narendra Modi government in India to improve the lives of the people.
"Jan Dhan Yojana is empowering the poor. It is the world's largest financial scheme," she said.
Swaraj also spoke of the Ayushman Bharat Yojana for providing medical insurance to the poor and said that the government is also trying its best to provide housing to the people.
She also mentioned the steps taken by the government for women empowerment. "Through the Ujjwala Yojana, five crore poor women have received free gas connections," she said.
Swaraj also offered condolences to earthquake-hit Indonesia. "Indonesia has been affected by an earthquake and tsunami. I, on behalf of India, express my condolence towards the government and people of Indonesia for the disaster. To face this calamity, I assure Indonesia of full support from India," she said.
Towards the end of her speech, Swaraj also said that India believes that the United Nations should be run like a family.
"The UN should be run like a family. The family is run by love, not through a transactional attitude...India does not want decisions to be taken which benefit only a few nations," she said.
With inputs from PTI
World
61-year-old General Bajwa retired on 29 November after getting a three-year extension in 2019 by the then Prime Minister Khan, who turned out to be the biggest critic of the Pakistan Army
World
Khan ,70, is in the crosshairs for buying gifts, including an expensive Graff wristwatch he had received as the premier at a discounted price from the state depository called Toshakhana and selling them for profit
World
Asad Majeed Khan was at the centre of the 'Lettergate/cipher controversy' that former Pakistan prime minister Imran Khan has for long presented as evidence of a "foreign conspiracy" to oust him