News18 Rising India Summit: Narendra Modi lays out a CEO's assessment of country's rise in global economy
A large part of the prime minister's speech was focused on the development work that his government has carried out in the country's eastern part with a special focus on North East.
Narendra Modi brought the professionalism and attention-to-detail mindset of a CEO while delivering the keynote address at the News18 Rising India Summit in New Delhi on Friday. It is not unusual for the prime minister to give an account of his achievements while addressing an audience. He has done so on many occasions at different venues in India and around the world.
What differentiated earlier instances from Friday's speech at the News18 thought leadership initiative was Modi's usage of slideshows and video clips to get his point across and buttress his achievements with facts, instead of a rambling exercise in rhetoric. He liberally borrowed concepts from the corporate sector to highlight the 'result-oriented approach' adopted by his government.
For instance, while talking about the transformative change in healthcare that the NDA government is pushing for, the prime minister made a reference to an old management adage: "You can't manage what you don't measure." The idea, he said, was to break down healthcare service in India into four parts: "preventive healthcare, affordable healthcare, supply-side intervention and mission-mode intervention." Modi then proceeded to elaborate on all four concepts, frequently taking recourse to slides to show how his government has achieved in four years the double of what has been achieved since Independence.
In the sector of rural sanitation, Modi's flagship Swachh Bharat scheme has resulted in building of toilets in 6.5 crore households in four years against the same number in 67 years. Sanitation coverage, claimed the prime minister, is now up from 39 percent in 2014 to 78 percent (present) while a six-fold rise in immunisation coverage has been recorded within that same time frame.
He also highlighted the efforts to increase seats in PG and UG courses to address the acute shortage of doctors, reduction in prices of stents and knee implants, his government's focus on improving the health of mother and kids. If these changes bring a transformation in the sector, then the benefits would be made accessible through the prime minister's flagship National Health Protection scheme, which has recently been applauded by the World Health Organisation. Modi claimed Ayushman Bharat Yojana will bring 10 crore families under healthcare cover and address one of the biggest challenges faced by the poor.
The prime minister's ability to "think big" and look for 'out-of-the-box' solutions was evident in the way he approaches a problem. In his words, these ambitious targets have been set and achievements made possible because his government has put an end to the lack of coordination in different departments so that they may function as a unit under the motto: "No Silos, Only Solutions."
As an example, Modi cited the transformations in healthcare which have been made possible due to the tight integration of Union healthcare ministry with the Ministry of Women and Childcare Development, Ministry of Chemical and Fertilizers, Ayush, drinking water and sanitation and consumer affairs. Each of these points were buttressed with slides and graphs to stress on the bigger picture.
Stressing on a direct correlation between the breaking of silos and improve delivery of government service, Modi highlighted how greater coordination between Ministry of Renewable Energy, Ministry of Power and the coal ministry has resulted in the rapid electrification of villages. From a power shortage nation, India is now a power surplus nation and from "network failure" it is progressing towards "net exporter" of power.
A sleek video clip on rural electrification was followed by the prime minister's statement that 13,000 villages in east India (among which 5,000 are in the northeastern region alone) have so far been electrified under the Saubhagya Scheme. Through an outlay of over Rs 16,000 crore, the government seeks to end the isolation and integrate India's remotest villages with the Rising India story, he said.
A large part of the prime minister's speech was focused on the development work that his government has carried out in the country's eastern part with a special focus on North East. "I just came here from Manipur," said Modi while addressing the audience. "This was my 29th trip to north-eastern states since becoming the PM," he said, stressing that his government's 'Act East, Act Fast' policy is bridging the distance between New Delhi and North-East so that India may reap the harvest of the demographic dividend.
Pointing to a slide showing "Magic Development in India's East" (a pictorial representation of electrified villages), the prime minister gave an account of the projects that were either undertaken or kick-started by his government in the states of Assam, eastern Uttar Pradesh, Bihar, West Bengal and Odisha. The idea, he said, was to remove the development divide so that eastern part of India become a net contributor to the Rising India story.
If there was an inherent political message in Modi's 'east outreach', the reference to India's rising global profile was meant at triggering a sense of pride among Indians. No longer the laggards in world economy, India is now setting the trend and bringing world together through initiatives like the International Solar Alliance where more than 60 countries have agreed to implement the Delhi 'solar agenda', including French president Emmanuel Macron who had recently visited Indian shores and announced an uptick in monetary contribution towards the clean energy initiative.
Modi's speech ended with a reference to the greater economic contribution that India is now making in the global economy, and how from macroeconomic stability to better ratings from global rating agencies, the picture of 'Rising India' was becoming clear. He was, however, careful to stress on the 'holistic approach' that his government has taken to make everyone, including the poorest, a part of this journey. Even as a CEO of New India, the eye never wavered off the ball.
also read
World
Modi who is on a three-day visit to Australia held bilateral meetings with Hancock Prospecting Executive Chairman Gina Rinehart, Fortescue Future Industry Executive Chairman Andrew Forrest, and Australia Super CEO Paul Schroder.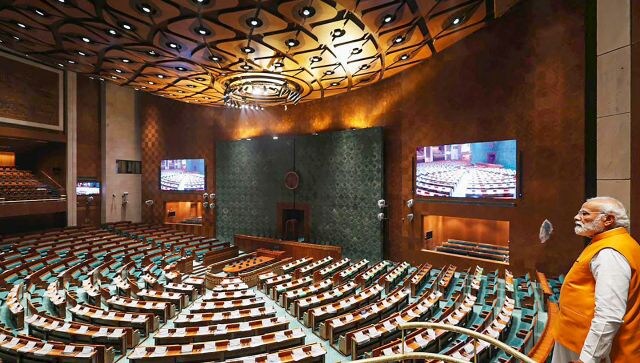 India
The new Parliament building can comfortably seat 888 members in the Lok Sabha chamber and 300 in the Rajya Sabha chamber. The current Parliament building was built in 1927. It will be converted into a museum
India
Rajasthan, where the ruling Congress is caught in a leadership tussle between Chief Minister Ashok Gehlot and his former deputy Sachin Pilot, goes to the polls this year-end.