New child labour Act, rising poverty is making children prey to exploitation in Mirzapur, say experts
UNICEF had warned the government that the new labour law would legitimise family work thus causing further disadvantage to children from poorer families especially since a lot of outsourced work is presently being carried out from homes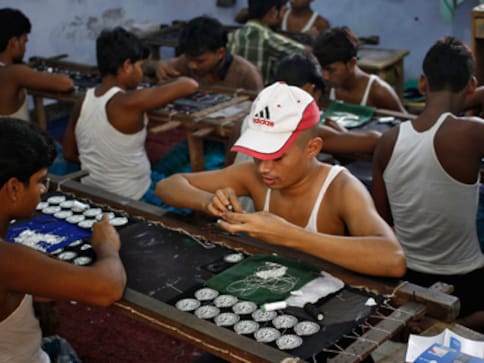 The impact of the Child Labour (Prohibition and Regulation Amendment) Act 2016 (CLPRAA), which allows for children to work at home is already being felt on the ground. Take the case of 15-year-old Nanku, a student in a government school near the kotwali in Uttar Pradesh's Mirzapur. The economic circumstances of his family forced him to drop out of school and work in a truck body manufacturing outfit for Rs 50 per day.
Or, the case of two brothers — 13-year-old Nirhu and 15-year-old Nanhe — who were studying in Sri Mata Prasad Mata Bhik Intercollege, also in Mirzapur. While Nirhu was a Class V student, Nanhe was studying in Class VIII. Their father worked as a washer man. Acute destitution and parents' ill-health forced both the brothers to drop out of school. While the younger brother is now working in a shoe shop, the elder boy is training in an electrical shop.
"Dropout rates in primary and middle schools have grown substantially in the last one year, and we believe this is a direct impact of the CLPRAA because it has become much more difficult to rescue child workers and to prosecute employers," says Shamshad Khan of the Mirzapur-based Centre for Rural Action and Education Development Action. "It has also become much harder to gain access into private homes to identify children who are being exploited under the garb of helping their parents," he adds.
"Families are so economically distressed that more children are dropping out of schools to help their parents, and there is little that rescue teams in the labour departments and the police force can do," said Khan.
According to official statistics, more than 10 to 17 million children are engaged in some form of work around the country. Amendment to the CLPRAA has brought down the number of hazardous occupations from 83 to include just mining, explosives and occupations listed in the Factory Act. After the amendment, adolescents can work in jobs like chemical mixing and cotton farming, as well as take employment in industries like battery recycling units and brick kilns.
The 1986 Act had a comprehensive list of occupations in which children could not work.
"There has been a sharp influx of children as young as 12 in brick kilns. These children are paid as little as Rs 10 per day. This work can leave them stunted for life and this is an area in which the state government needs to intervene immediately," says Khan.
To focus on the problem of child labour in Mirzapur, UNICEF earlier this month held a meeting with all the stakeholders in this town in the presence of the district commissioner and officials of the Uttar Pradesh labour department. Similar meetings are being held in all districts across the state.
Kanpur-based Rizwan Ahmed, who is working as state project director on child labour, bonded labour and unorganised sector workers with the UP labour department pointed out: "Presently, UP has 21 lakh working children of which nine lakh are employed on a full-time basis. The largest number has been found to be in Allahabad which has one lakh child labourers while Mirzapur has 31,000 child labourers at present."
Ahmed refused to hazard a guess on whether the numbers of child labourers have increased following the passing of the CLPRAA. Rather, he elaborated, "This is a growing problem but we are going entirely by the Census 2001 data."
The path breaking step taken by the Uttar Pradesh labour department was to ask the director general of Census India, to provide them with specific details of child labour existing in every ward and village of every district on which they had based their assessment. "Now that we have received the specific data (after payment of a considerable sum of money), we can plan to make target-oriented interventions," said Ahmed.
Mirzapur district collector Vimal Kumar Dubey had initially refused to believe that his town could have such a large number of child labourers but given the fact that the figures were provided by Census India, he had no choice but to accept these details. This information is already 15 years dated and the numbers of child labourers would have gone up considerably, maintain experts in the area including Swami Agnivesh.
Ahmed along with his colleagues claim that the pattern of child labour has changed enormously in the last three decades. "Children are no longer made to work in the organised sector in cities such as Kanpur, Aligarh and Agra. In Mirzapur-Bhadohi, the entire carpet trade has become mechanised and carpet manufacturers export less hand-woven carpets. So, while, in rural India they are being made to work in the agricultural sector for a pittance, in urban centres, the child labour are being brought to cities such as Noida and Ghaziabad where they are being paid to work as domestic servants, tea shops and in other areas. The problems being faced by child labourers in western UP is very different to their situation in the eastern UP belt," he added.
The labour department along with UNICEF officials have identified 50 hot spots in Uttar Pradesh, which have the highest number of child labourers. These spots are being targeted by a joint effort from different agencies in order to ensure an end to this practice.
The problem in implementing any joint initiative by different arms of the government is that the trend is to sub-contract work right down to the village level, whether it be in the field of embroidery, bindi making, beedi making or tobacco rolling to cite a few examples. Groups of contractors hand out the work on a piecemeal basis to villagers and when children are found helping their parents, there is little the government can to do to end such exploitation.
UNICEF had warned the government that the new labour law would legitimise family work thus causing further disadvantage to children from poorer families especially since a lot of outsourced work is presently being carried out from homes.
Euphrates Gobina, UNICEF chief of education in India, emphasised this point when she said, "Under the new child labour act, the most invisible forms of child labour and exploitation will go unseen forcing the most vulnerable and marginalised children to end up with irregular school attendance and lower levels of learning."
Bachpan Bachao Andolan founder and Nobel Peace Prize winner Kailash Satyarthi also stressed on how these changes would lead to further "victimisation of children" in their poverty.
The amendment is also being used to deny education to the girl child who is being forced to do household chores. According to government statistics, male literacy levels in 2014 stood at about 82 percent while female literacy levels were as low as 64 percent. The school drop-out rate for girl children is almost double the rate for boys.
It was to remove these forms of discrimination — protect children from being exploited in invisible forms of work, from trafficking and from boys and girls dropping out of school due to long hours of work — the UNICEF has demanded that the clause of children helping their families in family enterprises be removed.
Activists agree that they need to wait another year before any detailed survey can be conducted on the impact of the amendment in the child labour act. Meanwhile, Mirzapur assistant labour commissioner Mukesh Kumar Dikshit rues how challenging it is to "persuade" parents to keep their children in school. This, he laments, is a Herculean task made all the more difficult because of rising poverty levels.
India
Superintendent of Police Elamaran G said prima facie the matter seems to be that of suicide as the door was bolted from inside. Further investigation is underway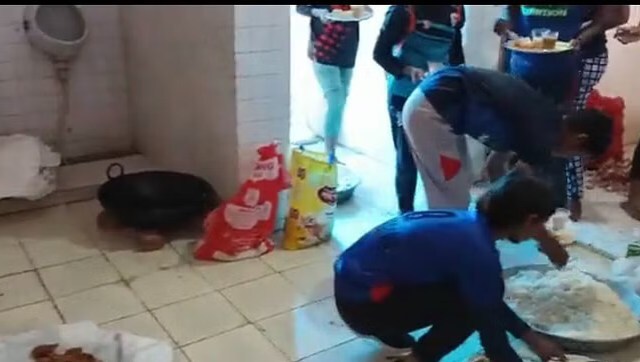 Sports
A purported video shows that food was served to kabaddi players in a toilet during a sports meet in Uttar Pradesh.
India
Police said that Sonu strangled his grandfather with a rope and fled from the spot. His body was found dead in Sadhauli village