Narendra Modi begins 44th Mann Ki Baat address: Follow speech live on NaMo app, pmonradio.nic.in
Prime Minister Narendra Modi is scheduled to address the nation through the 44th episode of his radio broadcast show 'Mann Ki Baat' on Sunday at 11 am.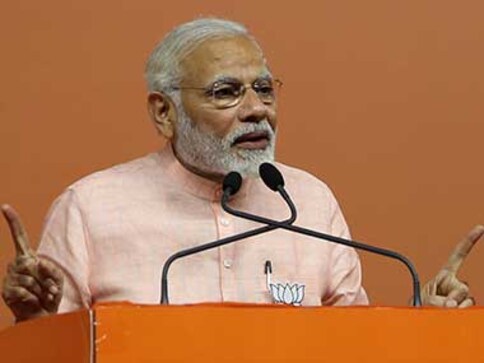 Prime Minister Narendra Modi is currently addressing the nation through the 44th episode of his radio broadcast show 'Mann Ki Baat' on Sunday at 11 am.
The speech will be broadcast live throughout the network of All India Radio (AIR) and Doordarshan, and relayed on other news channels. Although the original address will be in Hindi, Akashvani will broadcast the programme in regional languages immediately after the Hindi broadcast.
PM Modi will share his thoughts with the people in the country and abroad in his #MannKiBaat programme on All India Radio at 11 am tomorrow. pic.twitter.com/akWSJjpW0P

— All India Radio News (@airnewsalerts) May 26, 2018
The speech can also be followed live on the prime minister's official website, the Narendra Modi app, or by giving a missed call on 1922. One can also listen to the programme online by logging on to the website, pmonradio.nic.in as well as the YouTube channel of the Bharatiya Janata Party.
With the Modi government completing four years in office, it's likely that the prime minister will detail the achievements through key policy decisions in the period. Addressing a rally in Odisha on Saturday, he said, "Today, things have begun to change in India. Our India is steadily moving forward, from kala dhan to Jandhan, from stagnancy to progress."
"As we promised four years ago about zero tolerance towards corruption, four former Chief Ministers are behind the bars," Modi said. "It was not only impossible, but unimaginable to touch the high and mighty during the previous governments," he added.
In the previous edition of Mann Ki Baat, which was organised a day after Modi returned from a two-day informal summit with Chinese president Xi Jinping, the prime minister touched upon topics ranging from the recent Commonwealth Games to the upcoming monsoon season.
The prime minister congratulated Indian athletes who participated in the Commonwealth Games in Australia's Gold Coast. Modi, while mentioning how every citizen is extremely proud of the record medal tally India achieved this year, also congratulated the coaches, parents, and friends of the athletes who ensured their performance was not affected by unnecessary external factors.
During the last broadcast, Modi had also urged every citizen to start preparations for the fourth International Yoga Day on 21 June, an issue the prime minister is expected to mention again on Sunday's address.
India
India vaccinated 2.5 crore people in a single day on Friday to mark Prime Minister Narendra Modi's birthday.
India
NDMA and an Italian government entity for cooperation in the field of disaster risk reduction and management.
Sports
The PM said the achievements of the para athletes will help develop a sporting culture in the country.