Muslims leave Ayodhya as Shiv Sena, VHP members raise Ram Mandir pitch; authorities claim situation normal
Observing the influx of Shiv Sena and Vishwa Hindu Parishad members in Ayodhya to raise pitch for Ram Mandir, local Muslims have been struck by fear of a repetition of 1992 when the Babri mosque was demolished
Ayodhya: A sense of uneasiness has settled amongst the Muslim community in Ayodhya, two weeks before the demolition anniversary of Babri mosque, as a large number of Shiv Sena and Vishwa Hindu Parishad (VHP) members have reached town to attend a Dharm Sabha, scheduled on 25 November.
Observing the influx of right-wing workers in Ayodhya, local residents have been struck by fear of a repetition of 1992 when the Babri mosque was demolished by Karsevaks and Shiv Sena workers. The ensuing riots took lives of scores of Muslims. Several families have already moved out of the town towards safer spaces, while others have sent their children and women away out of fear of violence.
"We do not have any problem with Hindus or with the construction of Ram Temple here, but we are afraid that there may be a repetition of 1992 when many of our brothers were killed by the Karsevaks in the violence that broke out post the Babri demolition," says Mohammad Aziz, a 46-year-old tailor from the Alam Ganj Katra mohalla, an area close to the Ram Janmabhoomi Nyas, a trust which was formed to promote and oversee the construction of Ram Mandir in Ayodhya.
At least 18 Muslims were killed, their houses and shops torched and 23 local mosques were destroyed after the demolition of Babri Mosque on the evening of 6 December, 1992, but no cases have been registered as yet.
Aziz says that the families who have moved to safer places would return to town only when the situation settles down. He also added that the district administration should assure social security to Muslims living in Ayodhya. "The situation is like what happened in 1992. The crowd gathered in a similar fashion and no one knows who is coming with what intention. They demolished the mosque then, killed our people. They can do anything now. I will also leave for my relative's home in Gorakhpur along with my family, and there is no sense in staying here and risking our lives," said Aziz.
Iqbal Ansari, 52, one of the main petitioners of the demolished Babri case says that Muslims in Ayodhya have developed a fear that violence may break out if a crowd gathers in the city. "The district administration says that people are coming here only to visit their God, but who knows what is on their mind and why, suddenly, are they coming to Ayodhya close to the anniversary (of the demolition)," he asks.
Ansari added that his attempts to prevent the Muslim community from fleeing town proved futile. "A reporter told me that Shiv Sena members have come to Ayodhya in two trains, which reached (Ayodhya) at 11 pm, and it is very obvious that Muslims will be in fear due to such a large number of Shiv Sainiks coming here," he said.
Mahboob Mohammad, a 44-year-old fodder trader from Alam Ganj Katra area, says, "While some say nothing is expected to happen, the remaining say that anything could happen. We are terrorised. We do not want to live here. In 1992, they charred many people to death and indulged in vandalism across Ayodhya. The police was helpless at that time. We had to run to save our lives then and I am very sure that all Muslims will leave Ayodhya."
Mohammad added that the Muslims in Ayodhya do not fear the local Hindu community, but the outsiders who are "capable of anything".
However, Mahant Paramhans Das of Tapasviji ki Chhavni, who recently sat on a hunger strike demanding speedy construction of the Ram Mandir, terms Muslims are fleeing Ayodhya just to garner media attention, and that they have nothing to fear.
"I know a few of them have left and my people have told me about it, but let me make it clear that this is just a stunt to get media attention and nothing else. If they are fearful and something unexpected happens, then I will save them and welcome them with open arms. They can come and live at my place till the time they want to. I am repeating it again that everything in Ayodhya is very normal," said Das. The Tapasviji ki Chhavni is situated close to the disputed site.
Sharad Sharma, communications in-charge of VHP stated that Muslims need not leave the town as there is nothing to fear. "All our people are coming to participate in the Vishal Dharma Sabha and nothing else. If anyone is scared, then our akharas and temples are open for them." The Vishal Dharma Sabha has been organised to discuss community issues with saints and seers and this time the topic of discussion is the construction of Ram Mandir.
Shiv Sena Chief Uddhav Thackeray who reached Ayodhya earlier today, is expected to visit the Ram Lala temple. He will also meet saints and seers for blessings in the evening. The district administration has denied permission to the Shiv Sena for holding any kind of public meeting, however, VHP has been given the permission to host the Dharma Sabha. But despite that thousands of Shiv Sainiks have already reached the temple town.
Meanwhile, security personnel in Ayodhya remain divided in their understanding of the situation.
Following news reports of Muslims fleeing Ayodhya, District Magistrate Anil Kumar visited various families and their representatives to assure them of security. "I personally met about 100 Muslims and told them not to fear. There is no fear in them and everything is normal. The VHP has obtained prior permissions. They have ensured that the programmes will only be conducted based on conditions given to them," he said.
According to Kumar, one ADGP, one DGP, three SSPs, 10 ASPs, 21 DSPs, 160 Inspectors, 700 Constables, 42 Companies of PAC, five Companies of RAF, ATS Commandos and drone cameras have been deployed in Ayodhya for maintaining law and order.
Ayodhya police told 101Reporters.com that adequate security measures have been taken to tackle any kind of situation and nothing untoward is expected to happen. Pradyumn Singh, station house officer at Ram Janma Bhoomi police station says that the police has yet not received any complaint of Muslims feeling the area, but confirms that around seven to eight families out of the 30-40 in the area, have left town.
"There is no tension in the area and I am in regular touch with people of both communities. I do not know the exact number of Muslim families in my area, but Hindus are in majority here. The cases highlighted by the media are from the Alam Ganj Karta area, which is a Muslim-dominated area. We have talked to families and assured them of security. So far the situation is peaceful and will remain peaceful as adequate security measures have been taken by the police," he said.
When asked about the sudden increase in number of visitors to Ayodhya, he said it is due to the festive season and the annual Kartik Mela.
However, Ayodhya SSP Joginder Kumar termed the reports of Muslims fleeing the area as fake and baseless.
According to Raunak Agrahari, a receptionist at the AP Palace, Ayodhya, all the rooms at his hotel were booked a week in advance by the Shiv Sena, and that the situation is similar in most hotels in the region.
"The rooms have been booked by Shiv Sena and our partner hotels in other parts of this town are also booked. It would be better to stay in Basti or Gorakhpur city," he said. Five other hotels in Ayodhya town gave a similar response.
According to 2011 census the Ayodhya Nagar Palika Parishad has a population of 55,890 people, out of which Muslims comprise 6.19 percent of the population.
The authors are freelance writers and members of 101Reporters.com, a pan-India network of grassroots reporters
Politics
The Eknath Shinde government added 18 ministers to the Maharashtra Cabinet. The oath-taking ceremony took place at the Raj Bhavan in Mumbai in the presence of Deputy CM Devendra Fadnavis and Governor Bhagat Singh Koshyari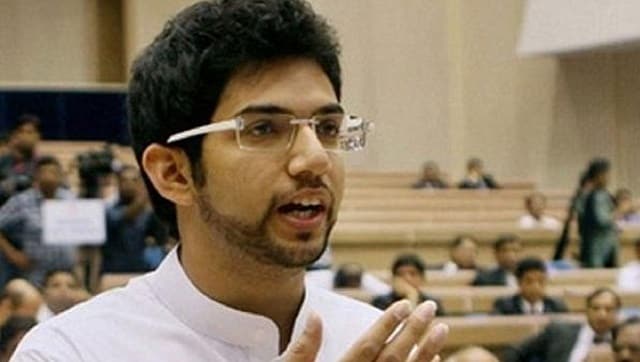 Politics
Aaditya Thackeray was speaking at a rally at Patan in Satara district as a part of his outreach program after Eknath Shinde toppled his father Uddhav Thackeray's government
Politics
West Bengal BJP chief Sukanta Majumdar asserted that the BJP will implement the CAA eventually and grant citizenship to Bangladeshi refugees