#MeToo, increased workplace participation and other ways in which 2018 was an empowering year for women
As women fight back and claim their space, as well as participate in movements like #MeToo, it seems that empowerment has come to stay in India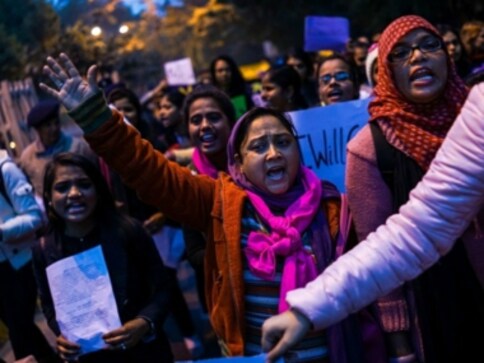 In October 2017, 24-year-old law student Raya Sarkar had used her Facebook page to publish a list which caused a major roiling in Indian academic circles. The list, which later came to be known as LoSHA (list of sexual harassers in academia), had 75 names from approximately 30 colleges and universities and was spread across India, the UK and the US. The upheaval caused by LoSHA was actually the very first tremor indicating the major eruption which was to come in 2018.
Speaking up about sexual harassment was not something new. Women had called out predators before. They had gone to court and fought to get laws passed which would help protect them from sexual harassment in the workplace. They had followed "due process" and complained to the appropriate authorities. They had punched stalkers and molesters too. But never before had they dared to name and shame their predators on a public platform.
In Raya's list, the accusers remained anonymous but the names of the accused predators were out in the open for all to see. Raya said she had enough proof and had collected several testimonies from survivors of each accused before adding their names to the list. However, she did not want to expose the accusers to the vicious backlash which she knew would ensue. So she kept their names hidden. Many, including the old guard feminists, were not convinced that this anonymity and bypassing of due process was the right way forward.
It was the fear of social opprobrium which had kept most women silent all these years. That and the fear of repercussions which they feared could affect their careers. Many had lost their faith in the "due process" which had failed them. In the last couple of years, some brave survivors of sexual assault and harassment had come out and stood up against their powerful predatory bosses, only to find themselves caught in a web of court cases.
Raya Sarkar's list opened a tiny chink. Suddenly, survivors realised that there were other women like them who had been preyed upon, and that speaking out against molesters, however powerful, was not taboo. More importantly, they knew now that it was the perpetrator who was the guilty one, not the survivor.
The next major milestone occurred almost exactly a year later, in September 2018. Actress Tanushree Dutta gave a TV interview where she accused the powerful actor Nana Patekar of sexually harassing her on the sets of a film in 2009. Tanushree had levelled the same accusation before, in 2009. This time, however, she got a lot of support. Emboldened by her stand, women who had put up with such harassment in silence for many years now came out and spoke about it openly. Ugly encounters which had been pushed under the carpet were now pulled out, dusted and aired in public view.
Maybe what transpired was the bursting forth of the angst which working women, in particular, had kept bottled up for decades. The signs of things coming to a boil were already there. Earlier in the year, Telugu actress Sri Reddy had stripped in full public view and sat on the road protesting against the normalised sexual harassment upcoming actresses faced at the hands of powerful men in Telugu cinema.
The seeds for this rebellion had been sown in 2017 when some of the most powerful women in Malayalam cinema had started a Women's Collective. Their action was triggered by the indifferent reaction of the male dominated industry to the targeted rape of a leading woman actor purportedly orchestrated by a male colleague. By 2018, the Collective had taken big steps forward and was making its voice heard in places where it mattered.
Meanwhile, a similar roiling was taking place in the media industry. Senior journalist Priya Ramani called out MJ Akbar, who for years had sexually harassed many young women who had worked under him. She had made the same accusation a year before in an article without naming him. But now she called him out in public. And in a trice, 10 more senior, very respected women journalists came out in public in her support and spoke of the harassment they had also been subjected to when working for Akbar as fresh-out-of-college-twenty-somethings.
The former 5-star journalist was forced to resign from his post as a cabinet minister. Even as he filed a law suit against his first accuser, one more survivor Pallavi Gogoi came out and accused him of brutal rape and emotional blackmail, among other things.
These women were no longer hiding under the cover of anonymity as they were senior and secure enough in their careers. Their accusations had more clout. As the media world bubbled over with #MeToo stories, it became obvious that powerful and not-so-powerful older journalists had routinely normalised serious sexual misconduct. Some heads rolled, but not all. In the ongoing struggle, women journalists found they really did have their own powerful voices which had been suppressed all along by the boys' club.
Senior women professionals were now coming out in large numbers in all fields. In Tamil Nadu, senior playback singer and dubbing artiste Chinmayi accused the famous film lyricist Vairamuthu of sexual harassment. She was soon joined by a chorus of other women, most of whom threw off the veil of anonymity. In Bollywood, senior filmmaker Vinta Nanda called out Alok Nath, accusing him of rape.
The #MeToo Movement, sparked off by these initial acts of rebellion, soon had the entire country in its grip. From film directors to software professionals and software experts, the lists featuring names were long and at times shocking.
There seemed to be predators all around, and the women were no longer afraid of outing them. Women spoke out openly and in tragic detail about the kind of sexual harassment which went on behind the scenes. People became aware of the grim reality behind clichéd terms like 'casting couch' and 'ladies' man'. Many of these brave women who were at the peak of their careers stopped getting work and had to face law suits as the boys' club closed in, but they stood their ground, determined to fight it out. Some like Priya Ramani and Chinmayi had the strong support of their spouses.
In Kerala, a nun found her voice and complained against the Bishop of Jalandhar, who she said had raped her multiple times over the last couple of years. It took several months for the Church to even take cognizance of her complaint. If she had been left to fight her battle alone against the powerful Catholic Church, nothing much may have come of it. But in this new charged and empowered atmosphere, other nuns from the same convent came out in her support and took some very unprecedented action. They sat out in public, demanding the arrest of Bishop Franco Mulakkal. Though he was arrested, he was let out on remand and continues to enjoy the support of the Church. But the nuns are not giving up and they have the support of a large section of the public.
There was also a lot of empowering news about Indian women. They now accounted for a little more than 12 percent of India's pilots and their numbers were going up by the month. In 2018, there were 1092 women pilots in India, as against 586 in 2014. Interestingly, globally women accounted for just a little more than 5 percent of the pilot workforce. The percentage of Indian women pilots who were crisscrossing the skies was more than double this number.
By 2018, 56-year-old Lalithambika was heading some of ISRO's most prestigious satellite projects. Several more women scientists with years of experience working in ISRO were heading crucial and prestigious projects in different fields. India also had a woman, Tessy Thomas, in charge of its missile programme.
In 2016, 19-year-old Gowsalya had watched her husband being hacked to death before her very eyes in the middle of a busy main road in Tamil Nadu's Udumalpet town. The killers had been hired by her father who objected to her inter-caste marriage with Shankar, the man she loved. She had touched a nadir in her life as she lay in her hospital bed recovering from her wounds, wanting to die.
But in 2018, Gowsalya bravely claimed her life back. She had rejected her parental family and moved in with Shankar's parents. She had testified in court against her father who was finally awarded the death sentence in 2017. She had started the Shankar Social Justice Trust and become a crusader for other women who were survivors of caste-based honour killings. In December 2018, she married Sakthi, a Parai musician, at a "self respect" ceremony where they both vowed to fight against caste-based honour killings.
Women were fighting back and claiming their own spaces all over the country. A nascent women's caucus aimed at getting more women into parliament. Women farmers marched shoulder to shoulder with their male counterparts to demand better agricultural practices. As 2019 peeks over the horizon, there is a glimmer of hope: Maybe this time around, empowerment has come to stay.