Maharashtra, MP farmer strike: Why Narendra Modi, Yogi Adityanath should answer for the crisis
Prime minister Narendra Modi promised the loan waiver; Yogi Adityanath implemented it. Now, the demand for waiver is spreading and sates may not be able to fend for themselves. The buck clearly stops at New Delhi
In April this year, when Maharashtra Chief Minister, Devendra Fadnavis went on record to say farm loan waiver cannot be a lasting solution to make farmers debt-free. Instead, higher capital investments in agriculture adequately backed by water and power supplies over a long period will bring greater economic stability to small and marginal farmers, Fadnavis said, while interacting with farmers on the programme, Mee Mukhyamantri Boltoy (I am the Chief Minister speaking).
"Any crop loan waiver is not a lasting solution. It helps farmers get rid of debt but doesn't increase his repaying capacity when he goes for his next crop loan. Instead of a one-time crop loan waiver, which will certainly give us political mileage, our policies are to free farmers from the vicious cycle of debt," Fadnavis said.
Post-Fadnavis's statement, many, including this writer, had expressed doubts whether the Chief Minister can, ultimately, keep his word or not. Because such was the pressure then from political circles and farmer groups after the newly elected chief minister of Uttar Pradesh, Yogi Adityanath announced a Rs 36,000 crore loan waiver for Uttar Pradesh farmers following a poll promise made by Prime Minister Narendra Modi.
Subsequently, the calls for loan waiver strengthened, agitations began not just in Maharashtra but in other agrarian states like Madhya Pradesh. Logically, in Maharashtra, Fadnavis failed to walk his talk. His caution against the perils of farm loan waiver fell in deaf ears and Fadnavis was forced to follow the Yogi-way by announcing a Rs 30,000 crore loan waiver for Maharashtra farmers. Worse, even this announcement didn't calm the nerves of agitating farmers. Somehow, they aren't convinced with the offer and the agitations continue even now.
In Madhya Pradesh, things have worsened to an altogether different level with farmer agitations turning violent, forcing security forces to open fire. At least six farmers have been shot dead and eight others have been injured (read here) in the state in separate incidents. Arguments are still on as to who pulled the trigger that killed the farmers but the fact is that six farmers have lost lives while agitating to press their demands. This doesn't augur well for the Modi government which has put farmers top on its priority list and wants to double farmer income by 2022.
Yogi's UP waiver -- the Bharatiya Janata Party (BJP's) election plank and Prime Minister Modi's trump card during Uttar Pradesh poll campaign -- is having its ripple effects not just in MP and Maharashtra, but in other states too. Farmers in other agrarian states like Punjab and Tamil Nadu have already raised similar demands. The fact that a Chief Minister like Fadnavis, who dared to speak against the waiver against the party line, had to later bend to the pressure shows the extent of influence Uttar Pradersh waiver claimed across the country. This was precisely what many observers feared will happen post the Yogi government's googly.
Going ahead, this will be too big a problem for states to handle since most of the agrarian states are fiscally constrained. Even Maharashtra, which had to agree to the waiver demand, is struggling to chalk out plan to fulfill its promise. It is unlikely that the state will be able to raise money on its own as the Centre wants.
Take a look at these numbers. According to government data, Maharashtra has a budget of Rs 2.57 lakh crore, of which committed and essential expenditure is Rs 1.77 lakh crore. These are unavoidable payments comprising salaries/pensions of Rs 1.40 lakh crore; state-Centre driven projects in various sectors worth Rs 34,000 crore; loan repayments/ interests of Rs 28,000 crore and allocations to local bodies amounting to Rs 11,000 crore. On the other hand, the state's public debt is set to top the Rs 4 lakh crore mark by March 2018, which will mean the government will have to spend a staggering Rs 31,027 crore from its spend plan for 2017-18 to service the debt, The Indian Express reported in March. This means, the Fadnavis government will have to either seek the central aid or find some innovative ways to raise funds such as issuing papers on the lines of the UP government. But, the problem is that raising money issuing bonds will add to the liability of the state balance sheet and further weaken the finances.
Things are not better in Madhya Pradesh either. According to a PTI report in February, every citizen of Madhya Pradesh bore a 'debt' of Rs 13,853 as the state government had a liability of Rs 1.11 lakh crore at the beginning of current fiscal (2016-17). "The debt of the state government increased to Rs 1,11,101.10 crore in March last year from Rs 77,413 crore in March 2014. So the average debt of every citizen of Madhya Pradesh was Rs 13,853 as of March 31, 2016," the report quoted state finance minister Jayant Malaiya as saying.
To cut a long story short, states such as Maharashtra and Madhya Pradesh are now feeling the cascading impact of the Yogi Adityanath's Uttar Pradesh loan waiver bonanza and Prime Minister Modi's election promise. As this writer has been pointing out for long, the idea of farm loan waiver can have disastrous effect on the credit culture of a large number of people in the particular geography and makes a defaulter even out of an honest borrower. We have plenty of examples from the past. The UPA-sponsored 2008 farm loan waiver is a good case study. Sure, it does work wonders for the moment -- for the politician (who gets political mileage) and the farmer (who experiences temporary relief and a false notion of being in the good books of his lenders).
The same bank manager, who waives the loan, will think twice before sanctioning a loan to the same farmer when he walks into his branch next time since his credit worthiness is now under question. Typically, the political administrations which press the loan waiver button, don't compensate banks in time. The delay inevitably weakens the balance sheets of lenders and the liability remains, at best, unstated. Banks that have high exposure to the farming sector in the state will likely see a spurt in their NPAs  or non-performing assets or bad loans almost immediately. In short, a loan waiver is a toxic enough to paralyse the multiple organs of the body in one go.
Given the extent of damage loan waiver promise has done in Maharashtra and Madhya Pradesh, the Modi government must take responsibility and step in immediately to control the damage. This time around, the onus of the loan waiver saga entirely lies on the Modi government, which refreshed the idea in the minds of farmers as a tool to win elections. It needs to find ways to stop what it started during the Uttar Prades -poll campaign. The buck clearly stops at New Delhi.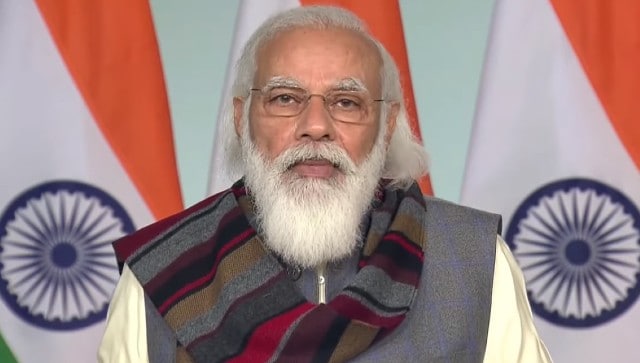 Sports
He also offered his best wishes to the Indian contingent for the Tokyo Olympics that will begin on 23 July and noted that it consists of the country's finest athletes.
India
The resounding success of the Aspirational Districts Programme is a testament to the efforts of the national, state and district level administrations
India
Modi also conveyed his 'profound gratitude' to Benjamin Netanyahu, whose long tenure as Israeli prime minister ended on Sunday