Maharashtra farmers' march: Cultivators cover 180 km on foot, demand loan waivers, fair prices; Fadnavis govt says 'will do'
Over 35,000 farmers from across Maharashtra, who embarked on a `Long March' from Nashik on 6 March to press their various demands, arrived in Mumbai on Sunday.
Over 35,000 farmers from across Maharashtra, who embarked on a 'Long March' from Nashik on 6 March to press their various demands, arrived in Mumbai on Sunday.
The government reached out to farmers, promising to meet their demands, but farmers' leaders said they will press on with Monday's protest at the Vidhan Bhavan (Legislature Complex). The farmers, led by Left-affiliated All India Kisan Sabha (AIKS), are demanding, among other things, proper implementation of the Maharashtra government's loan waiver scheme.
Braving scorching heat, they have covered around 180-kilometre on foot in six days. The protesters stayed the night at the Somaiya ground in suburban Chunabhatti in Mumbai, and set out for Vidhan Bhavan in south Mumbai, where the Budget Session is underway. Though a Bombay High Court order restricts any protests or marches near the Legislative Assembly House area, the farmers on Sunday seemed determined to carry out their march to the Vidhan Bhavan.
As the march reached suburban Vikhroli, the group of farmers — comprising both men and women — extended for almost three kilometres.
The farmers' demands
"We will gherao (lay siege to) the Vidhan Bhavan on Monday to demand a complete loan waiver, fair price for farm produce, implementation of the Swaminathan Commission's recommendations, compensation for hailstorm-affected farmers among other things," Kisan Gujar, president of the state council of AIKS, said.
"Today, our number is over 35,000. Over 20,000 farmers from other parts of the state will join on Monday," he said, adding the farmers were also protesting against land acquisition for projects such as high-speed railway and super-highways. "Though we have been approached by the government officials advising us not to stay near the Vidhan Bhavan for long, everything will depend on how the government deals with our demands," Gujar told PTI.
Complete loan waiver and profit of 1.5 times input cost for all major agriculture commodities are the major demands of the AIKS. The agitating farmers are also demanding compensation of Rs 40,000 per acre for destruction of crops due to hailstorm and pink-worm, allocation of forest land under cultivation to farmers and implementation of Forest Rights Act.
Government response
Maharashtra chief minister Devendra Fadnavis has called a meeting of officials on Monday to discuss issues plaguing farmers in Maharashtra. The meeting is expected to look into the demands of the farmers. Water Resources Minister Girish Mahajan, who is also guardian minister for Nashik district, met the farmers' leaders in Mulund as the march entered Mumbai, and assured that most of their demands will be met. "The Chief Minister (Devendra Fadnavis) has sent me to meet you. Most of your demands will be met. We will take a delegation to the chief minister," Mahajan said, addressing the protesters.
Ajit Nawale of the AIKS, however, dismissed the overture. "The days of living on assurances have passed. Unless the government gives us something concrete, commits itself in writing, we will march towards the Vidhan Bhavan on Monday," he said. As a stream of people flowing in to join the march, the number of protesters will go up to 55,000- 60,000 figure when it will reach the destination, he added.
Support from various political parties
Opposition Congress, NCP, Raj Thackeray-led Maharashtra Navnirman Sena (MNS) and AAP, as well as ruling ally Shiv Sena have extended support to the farmers' march, Patidar leader from Gujarat Nikhil Sawani, who joined the march, said his community supported the protesters.
Senior Shiv Sena leder and cabinet minister Eknath Shinde and Yuva Sena (Shiv Sena's youth wing) chief Aditya Thackeray also greeted the protesters in suburban Vikhroli. Thackeray said the Shiv Sena stood "shoulder to shoulder" with farmers in their struggle. It was wrong to say that farmers were demanding loan waiver, as they are not criminals that they should need a `waiver', Aditya said, adding "farmers are fighting for `freedom from debt'." As so many farmers have marched to Mumbai despite the government's grand loan waiver, Sena leaders have demanded to see the list of actual beneficiaries of the scheme, he said.
Government in fix over farmers' demands across the country
In June 2017, similar protests had boiled over most parts of the state, forcing the Chief Minister Devendra Fadnavis-led government to announce a conditional Rs 34,000 crore loan waiver, which farmers said has not been implemented properly.
Similar demands of loan waiver and 50 percent profit over the input cost have been made by farmers across the country, putting the BJP-led central government in a fix.
With inputs from agencies
Sports
The protests led to six police officers being injured, with one receiving a fractured eye socket and another wounded on his face.
Lifestyle
A survey of 940 single women farmers has exposed their increased vulnerability during the COVID-19 pandemic and the lockdown in Maharashtra.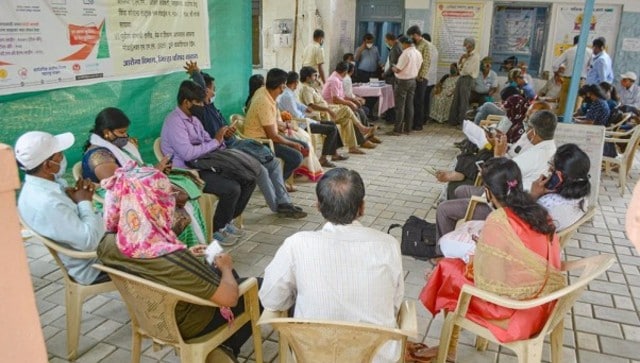 India
BMC will add at least 500 more public and private centres for the new vaccination drive. So vaccination for 45+ shall not be compromised or slowed down, said Ashwini Bhide, BMC's Additional Municipal Commissioner