Kerala, After The Flood: India should focus on disaster-proof housing, insurance, not take recourse to jugaad
The Kerala experience must remind that it's time India looked seriously at disaster proof housing to secure homes and property from shocks, mudslides and flooding, while also making disaster insurance compulsory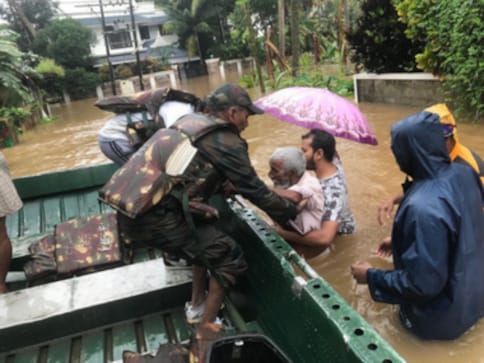 Editor's Note: Described as one of the worst since 1924 by Chief Minister Pinarayi Vijayan, the rains in Kerala have left over 350 dead and rendered thousands of people homeless. According to the latest tally, 80,000 have been rescued so far. Over 1,500 relief camps have been set up across the state that currently house at least 2,23,139 people. In a multi-part series, Firstpost will attempt to analyse the short-term and long-term impact of these unprecedented floods on the lives of the people, economy of the state, and the environment.
***
On 26 January, 2001, a devastating earthquake measuring 7.9 on the Richter Scale hit Gujarat, killing over 20,000 people, injuring 1,66,000 and destroying some 4,00,000 homes. But resilient Gujarat rose from the rubble, as it were, in record time.
Bhuj, which was the epicentre of the earthquake, emerged stronger after the disaster.
A couple of years ago, I visited Bhuj and was amazed at the rapid development in the town. I couldn't believe it had faced the worst disaster of its kind just 15 years earlier. All the shops in the Bhuj market were plush with embroidered handicrafts, resplendent silk saris and intricate silver jewellery, which Bhuj was famous for. Fancy hotels and apartment buildings dotted the landscape.  The Aaina Mahal was still there, a palace, which was damaged in the 2011 earthquake. A portion of the historical palace has been restored and houses the museum, with rare paintings, art, arms and artefacts.
Soon after the 2001 earthquake, the Gujarat State Disaster Management Authority was set up to implement the huge task of the rehabilitation and reconstruction programme in the earthquake affected areas of the state.
The turnaround and transformation which Gujarat achieved has been hailed internationally. BBC in an analysis in 2011, ten years after the earthquake said, "There was an outpouring of sympathy from around the world, much of it from Gujaratis living abroad. Some $130m (£80m) of aid poured in. The Indian government was spurred into focusing on this much-ignored region in a way it had never done before."
A devastating earthquake and tsunami hit Japan on 11 March, 2011, measuring 9 on the Richter scale. In the very first few hours, Japan had set up an emergency command centre in Tokyo.
According to information culled together by Britannica on the Japan earthquake, a large number of rescue workers and the Japanese Self Defence Force were rapidly mobilised to deal with the crisis. Several International aid organisations, and some 91 countries pledged help. Including India, many countries sent search-and-rescue teams to Japan.
Within weeks, Japan had partially restored its transportation systems and by the coming summer of 2011, the Japanese economy was growing and within the first months of 2012, industrial output had reached the level it had been before the earthquake.
Whether it is the Gujarat model or the Japan experience, there are enough best practices around the world for Kerala to choose from in its path of reconstruction. Then, there is no dearth of international aid agencies, NGOs and willing corporates and a more than enthusiastic volunteer base, ready to pitch in to help in the reconstruction of the southern state.
Disaster proof housing
But, the Kerala experience, must remind us that India has been increasingly prone to disasters in the last two decades. Take the 1999 Odisha Cyclone; the 2001 Gujarat Earthquake; the 2004 Indian Ocean Tsunami; the 2013 Uttarakhand Flash Floods; the 2014 Kashmir Floods; the 2014 Vishakhapatnam Cyclone; or the 2015 Chennai Floods.
And it's time we looked seriously at disaster proof housing to secure our homes and property from shocks, mudslides and flooding.
In 2011, Brian Vastag, wrote in The Washington Post of how 'huge shock absorbers, walls that slide and Teflon foundation pads that isolate buildings from the ground all help explain why medium- and high-rise structures in Japan remained standing in the wake of the country's largest earthquake on record.'
Japan learned lessons from its own past experiences. After the Kobe earthquake in 1995, Japan began engineering new structures and retrofitting old ones to withstand violent shaking from earthquakes.
Similar engineering is being adopted in the United States too, especially in the San Francisco bay area, which is prone to earthquakes.
Disaster insurance
Insurance against disasters, is another area that requires attention. The Indian insurance companies have been providing cover to homes and property from burglary, theft and fire; terrorism and also acts of God, which covers floods, earthquakes, storms, etc. Yet, most Indians avoid taking a coverage for their homes or property.
For most of us, health insurance has become a must to guard against sudden and emergency hospital expenses; and vehicle insurance has been made mandatory by the Regional Transport Offices. Similarly, home and property insurance against disasters must also become mandatory.
In San Francisco, when families buy new homes, they have to perforce insure their homes against floods and earthquakes. This insurance is tied in to their mortgages.
Jugaad does not always work when dealing with disasters
So, can we as a thriving democracy, with the fastest growing economy at 6.7 per cent, continue to be ostrich like and stick our heads in the mud, when it comes to handling disasters? And handle them, like we do everything else — through jugaad?
Indian entrepreneurs have taken the concept of jugaad to the rest of the world, by adapting quickly and intelligently to unforeseen and uncertain circumstances and using their limited resources in an innovative way. Mostly, this has worked for them, for these entrepreneurs were not looking at perfection or sophistication, all they were looking at was getting the job done with a good-enough solution.
But, this attitude cannot work when dealing with disasters. Maybe, disasters too are 'unforeseen and uncertain circumstances', yet disasters require standard practices, a fail-proof method and a well-oiled machinery to be set up, so as to ensure minimal loss to lives, destruction to property and limit the impact to a state's economic growth.
On 18 March, 2015, the UN Member States at the Third UN World Conference on Disaster Risk Reduction (DRR) in Sendai City, Japan, adopted the Sendai Framework. The Sendai framework "aims at substantial reduction of disaster risk and losses in lives, livelihoods and health and in the economic, physical, social, cultural and environmental assets of persons, businesses, communities and countries".
The Sendai framework is the principle upon which countries, including India, build their disaster management planning. India has a comprehensive Disaster Management Act of 2005 and a nodal agency, the National Disaster Management Authority (NDMA), whose vision is "to build a safer and disaster resilient India by a holistic, pro-active, technology driven and sustainable development strategy that involves all stakeholders and fosters a culture of prevention, preparedness and mitigation".
So, what is stopping us from putting this "holistic, pro-active and technology driven" disaster management system into place?
We have all the relevant laws and policies enshrined in our law books. What we need is to put them to work on the ground.
Also Read
Kerala, After The Flood: India needs to go beyond leaning on its military for relief and rescue to deal with disasters
Kerala, After The Flood: Tendency to back development despite warning from ecologists creates ground for future disasters
Kerala, After The Flood: Underprepared India needs rapid rescue and planned rehabilitation to combat disasters
Explainers
Satellite data enables humanitarian aid to better deliver water and food by mapping the condition of roads, bridges, buildings, and — most crucially — identifying populations trying to escape potential aftershocks
World
Rescuers and volunteers are battling freezing rain and sub-zero temperatures to find survivors following the devastating 7.8-strong earthquake in Turkey and Syria
World
The magnitude 7.8 earthquake that struck Turkey and Syria on Monday is likely to be one of the deadliest this decade. It has already claimed 4,372 lives, with officials fearing the death toll to rise even further