Kerala, After The Flood: Piling waste raises risks to health, environment; management by local bodies is need of hour
Kerala already faces health hazards caused directly by the flood, but the situation will worsen if the wastes lie piled up for too long without management.
Editor's note: Described as one of the worst since 1924 by Chief Minister Pinarayi Vijayan, the rains in Kerala have left over 350 dead and rendered thousands of people homeless. According to the latest tally, 80,000 have been rescued so far. Over 1,500 relief camps have been set up across the state that currently house at least 2,23,139 people. In a multi-part series, Firstpost will attempt to analyse the short-term and long-term impact of these unprecedented floods on the lives of the people, economy of the state, and the environment.
***
Experts say that a week of flooding can generate solid waste equivalent to that generated over a decade. This means that the two spells of floods that wreaked havoc in Kerala in July and August may have left behind at least 15 years of waste in the densely populated state.
The huge army of volunteers who came forward to clean the flood-ravaged houses have left all the floodwater-contaminated waste, including plastics and damaged electronic devices, on the roadsides and in common areas, confounding the health and environmental hazards inflicted by the floods.
A drive through the affected areas showed heaps of muck and mud in the compounds of most houses and outside, besides huge piles of food wastes, utensils, clothes, mattresses, books, damaged furniture and e-waste strewn everywhere.
Apart from household wastes, carcasses of animals and birds killed in the floods were also found lying unburied in several places, mostly in the water-logged Alappuzha and landslide-hit Idukki and Wayanad districts. Most of these places are still cut off from the outside world because of damaged roads and bridges.
There are also huge quantities of food wastes, plastic bags and bottles, aluminium foils, wrappers and other packaging material collected from relief camps piled up at many locations. These were left over from the hundreds of tonnes of relief material various agencies and donors from across the country.
Large quantities of unclaimed relief material have also been left dumped in heaps at railways stations and airports. Officials at the Ernakulam South Station said the food material that has been left dumped on the platforms for days has started stinking and may lead to health hazards at the station.
Environmental activists say that the accumulation of such wastes for too long will trigger serious environmental and potential health problems. This will only add to the health hazard caused directly by the floods.
In several flood-affected districts, there are already signs of an outbreak of rat fever and a leptospirosis epidemic. So far, these diseases have claimed 12 lives in Kozhikode district and two each in Ernakulam and Alappuzha districts, according to Manaorama.
Noted environmentalist Harish Vasudevan said the accumulated waste can spread infectious diseases if they are not removed from residential localities immediately and disposed of scientifically.
"A major threat to health comes from electronic waste as it contains toxins like zinc, mercury, magnesium and lithium. Some of these also contain radioactive substances, which are very harmful to human health and the ecosystem," Vasudevan says.
He also warned of the far-reaching environmental impact of toxins from e-waste coming in direct contact with drinking water sources, especially in a state like Kerala, which has an abundance of wells and ponds that serve as major sources of water for residents.
Tackling the issue of post-flood waste management is a massive challenge for Kerala, given that the state administration has not been able to manage even the 8,000 to 10,000 tonnes of waste it usually generates every day. While most existing dumpsites and waste treatment plants are already overflowing with municipal wastes accumulated over the years, some were washed away by the floods.
The government has left the task of managing the flood waste to civic bodies, which were already saddled with the mammoth task of assessing the damage people have suffered in the floods, issuing loss certificates and distributing relief and compensation to them.
But on 31 August, the Kerala cabinet decided to relieve municipalities and municipal corporations from the responsibility and hand the task over to private firms, which have the technology needed to process and recycle the waste. But for private entities to get to work, the government will have to amend the concerned law, which is a time-consuming process.
The accumulated waste cannot wait till the state introduces an ordinance and then ties up with the private companies. Although a number of volunteers have come forward to collect and segregate the waste, they have not been able to do much because of lack of support from local bodies.
A major problem volunteers have faced is lack of adequate vacant space to store and segregate the waste collected from the affected areas. While it is impossible to find such spots in cities and towns, they are facing resistance from local residents in rural areas.
In Thrissur district, volunteers engaged in disposing waste were chased away when they took the waste to a playground in a village near Mala on 30 August. A volunteer in Aluva said the situation is the same in most places.
Officials of the Suchitwa Mission, which provides technical support to local bodies in waste management, said the process of collecting and segregating the waste was moving at a very slow pace. In the last 11 days, local bodies were able to collect only 18.24 lakh kilograms of bio-degradable waste and 21.23 lakh kilograms of non-biodegradable waste from urban areas in six districts, and 1.98 lakh kilograms of bio-degradable waste and the 1.72 lakh kilograms of non-biodegradable waste from rural areas. Officials said if the process progresses at this rate, it will take several months to clear the waste.
Haritha Keralam, another agency involved in managing the accumulated waste, has yet to hit the field. P Ajaykumar, the agency's technical officer for waste disposal, said they were in the process of recruiting volunteers to carry out the task.
"Removing the mud from residential areas was a big problem as it required a large area for storage. We thought of using the mud to make bricks, but we found it unfit as it contains silt. We can use the material only to construct roads and platforms at railway stations. We have to wait till these projects come up," he explained.
Ajaykumar said they have tied up with Clean Kerala Company, which functions under Kerala's Local Self-Government Department, to manage e-waste. The company will send the e-waste to their agent in Hyderabad, which will dispose them of in a scientific manner.
He pointed out that the state's limited re-cycling facility makes disposing plastic and other non-biodegradable waste very difficult. He said they were trying to segregate these from the waste and send them to companies outside Kerala for disposal.
"We have started identifying suitable places to store and segregate the non-biodegradable waste. We have already found 65 centres in Kottayam. We are in search for such centres in other affected districts," Ajaykumar said.
Former chief secretary Jiji Thomson said managing the flood waste is beyond the state's current capacity as it is not equipped to handle even the waste generated in the normal course of events. He asserted that Kerala administration will be able to manage the crisis only if it relieves the local bodies from other duties and makes them focus only on waste management.
Subscribe to Moneycontrol Pro at ₹499 for the first year. Use code PRO499. Limited period offer. *T&C apply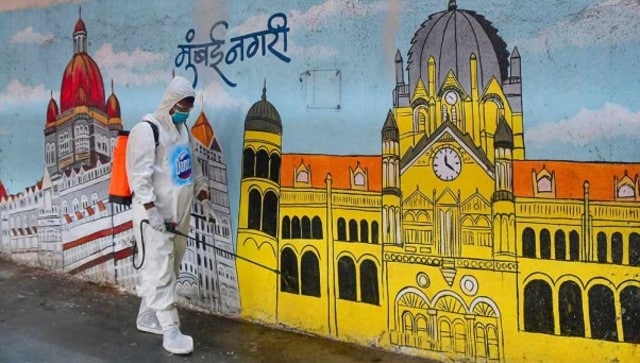 India
In October 2020, Mumbai appeared to show the future pathway — and potential end-point — for the COVID-19 pandemic. That certainty has been irreparably dented
India
The biggest challenge faced by women entrepreneurs in India is gender bias in access to finance as studies show that their loan applications are more likely to be delayed or rejected as compared to men
India
That angry Indian debates involve young people pitted against the values of their parents' generation suggests an upheaval in values lies ahead