Kerala floods leave trail of destruction in forests; elephants, tigers among several animals killed
Two tiger deaths were reported from Periyar tiger reserve in Periyar National Park in Kerala, which extends across Kottayam, Idukki and Pathanamthitta districts.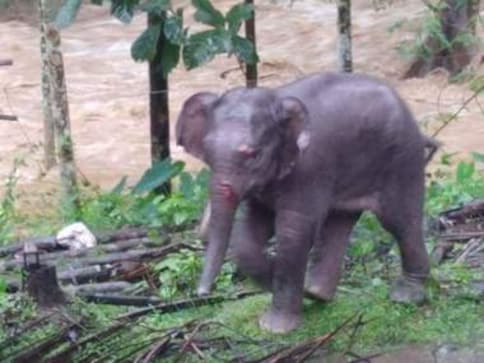 Editor's note: Described as one of the worst since 1924 by Chief Minister Pinarayi Vijayan, the rains in Kerala have left over 350 dead and rendered thousands of people homeless. According to the latest tally, 80,000 have been rescued so far. Over 1,500 relief camps have been set up across the state that currently house at least 2,23,139 people. In a multi-part series, Firstpost will attempt to analyse the short-term and long-term impact of these unprecedented floods on the lives of the people, economy of the state, and the environment.​
The floods in Kerala have taken a toll on the state's fauna. Several wild animals died and forest lands suffered extensive damage as landslides and flash floods struck various parts of the state.
Two tiger deaths were reported from Periyar tiger reserve in Periyar National Park, which extends across Kottayam, Idukki and Pathanamthitta districts.
"The post-mortem examination has found water inside the lungs of the animals," said Periyar (East) deputy director Silpa V Kumar.
A total of five elephants died following landslides and flash floods, according to figures with Forest Department. Two elephants died at Thekkady in Periyar National Park, while forests in Wayanad recorded two deaths. Further, officials from the forest department recovered the body of one elephant from the Malayattoor forests.
One gaur died at Kuttiyadi under Kozhikode Divisional Forest Office, while a bison's death was reported from the forest limits of Ranni Divisional Forest Office. The Ranni Divisional Forest Office in Pathanamthitta district also recorded the death of one gaur during the flood.
These are in addition to the deaths of one peacock, king cobra and porcupine reported from Kalady range under Malayattoor Forest Divisional Office in Ernakulam district.
Forest department officers say wild animals sought refuge in safe areas of the forest ahead of the landslides and flash floods. "In fact, animals tend to shift themselves to safe places before the calamity breaks out. This resulted in fewer deaths of wild animals during the flood," said Assistant Conservator of Forests Sivaprasad R, who is in charge of rescue operations.
One elephant calf was rescued from flood water in Palakkad by forest officials. Similarly, a spotted deer was saved at Kottiyoor forest in Kannur district. The two animals were later sent back to the forest.
Intensified rescue operations by the department helped tribal people on forest land to be shifted to safe places during the flood. During the initial stages of the flood, residents of various tribal hamlets at Vazhachal and Neyyar were shifted to relief camps.
Flood wreaks havoc in forests
Landslides and flash floods have caused widespread deforestation and land erosion inside the forests of the state. Several trees were uprooted while roads and bridges were washed away by flash floods. Northern Kerala was badly hit as several landslides and land slips struck forests and sanctuaries in this region.
In the forest limits of Wayanad South Divisional Forest Office, four acres of forest land was affected after landslides struck the area. Widespread landslides were reported at Kalladi, Kurichiar Hill and Sugandhagiri. At Pannikkolli and Makkimala, which fall in the limits of Wayanad North Divisional Forest Office, recurring incidents of landslides were reported in the second and third weeks of August.
Kozhikode district witnessed the same scenario. According to figures with the divisional forest office, the forest recorded at least 20 landslides during the flood period.
Areas under the divisional forest office of Nilambur North recorded major landslides. One tribal colony here was washed away after a landslide occurred on 8 August. The tragedy claimed six human lives.
Nenmara under Palakkad Division also recorded incidents of landslides. The hanging bridge at Silent Valley National Park was washed away by flash floods, while floods washed away another bridge inside Aralam Wildlife Sanctuary in Kannur district.
Meanwhile, the forest department has decided to intensify afforestation activities across the state.
"Deforestation and land erosion have occurred in areas where construction, mining and vegetation have disturbed the land. We will take steps for stabilisation after assessing the condition," said Additional Principal Chief Conservator of Forest (Special Afforestation) Bennichan Thomas.
India
Out of the nine species of vultures, four are almost on the verge of decline. It's primarily because they are sensitive to their eating habits, changing environment, pollution, shortage of food and destruction of natural habitats
India
Ticket holders who get an amount of more than Rs 5,000 should undergo a mandatory verification process. Those who win a prize amount of less than Rs 5,000 need to claim it from any authorised lottery outlet in Kerala
India
The winners are advised to submit the winning ticket to the lottery office within 30 days, otherwise their claim on the prize money will be rejected