Kashmir unrest: Protesters back on streets after cops gun down two militants in Baramulla
The unrest on the streets of Kashmir is refusing to die down with fresh violence reported from across the central, south and north regions of the Valley on Friday
The unrest on the streets of Kashmir is refusing to die down with fresh violence reported from across the central, south and north regions of the Valley on Friday, a day after two local militants were killed in an encounter in Sopore area of Baramulla district.
Kashmir has been witnessing major violence on streets since the killing of former Hizbul Mujahideen commander Burhan Wani in July 2016. Some semblance of normalcy had started returning, but the killing of Wani's successor, Sabzar Ahmad Bhat, in an encounter last week in the Tral area of Pulwama district, has upset the situation.
Hundreds of youth gathered in the downtown area of Srinagar after Friday prayers and started raising pro-freedom and anti-India slogans. They clashed with the police and paramilitary forces at multiple locations, thus forcing the administration to deploy huge numbers of security personnel on the streets to prevent any further mass demonstration by the people.
Government forces fought pitched battles with stone-pelters triggering massive clashes in the area. Police used tear smoke shells and stun grenades to disperse the civilian protesters.
Senior Separatist leader Syed Ali Geelani said that the youth of Kashmir are laying their lives to end the "age-old slavery of their nation". He said that New Delhi's "rigid" and "stubborn approach" towards Kashmir has left the youth with no other option but to take up arms to defend their rights.
Sensing fresh trouble, the Jammu and Kashmir government on Friday said that it's shutting down schools and colleges in Srinagar city, again. Student protests have become common since April when security forces fired teargas shells inside the campus of a college that left more than 50 students injured.
From the last 34 days, the Srinagar district administration has shut schools and colleges for more than two weeks, a decision, which has been criticised by a cross section of the society. "Teaching activity will remain suspended in degree colleges and Higher Secondary schools of Srinagar district on 3 June," Srinagar district administration, said in a statement.
In north Kashmir, intense clashes broke out between forces and protesters in the volatile Sopore town after people started protesting against the killing of two militants in the town on Thursday. The police intercepted the protesters who retaliated with stone pelting.
Two militants, Aijaz Ahmed Mir and Basharat Ahmed Shiekh, both locals and who were active for some time, were killed in a pre-dawn encounter on Thursday.
Chairman of Jammu and Kashmir Liberation Front (JKLF), Mohammed Yasin Malik, who was released on bail on Thursday morning after being arrested last week, said that ongoing "struggle" is being nourished by the blood of young and highly educated youth of Kashmir.
"The increasing oppression by Indian forces is bound to get stiff resistance from Kashmiris as history stands a witness to the fact that no people's movement ever has been defeated or subjugated by military might or false propaganda," Malik said.
Clashes were also reported from the Lal Chowk area of Anantnag in south Kashmir after Friday prayers. A stone hit a woman named Sarwa Begum in the eye in the Reshi Bazar area of the town. She was shifted to the district hospital for treatment.
Mirwaiz Umar Farooq, chairman of the Hurriyat Conference said that as part of efforts to undermine the political struggle of the people of Jammu and Kashmir, the Union government was issuing "deceitful and divisive" statements.
He said that repeated shutdowns and peaceful protests show that the people's support and commitment to the just cause being pursued by the people of the region. They are against the aggression and killings in the Valley.
India
Officials said the fire started around 4.15 pm due to a short circuit and was completely controlled by 5 pm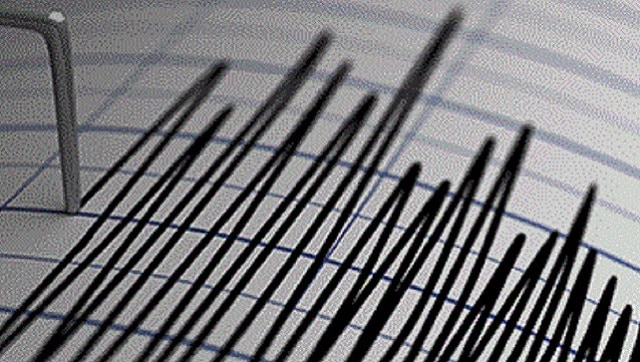 India
Officials said that no damage or loss of life were reported in the areas affected by the earthquake measuring 2.5 on Richter scale
Sports
Robertson said he was "absolutely delighted" and honoured to have been recognised and awarded this honour for his work in Kashmir.